When compared with traditional 2D GIS, 3D GIS is more realistic because it is closer to human visual habits. It can not only express the plane relationship of spatial objects, but also describe the vertical relationship between them. With the rapid development of the economy, there are more and more large-scale social events, which put security pressures on the public security departments.
Based on SuperMap GIS 9D technology, the 3D large-scale event security application platform has been developed, which integrates 3D geographic information services. It also provides information support for the public security department to carry out large-scale activities security task deployment, police force deployment, emergency response and other work management.
The platform uses 3D GIS technology to construct 3D geographic scenes and spatial databases based on 2D basic geographic data, roof surface tensile data and 3D model data, and incorporates terrain, images roads, buildings, facilities and other data for realistic 3D restoration, which can achieve 3D model coverage of the key security area. Based on the existing paper plan, the 3D digital sand table for large-scale event security monitoring and controlling has been formed. It provides visual display of security plans including on-duty police plan, personnel tracking map, fire on-duty plan, etc., and supports the personalized configuration of the plan and the 3D customized-plots under the scene. At the same time, the platform can also simulate various emergencies through the analysis from the high point, path analysis and buffer correlation, so that the public security department can deploy the police force and equipment to meet the needs of quickly scenario setting-up and deployment plan.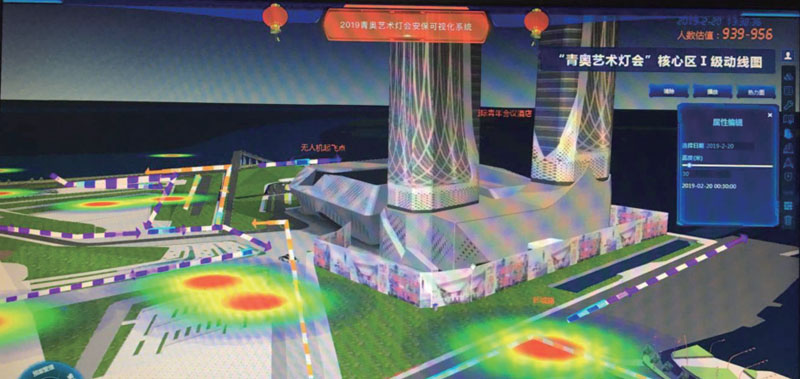 2019 Youth Olympics Light Security Visualization System
Quickly security pre-planning setting-up
The platform supports the collection of elements in various ways,like points, lines, and surface annotations. The security pre-planning can realize the structural and process importing, and through the key words and catalogues of the plan, it can support the dynamic deduction of key plans, such as police force transfer, layout, reinforcement, etc.
Multi-dimensional analysis implement the pre-planning intelligent construction
The platform provides intelligent path analysis—according to the starting and ending points, the high-point, necessary point and hedging point information to analyze the best route. It also supports the modification function of the route, that is, the user can modify the route according to the needs of the actual use and connect the route monitoring videos, and support real-time viewing of the associated video elements after drawing the best route.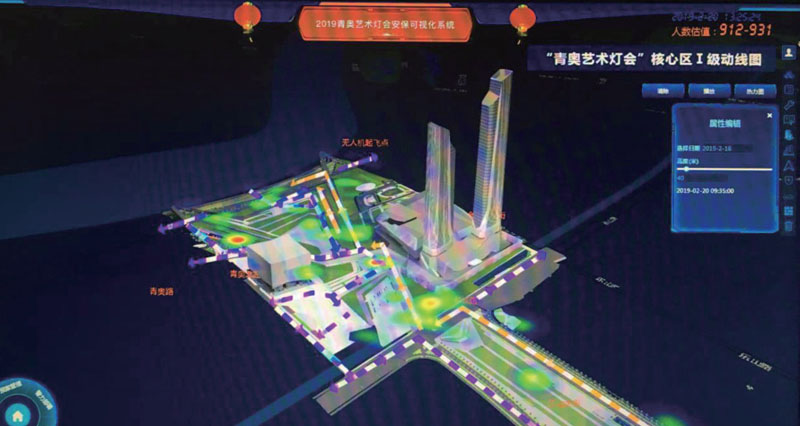 3D security plan
3D GIS Related Solutions
New 3D GIS Technology in Underground Water Management>
2D and 3D GIS in Natural Resources Management>
New 3D GIS Technology Supports the Construction of "Digital Twins" in Transportation>