At present, in the construction of urban rail transit, there are problems of large scale, long construction cycle, many involved-professions, complicated processes, many participants, coordination difficulty and security risks, which needs an information management platform that runs through the entire construction life cycle. It can effectively promote works of data management and data sharing, facilitate multi-professional communication and collaborative work, and improve work efficiency. Based on this purpose, SuperMap and partner company use GIS-BIM, cloud computing, Internet of Things perception, mobile Internet, big data analysis and other technologies to establish a big data intelligent platform for auxiliary planning, design optimization, construction supervision and intelligent operation and maintenance of urban rail transit construction. The platform provides managers with detailed control and decision-making tool for the quality schedule, safety and cost of the project.
System introduction
The system effectively combines GIS and BIM, and it runs through the entire life cycle of the urban rail transit construction, and then focuses on the following functions.
1. 3D information scene of subway engineering
The oblique photogrammetry technology is used to model the real-scene of the ground, which realizes the real 3D expression of ground buildings, greening, road landscape, the free roaming browsing, as well as subway line and building attribute information query. It is able to establish the BIM model for underground pipelines and geology, and it can realize the intelligent integration of GIS and BIM, so as to conduct pipeline collision detection analysis during subway construction, check the geological conditions, and guide the construction of the subway station.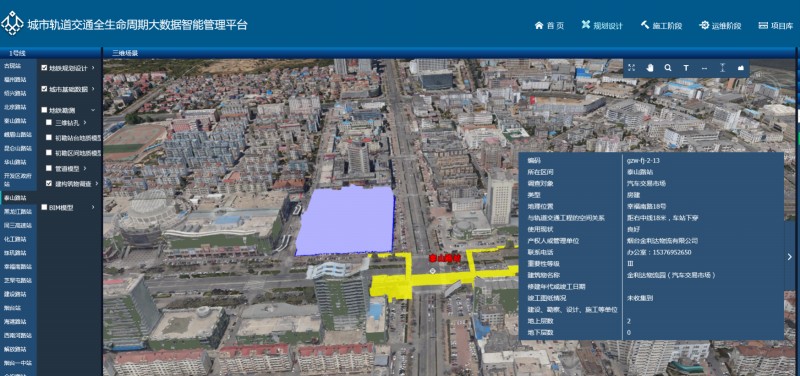 2. Route planning and site selection subsystem
Aiming at the demand of planning and site selection plan, the use of the full space geographic information platform to improve the efficiency of multi-party communication can effectively reduce the contradiction and risks of the project during the construction. It supports the real-time consultation and program modification of decision-making managers, and effectively enhances communications.
BIM+GIS Related Solutions
BIM+GIS in Building Information Management>
BIM+GIS Application in Life Cycle Digital Management of Yalong River Hydropower>
BIM+GIS Application in Urban Rail Transit System>