The Huizhou Expressway Maintenance Management System is one of the important application systems of the transportation infrastructure management. Its demonstration project S120 road is about 10 kilometers. In the system, it is necessary to use terrain and image data in building 3D scenes and to use the weft road design data. Based on the road centerline, the 3D modeling of the route can be built, including pavement, subgrade, bridge and a toll station model.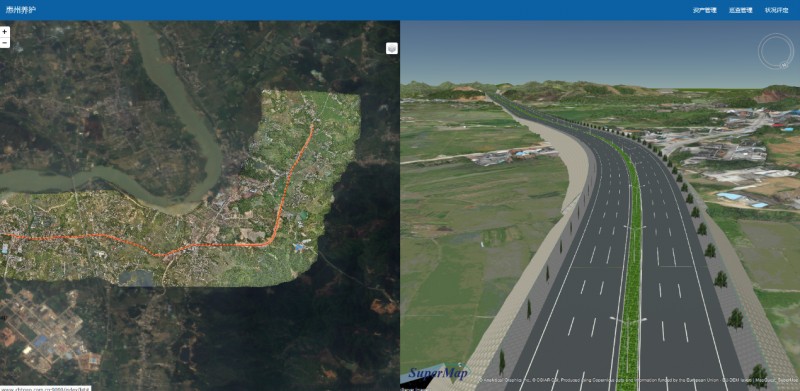 The system was developed based on the SuperMap GIS 2D and 3D integration platform, the specific functional modules are listed as follows:
1) GIS operation: the 3D driving 2D can be realized, and it can form 2D and 3D linkage;
2) Road asset management: the addition, deletion, modification of the basic information of the route (route status, road section), road surface, roadbed (road condition, roadbed protection, roadbed drainage, roadbed slope), bridge, culvert, toll station can be realized, as well as the view and linkage with 2D GIS;
3) Comprehensive information inquiry: it can realize GIS classification display, full route inquiry, and query according to road miles;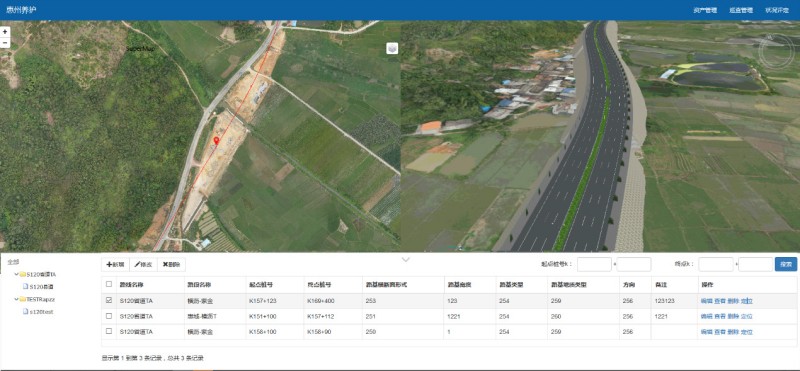 4) Inspection management: the system includes the inspection and management of roads, roadbeds, bridges and culverts. It also includes inspection plans, new additions, deletions, modifications, and inspections of inspection records, as well as label display of road inspections on 2D GIS;
5) Management of technical status: Add, delete, modify, view and display the results of the technical assessment of routes and road sections on the GIS map.
3D GIS Related Solutions
New 3D GIS Technology in Underground Water Management>
2D and 3D GIS in Natural Resources Management>
New 3D GIS Technology Supports the Construction of "Digital Twins" in Transportation>