Due to the features of suddenness, destructive, etc. of earthquakes, the collection of rescue information and service has to be high-efficient, flexible, convenient, mobile. The experience of the rescue of Wenchuan and Yushu indicates the information collection of earthquake will have direct influence on the rescue process.
1 Construction contents
Earthquake rescue information system is one of earthquake social service construction projects. The system is combined with GIS, GPS, RS technologies, wireless radio, satellite communication, computer, mobile computer technologies, constructing 4 sub-systems:
1. Rescue information management system (including back-end management system, cell phone terminal (Android and iOS);
2. Rescue team locating and information service terminal (PDA);
3. Earthquake digital system (Tablet);
4. Ruins searching and rescue plan optimization system.
The main functions of the system include: map positioning, professional analysis, location monitoring, text services, mobile website, video collection, material index, system management, etc. The rescue personnel can acquire earthquake information through cell phone and transmit the on-site material and current location.
2 Architecture
The system has 5 layers, which are environment layer for software/hardware, data layer, service layer, application layer, user layer. The environment layer includes server, network equipment, in-situ terminal (PDA, iPhone, Android cellphones), OS, database, SuperMap GIS products.
Data layer provides data support, including basic geographic data, rescue data, in-situ disaster data, social statistics data, system management data and mega data.
Service layer provides services for upper layers, including mobile GIS service, online GIS service, location tracking service, information push service, data communication services and business service information query, intensity analysis, process tracking, plan optimization, disaster briefing, in-situ plotting, disaster uploading, picture downloading, feedback and user authentication.
Application layer provides different functions for various users, including rescue team locating and information service terminal, rescue information management system, in-situ ruins search and solution decision optimization system, earthquake digital system.
3 User layer is the various users of the system, realizing different functions by different systems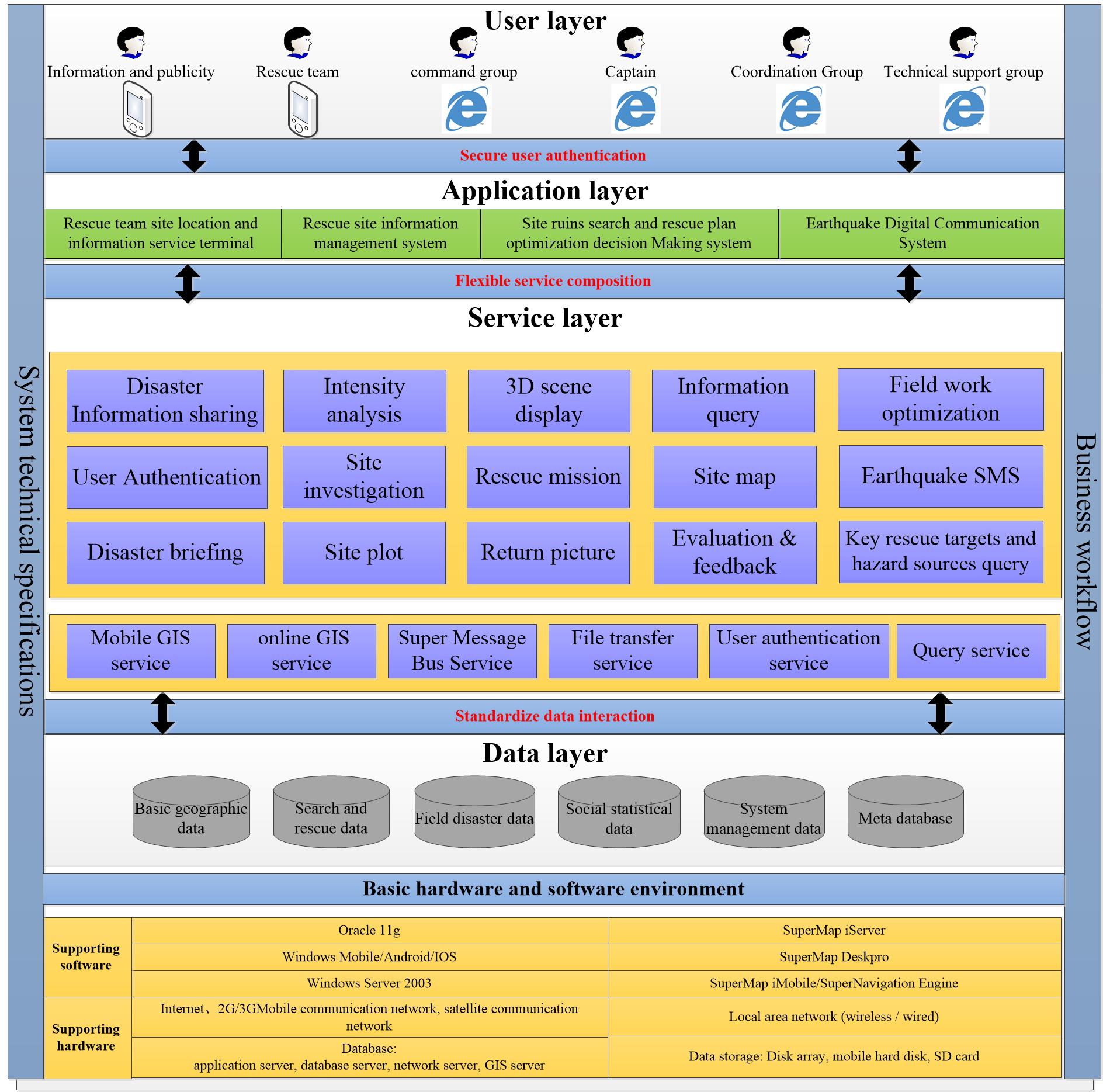 Framework
4 System deployment
The system has 3 deployment nodes:
Rescue in-situ: various mobile terminals for disaster uploading, mobile terminals include Android/iOS cellphones, PDA (Android).
Commanding office: Using high-efficient laptop to receive and analyze various uploaded disaster information, letting commanders know the rescue status and arrange rescue missions as well as sending disaster data to rescue center.
Rescue center: includes 2 application servers and 2 database servers to receive in-situ disaster data from commanding center and provide information services, providing necessary support for the rescue team.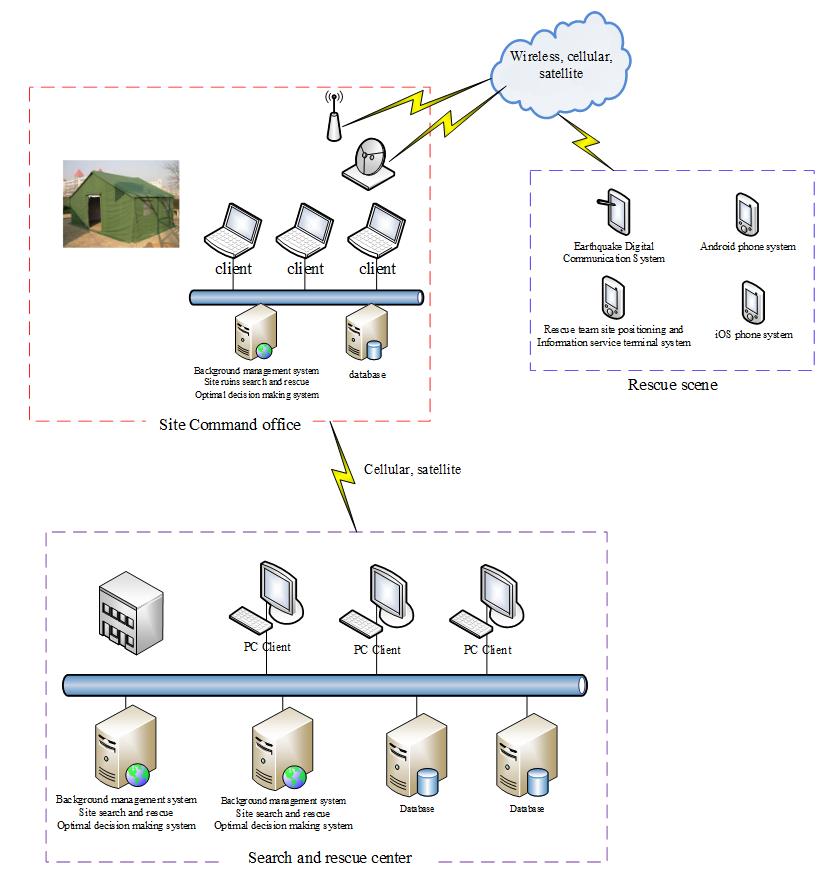 System deployment
5 Conclusion
The system constructed the systems like rescue information management, rescue locating and information service terminal, earthquake system, ruins search and rescue plan optimization system based on professional evaluation model and earthquake data analysis. The information of disaster spatial location, disaster geographic environment and disaster population can be acquired, which provides support for decision making, realizing the integration of earthquake rescue and commanding, integration of disaster information collection and disaster services. The system highly improved the efficiency of the rescue process.