Construction background
Spatial information is vital in natural disaster management and disaster prevention and mitigation. Although some information service systems have emerged in recent years, there is no unified planning for each system, and there also exists duplication of construction and information inaccessibility, resulting in multiple information silos and the failure to share data synchronously. Therefore, it is necessary to build a natural disaster spatial information service platform to support efficient natural disaster management.
Program overview
The Natural Disaster Spatial Information Service Platform takes the framework of "application + platform" and "end + cloud". It is developed based on multi-source data. This platform can effectively plan and utilize various information resources, expand information acquisition means, and improve data processing and analysis. It also increases standards of acquisition, transmission, processing, and storage of damage data; builds a natural disaster information database, improves the dynamic mechanism of information, and enhances information system security. At the same time, based on the shared platform, people can develop various applications.
Platform features

Operation process

Database construction
Databases include image databases, basic geographic databases, and operation thematic databases. The image database can access various image data, such as environmental disaster mitigation satellites, Gaofen(satellites), drones, Google images, etc. The basic geographic database stores basic data such as place-name data and DOM/DEM/DRG/DLG. The thematic database can store various data used in natural disaster management, such as disaster damages data such as earthquakes, floods, drought, meteorological data, social and economic data, etc.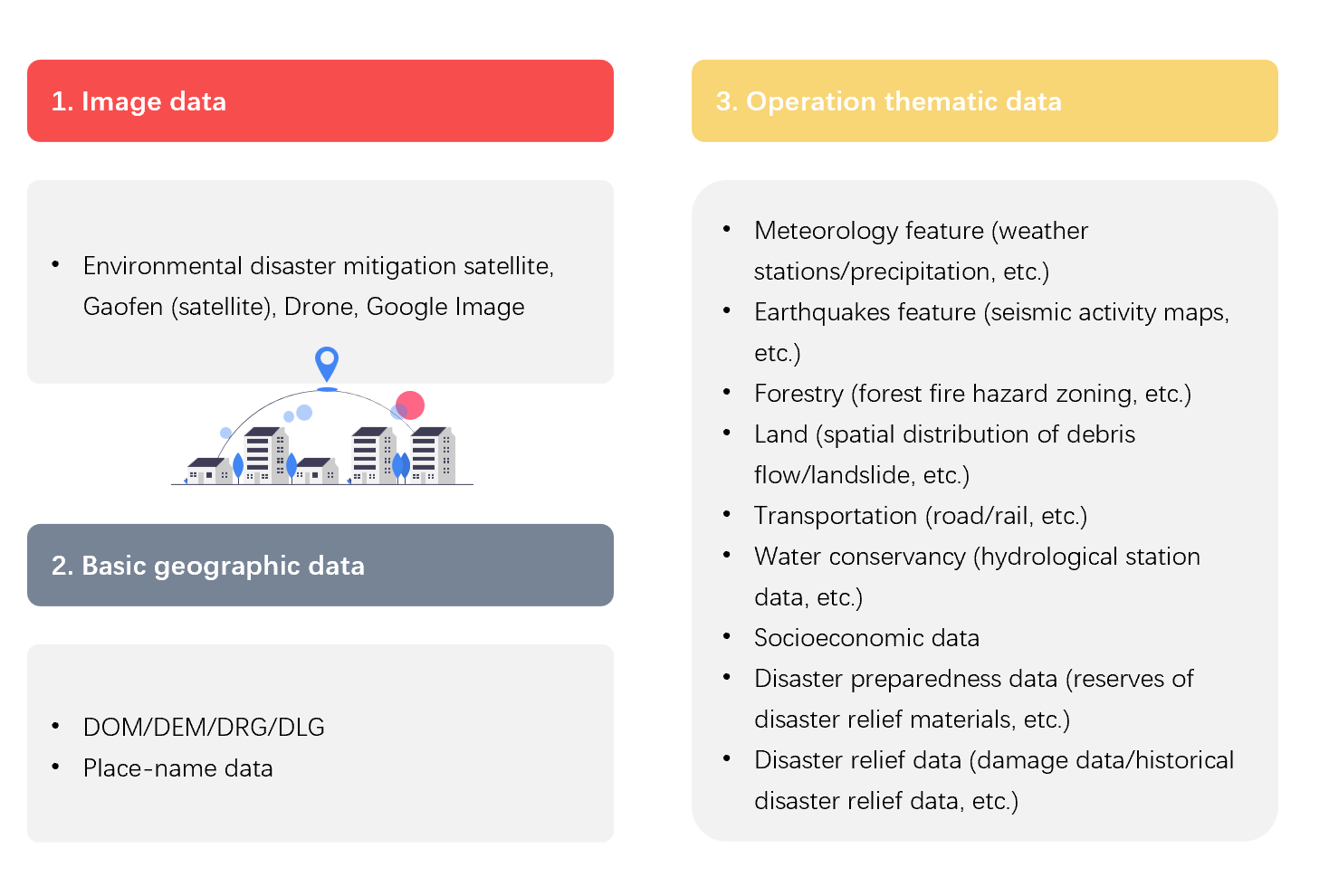 Main functions
It aims to solve the rapid conversion and storage of various heterogeneous data (such as SHP, Coverage, Tiff, etc.), improve work efficiency, manage and maintain various operation forms, and provide flexible configuration functions of forms.
When a natural disaster occurs, the onsite work team goes to the site to quickly collect information such as disaster damages and disaster relief, and start the collection process. Tasks are created, packaged and distributed on the server, and sent to the mobile terminal. The mobile terminal collects and reports the onsite information, and the server receives the data submitted by the terminal and completes the statistical analysis.
When information on a certain range of the affected population, economic losses, and disaster relief is required, the evaluation and analysis can be carried out through the statistical decision-making module. Based on the disaster damage and disaster relief data, the spatial map is the main means of display, and the disaster loss query statistics and early warning analysis can be carried out through various methods such as text, statistical charts, pictures, videos, to provide disaster relief decision-making support for the leaders.
This function can enable people to publish the disaster data after analysis. It provides all kinds of product templates to achieve one-click mapping, one-click report generation, etc.