The underground pipeline plays a vital role in ensuring urban operations. AR + GIS assists the application of 3D pipelines and empowers the intelligent inspection of 3D pipelines. The following figure shows the combination of 3D GIS and AR technology provided by SuperMap partner Beijing Zhicheng based on the SuperMap GIS platform to achieve intelligent inspection of underground pipelines. When pipeline maintenance personnel performs on-site maintenance tasks, AR + GIS can be used to view the site situation at a glance, and the SuperMap GIS platform can be used to locate the location of the actual ground objects on the site, which would accurately match the pipeline model with the actual location.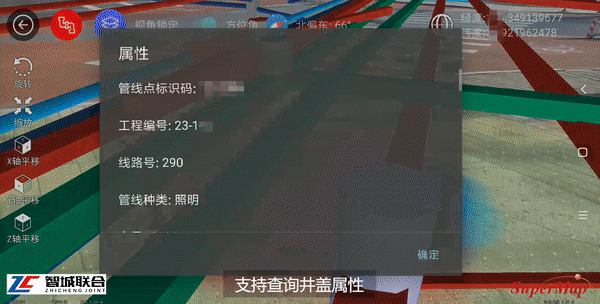 With AR + GIS, properties of pipelines, manhole covers, and valves can also be viewed in real time, such as pipeline type, number, diameter, manhole cover size, burial depth, material, burial period, affiliated unit, status, and usage status. At the same time, understanding the depth of different pipelines buried in the ground can help to avoid construction excavation accidents. Not only that, the inspection of the valve of the pipe network can be conducted, which is different from the past operation method based on experience judgment. Now AR + GIS can be used to achieve the accurate matching and maintenance according to the real-scene. By scanning the road with a mobile phone, the valve and pipe network information of the place will be extracted, and matched with the real-scene and presented on the screen directly.
The combination of AR + GIS and the Internet of Things can also be applied in fault alarms, personnel scheduling, and emergency repair of 3D pipelines. When a facility fails, such as sewer pipe bursts, the relevant equipment will automatically issue an alarm, locate the location and the number of pipeline, and view the cause of the failure, and then dispatch nearby personnel to the point for reparation. At the same time, users can also understand the real-time status of the water quantity, water quality, and water pressure of the pipelines through related equipment.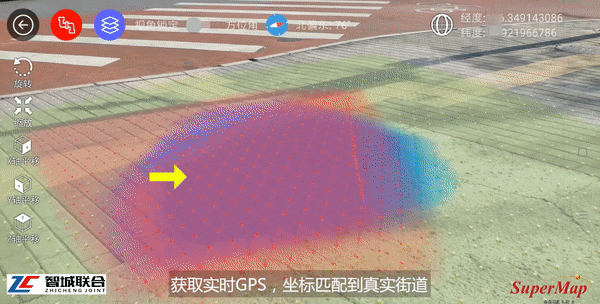 The AR intelligent inspection can not only improve the accuracy of inspections, but also save time and reduce losses. The method of real-scene location positioning can also help to check for defects in the pipeline network and other facilities. By comparing the physical object with the registered equipment, users can find whether there are missing registrations or multiple registrations. If there are faults, users can also mark the fault point.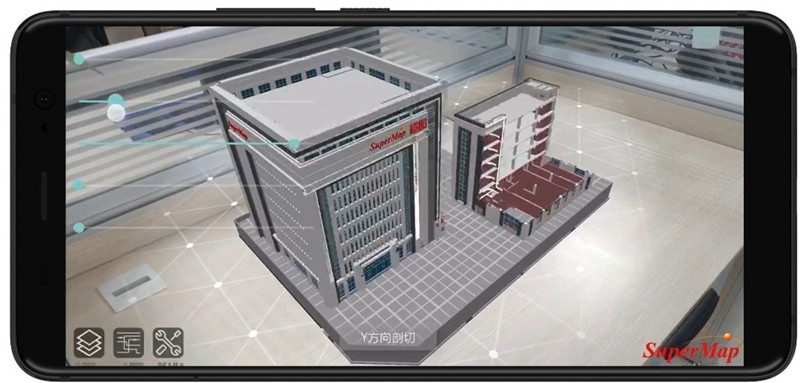 In addition, the SuperMap 3D GIS + AR technology has many other functions. It supports 3D data of BIM models, 3D pipelines, oblique photogrammetry models, terrain / images (model loading), refined models, labels, etc., but also provides many practical 3D GIS functions, such as attribute query, sectioning, measurement, visibility analysis and model editing (supports data zoom in, zoom out, translation, and rotation), and supports interactive analysis of AR technology and skeleton tracking technology.