At 17:00 (UTC+8) on 26 May, 2020, SuperMap GIS Forum Online with the theme "Big Data & AI GIS Technology and Applications" was successfully held. This online forum is the second in a series of SuperMap GIS Forum Online, which aims to connect users from worldwide by sharing SuperMap technologies and typical applications of Big Data and AI GIS.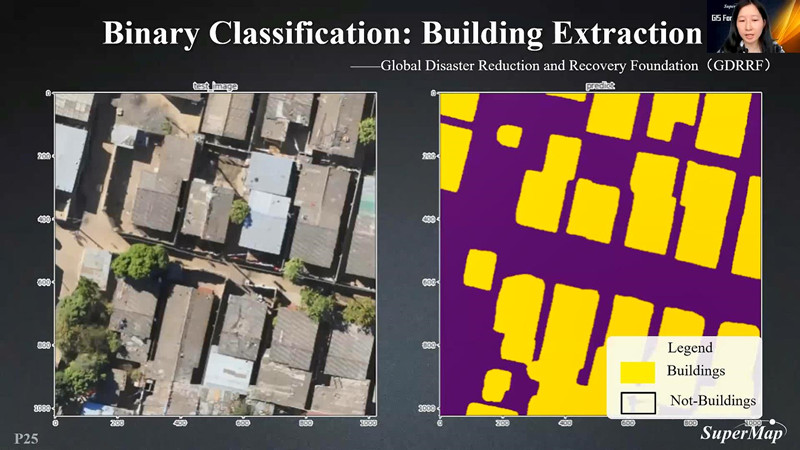 During the webinar, Xu Yun, Product Engineer of Big Data and AI R&D Center of SuperMap delivered the report of "SuperMap Big Data GIS Technology", which gave a brief introduction about Big Data GIS Technology System of SuperMap, including Spatial big data storage, Spatial big data analysis, Real-time streaming data process and Spatial big data visualization. Then, Yan Yuna, Product Consultant of R&D Institute of SuperMap conducted the report of "SuperMap AI GIS Technology". She introduced the AI GIS technology system of SuperMap in three core contents: GeoAI, AI for GIS and GIS for AI. At last, to better explain and demonstrate applications of technologies, Bill Li, Technical Support Engineer of SuperMap International, made a report of "Applications of SuperMap GIS Enhanced by AI & Big Data", which explained how to use Big Data GIS technology and AI GIS technology of SuperMap and further discussed the possibilities in integrating Big Data and AI technology in order to improve the capability of GIS system.
The forum attracted participants from total 38 countries, like Myanmar, India, Bangladesh, Ethiopia, Kenya, UAE, Italy, Mexico and others. SuperMap would like to express sincere thanks and appreciations to all participants who devoted time and gave suggestions to the forum. In recent months, SuperMap has provided over ten webinars on different topics with several languages, and SuperMap will continue to provide more webinars on wider topics for different regions and areas. We are looking forward to seeing more of you for the next online forum. Please follow us for more information.
Also, for your further ideas and suggestions on forum topics, reports and other information, please feel free to contact us via email: zhangyuanyuan@supermap.com
To review the Webinar in Videos, please find below:
SuperMap Big Data GIS Technologies
Applications of SuperMap GIS Enhanced by AI & Big Data
To download the reports in PDFs, please find below:
SuperMap Big Data GIS Technologies