Nowadays, the "Smart City" has become one of the new characteristics of modern cities. As the capital of China, Beijing also achieved success in the construction of smart cities. For example, Xicheng District, which has a lot of well-known attractions, has completed the big step of the digital "city" to "smart" city to solve many old problems of urban management.
In 2017, the Beijing Xicheng Municipal Planning Commission cooperated with SuperMap Group to build a smart city spatio-temporal information cloud platform featuring Xicheng District. The platform provides rich data resources and perfect platform function services. It has significant effects in coordinating urban development, old city protection, and environmental remediation.
The characteristics of the Xicheng smart city spatio-temporal information cloud platform are as follows:
1. The "one map of spatial data of the whole district" takes the "Smart West City" spatio-temporal information cloud platform as the link to service the management of various departments, and lay the foundation for subsequent resource sharing and business interconnection;
2. The "full 3D coverage of the district" builds the first full 3D model coverage area of the district according to the administrative unit. It has multi presentation forms of the above ground and underground integration, indoor and outdoor integration, 2D and 3D integration, etc.

Building area and cottage area in 3D model

Water surface and road in 3D model
Indoor and outdoor integration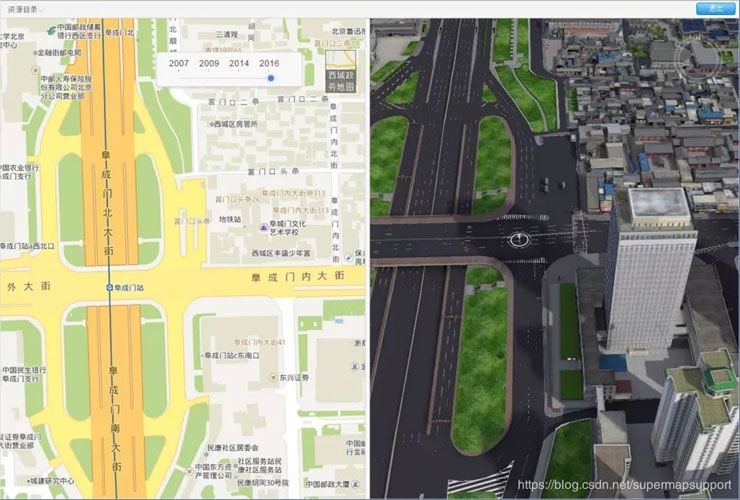 2D and 3D Integration
3. The "logical concentration of data in the field of resource environment" not only realizes the physical dispersion of spatial data entities, but also enables data sharing on the spatio-temporal information cloud platform, thereby realizing the logical concentration of data.
In order to further strengthen the effective integration and make full use of various types of information resources in the city, the city management and services will be more refined, real-time, visualized and intelligent to satisfy different users and needs.
Direct Application
There are more than 150 special services come from the collaborative sharing of the committees, offices, bureaus and sub-district offices of Xicheng District on the spatio-temporal information cloud platform. The user can register personal account on the platform to browse, query and analyze the data provided by the platform under the corresponding authority. Users can also process the business data of other department through the application of corresponding module.
Docking Application
The spatio-temporal information cloud platform providesstatic data, query analysis, spatial processing, online API and Internet of Things nodes in the methods of Web services, OGC standard services and personalized customization services.
Customized Application
The departmental units without professional systems can carry out relevant R&D work based on the results of the Xicheng spatio-temporal information cloud platform network, data results and application development interface results. For example, the Xicheng District Building Economic Management System developed for the District Industrial Development Promotion Bureau, the Dashilan Street Full Response Grid Social Service Management GIS System developed for the Dashilan Street Office are created based on the platform.
3D GIS Related Solutions
New 3D GIS Technology in Underground Water Management>
2D and 3D GIS in Natural Resources Management>
New 3D GIS Technology Supports the Construction of "Digital Twins" in Transportation>