Shanghai Center is located in Lujiazui Financial District, Pudong New Area, Shanghai. The building consists of a 5-floor basement, a 121-floor complex, a 5-floor podium and other facilities. It is about 570,000 square meters, with a total height of 632 meters and a structural height of 580 meters. It is the tallest building in China.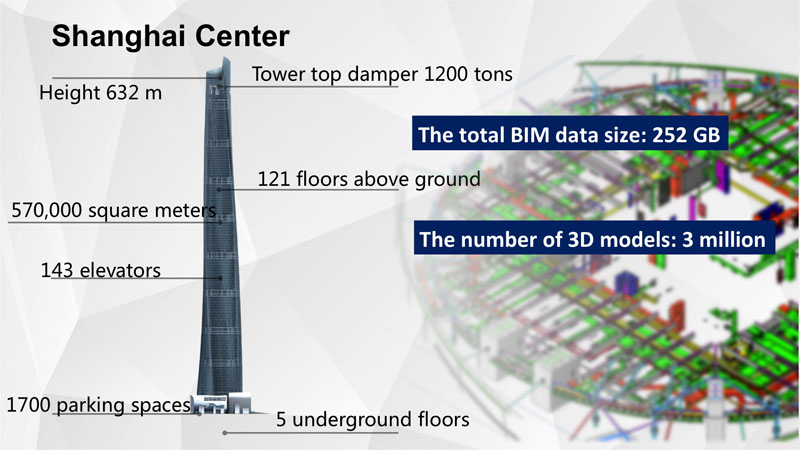 BIM is a general term for the processes and results of designing, constructing, and operating in the form of digital expression about the physical and functional characteristics during the construction project and life cycle and shares knowledge resources for related project information. The role of BIM is to fully and non-destructively share the engineering project information throughout the planning, design, construction, operation and maintenance process, so that the engineering and management personnel can efficiently and correctly understand and respond to various building information. And it can provide a solid foundation for multiple participations and a reliable basis for the decision-making of participants in the construction project from the concept stage to operating stage.

The application of BIM technology can realize the whole-life and all around management of building. It is an inevitable trend of the great-leap-forward development of building information and the most effective way to manage projects and practice the intensive management of enterprises.
Shanghai Center is based on refined BIM operation management platform and with the aim of green building and people-oriented. By the concept of BIM's full-life information, the fine control of building can be realized through the integration of IoT, big data, mobile Internet, AI and other advanced technologies.
The platform takes the operational data management service platform as the data support. The BIM model is displayed through the 3D scene, and the functional modules such as BIM model management, process management, equipment asset management, BIM operation and maintenance management, energy management, property management, and emergency management are superimposed on BIM model. The administrators can intuitively manage the platform through 3D visualization.
Shanghai Center is based on the BIM refined operation management platform to set up modules such as model management, energy management, emergency management, asset management, facility equipment maintenance management, and security management. The modules can be integrated in to multiple common applications. All applications can be operated on one interface and are easily to use. Based on the BIM model, the intelligent, intuitive and convenient operation managements can be achieved by combining various business data, including static data and dynamic monitoring data.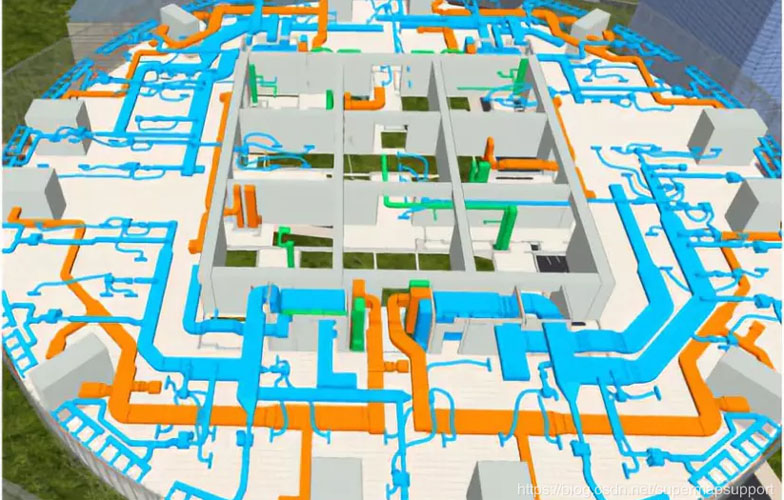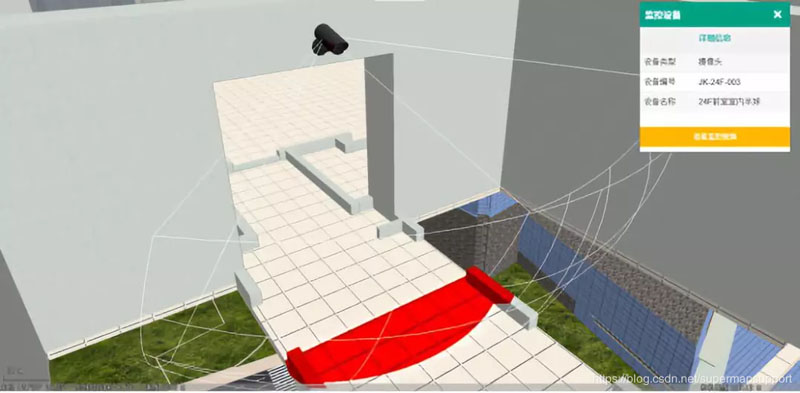 BIM+GIS Related Solutions
BIM+GIS in Building Information Management>
BIM+GIS Application in Life Cycle Digital Management of Yalong River Hydropower>
BIM+GIS Application in Urban Rail Transit System>