Note from Editor
Artificial Intelligence GIS (AI GIS) technology is currently an important research direction. However, most of the studies mainly focus on one or some application scenarios, and rarely involve the research and exploration of the AI GIS technology system and the review and summary of the AI GIS software technology system is not enough. To this end, Mr. Song Guanfu, President of SuperMap, explained how to build an AI GIS software technology system from the Geographical Intelligence Pyramid and demonstrated the connotations and examples of each component of the system. Taking SuperMap GIS as an example, he introduced the AI GIS software product architecture, and discussed the future development trend of AI GIS as well.
-Journal of Geo-Information Science
AI GIS is a combination of AI technology with various GIS functions, including spatial data processing and analysis algorithms (GeoAI) that incorporates AI technology, and a general term for a series technologies of the mutual empowerment of AI and GIS. In recent years, AI GIS has gradually become the main focus of geoscience research and application.
Geo-Intelligence
Geo-intelligence refers to the general term for geospatial visualization, analysis, decision-making, design, and control based on GIS, remote sensing, and satellite positioning technologies. Geo-intelligence is the most unique value that distinguishes GIS from other information technologies. It includes four levels of Geo-visualization, Geo-decision, Geographic-design, and Geo-control, which contributes to the Geo-intelligence pyramid. The complexity of the pyramid is increasing from the bottom, while the maturity is decreasing. With the introduction of AI, Geo-intelligence will usher in a new round of technological innovation and create greater value.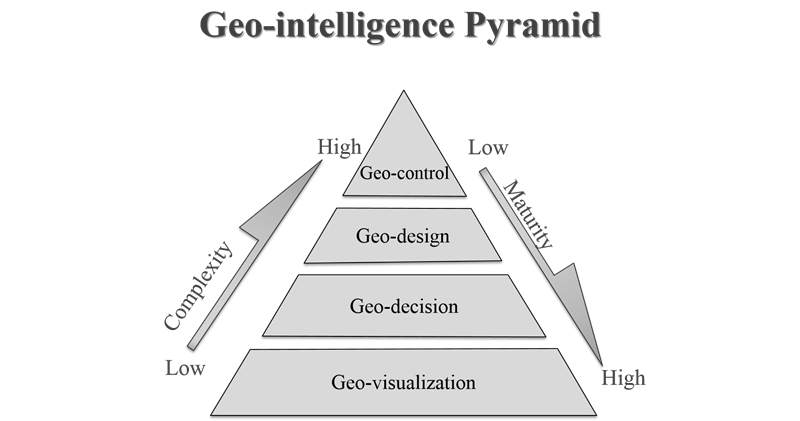 SuperMap released the SuperMap GIS 10i at the 2019 GIS Software Technology Conference. SuperMap GIS 10i fully integrates artificial intelligence technology to construct technology systems of "BitCC", which enriching and innovating GIS theory and technology, and informatizing various industries with Geo-intelligence.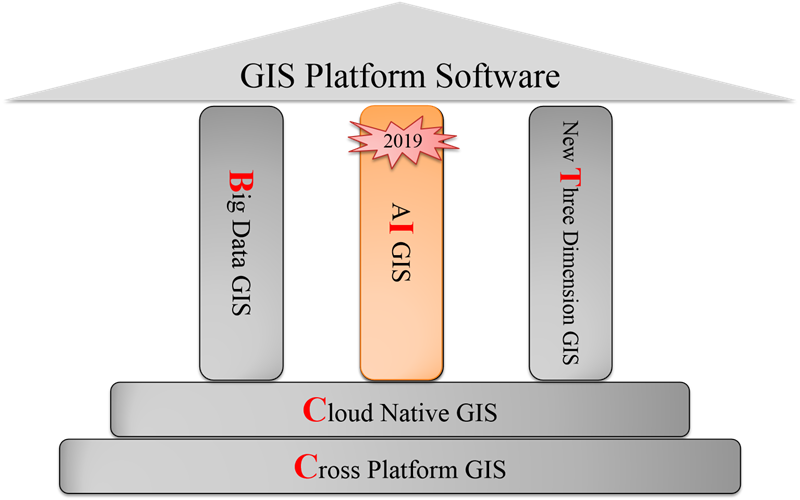 Trilogy of AI GIS
AI GIS technology consists of 3 parts:
GeoAI: It is a spatial data processing and analysis algorithm that integrates AI, and is the product of AI and GIS.
AI for GIS: Using AI capabilities to enhance the functions and user experience of GIS software.
GIS for AI: Using visualization and analysis technology of GIS to perform spatial visualization and further spatial analysis of AI output results.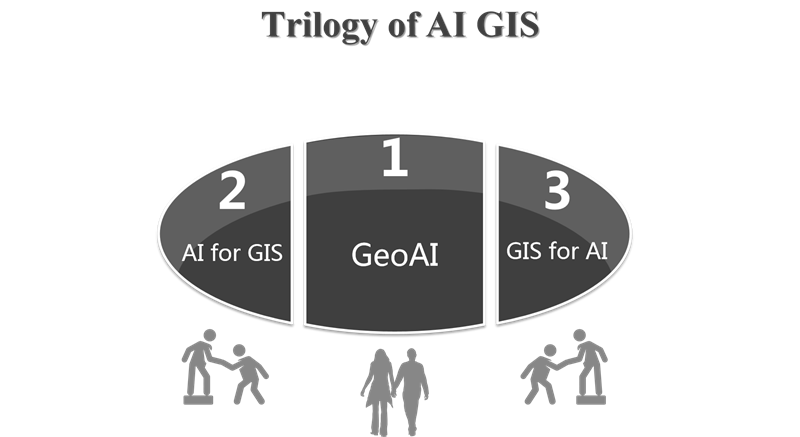 GeoAI
Machine Learning is the core of artificial intelligence, and deep learning is the hot research direction in the core. GeoAI includes two parts: Geospatial Machine Learning and Geospatial Deep Learning. Taking SuperMap as an example, users can solve a variety of GIS application problems such as spatial clustering, spatial classification, and spatial regression based on Geospatial Machine Learning.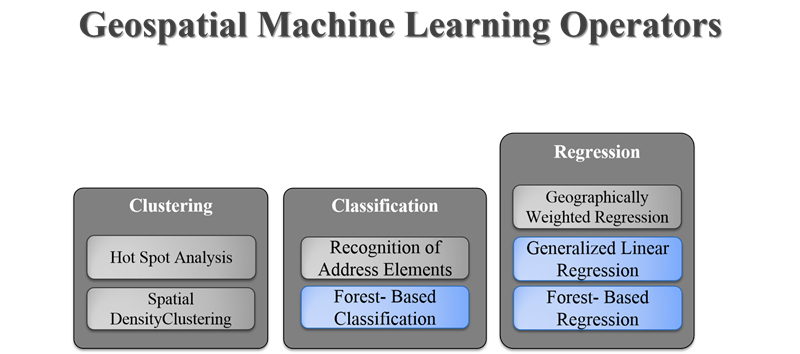 Geospatial Deep Learning can directly identify time and space features from geospatial data, and automatically and efficiently construct complex features, making data-driven earth science research a trend. Taking SuperMap as an example, the Geospatial Deep Learning algorithms include 3D data analysis and image analysis.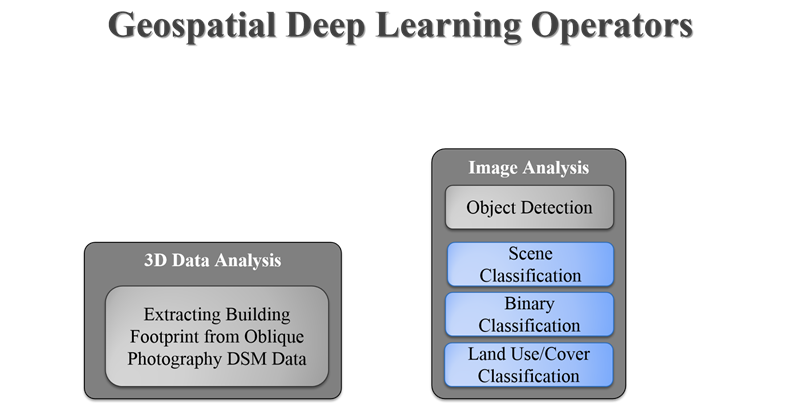 Because the spatial characteristics of the ground objects are not the same in different regions and in different seasons, it is necessary to provide a process tool of the GeoAI algorithm to facilitate the application unit to retrain the model according to its own data characteristics, and improve the success rate and accuracy of model reasoning. The process tools specifically include several core processes such as data preparation, model construction, and model application.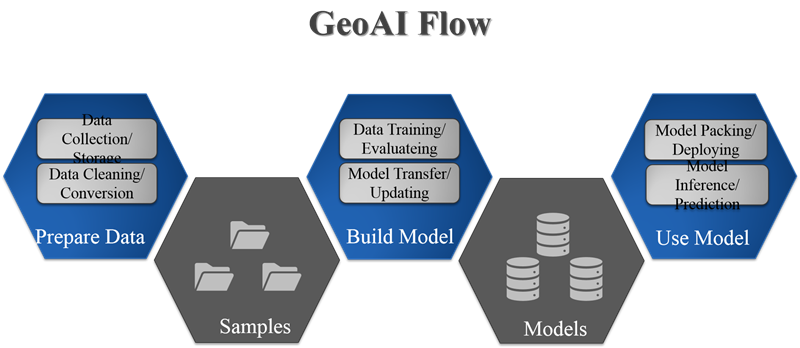 AI for GIS
AI for GIS refers to the use of AI technology to improve the intelligence of GIS software, including AI Attribute Collecting, AI Survey & Mapping, AI Cartography, and AI interaction. AI Attribute Collecting can help users to intelligently classify and identify multi-source targets such as video images; AI Survey & Mapping can provide lower cost and more convenient indoor mapping solutions; AI Cartography saves users from the tedious process of manual mapping , and the style transfer from image to map can be realized through simple operation; AI interaction includes rich application interaction of using voice, gestures, body, etc.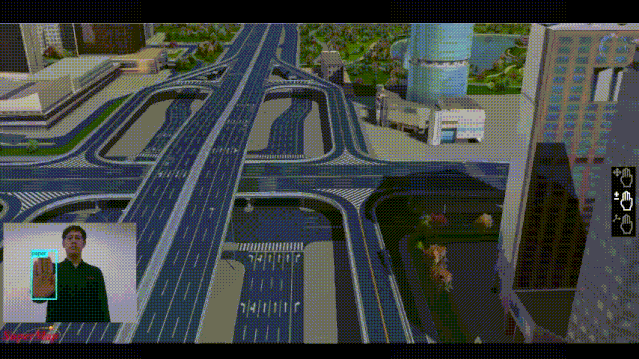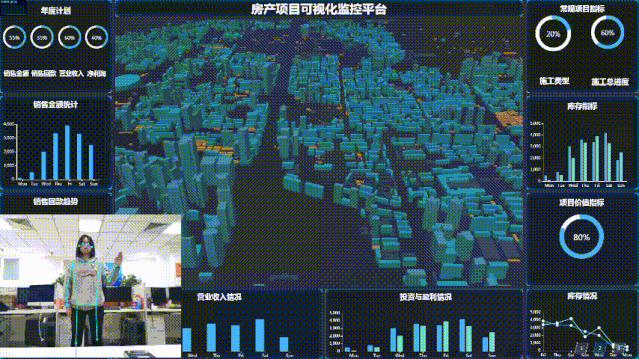 GIS for AI
When faced with AI recognition results, GIS can further process and mine data by using its spatial visualization and spatial analysis capabilities, that is, GIS empowers AI. Map visualization applications such as traffic flow monitoring, city component management, and cases can provide decision makers with a more intuitive form of information expression; while in-depth processing and mining of AI extraction results can enable real-time geo-fence alerts and vehicle tracking and so on to further expand applications.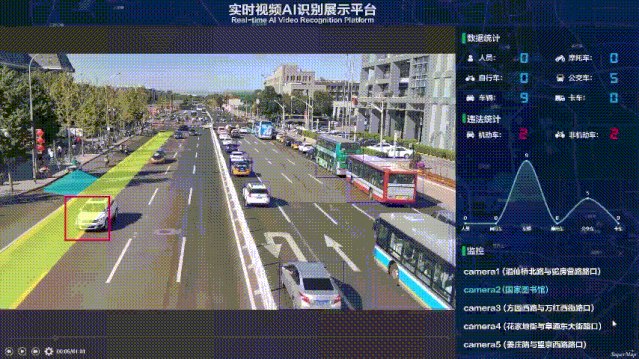 In order to effectively support the three parts of AI GIS, a four-layer structure can be constructed from the bottom up to form a relatively complete AI GIS technology system. The bottom layer is the data layer, and then is the domain library. In the framework layer, a variety of AI frameworks can be reasonable abstracted and encapsulated. The top functional layer is the three parts of the AI GIS that are specifically introduced.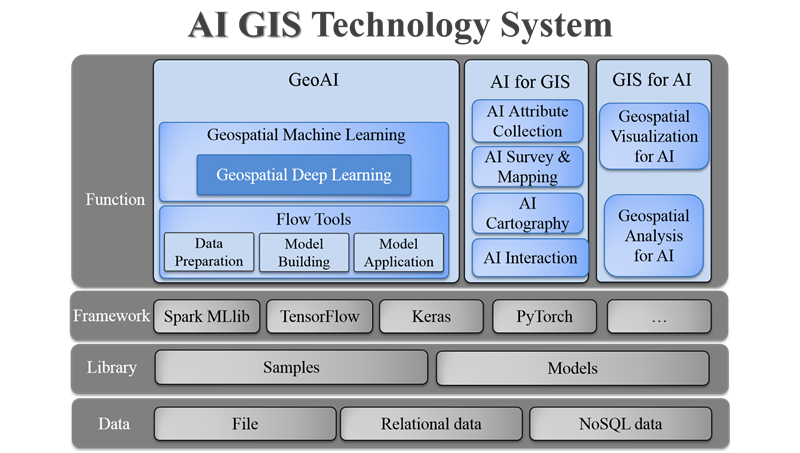 In order to serve a variety of GIS applications, AI technology needs to be deeply integrated with various forms of GIS software including Component GIS, Desktop GIS, Server GIS, etc. to jointly build an AI GIS product architecture.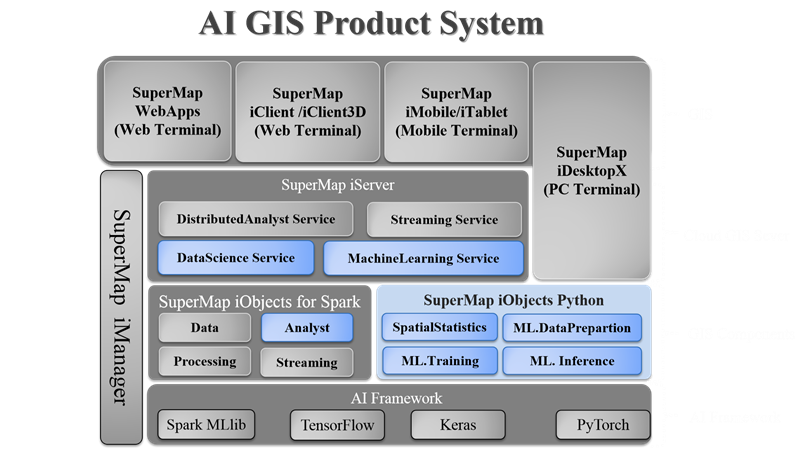 AI GIS Future
Using AI GIS to improve and develop the new generation of GIS technology system is an effective method to solve the current intelligent problem of GIS system. AI GIS has initially realized the computer vision extraction of geographic information such as remote sensing images, videos. And AI technologies such as voice recognition and language processing technologies can be introduced and further empowerment can be realized. However, AI GIS is still in the Narrow AI stage and is far from the general AI (AGI) stage. Therefore, the technology represented by general AI is also an important direction for the future development of AI GIS.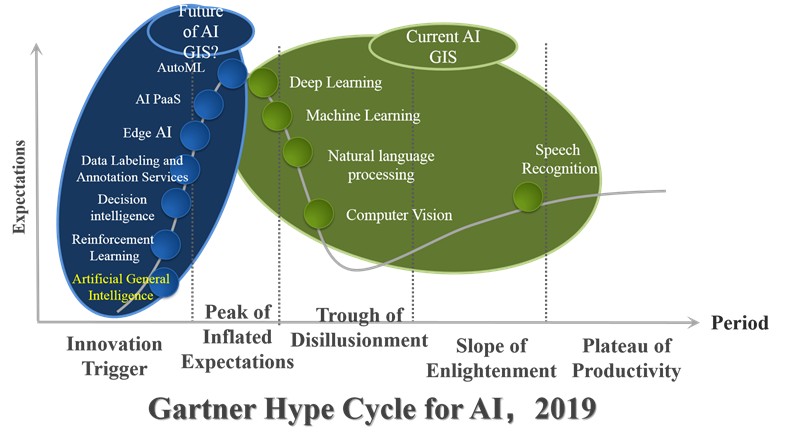 About Dr. Song Guanfu
President of SuperMap, Vice Chairman of Chinese Society for Geodesy Photogrammetry Cartography, Vice Chairman of China Association for Geospatial Information Society, Chairman of ZGC geospatial information and technology alliance, and Vice Chairman of Beijing Software Industry Association. Dr. Song Guanfu has been engaged in the technical innovation of geographic information system software and has supervised the research and development of SuperMap GIS software for over 30 years.
More AI GIS Related
AI GIS Make-up? See These Anime-style Maps>
What is AI GIS (Artificial Intelligence GIS) ?>
AI GIS + Remote Sensing Enhances the Ability of Natural Resources Monitoring>