From October 10 to 12 local time, INTERGEO 2023 was held as scheduled at the Messe Berlin, Berlin, Germany, attracting around 571 companies and institutions worldwide for the exhibition, and close to 17,000 visitors. As one of the Chinese exhibitors, the SuperMap International delegation once again showcased new products and new technologies to companies and institutions in the global surveying, mapping, and geographical information industry, attracting many visitors to exchange ideas.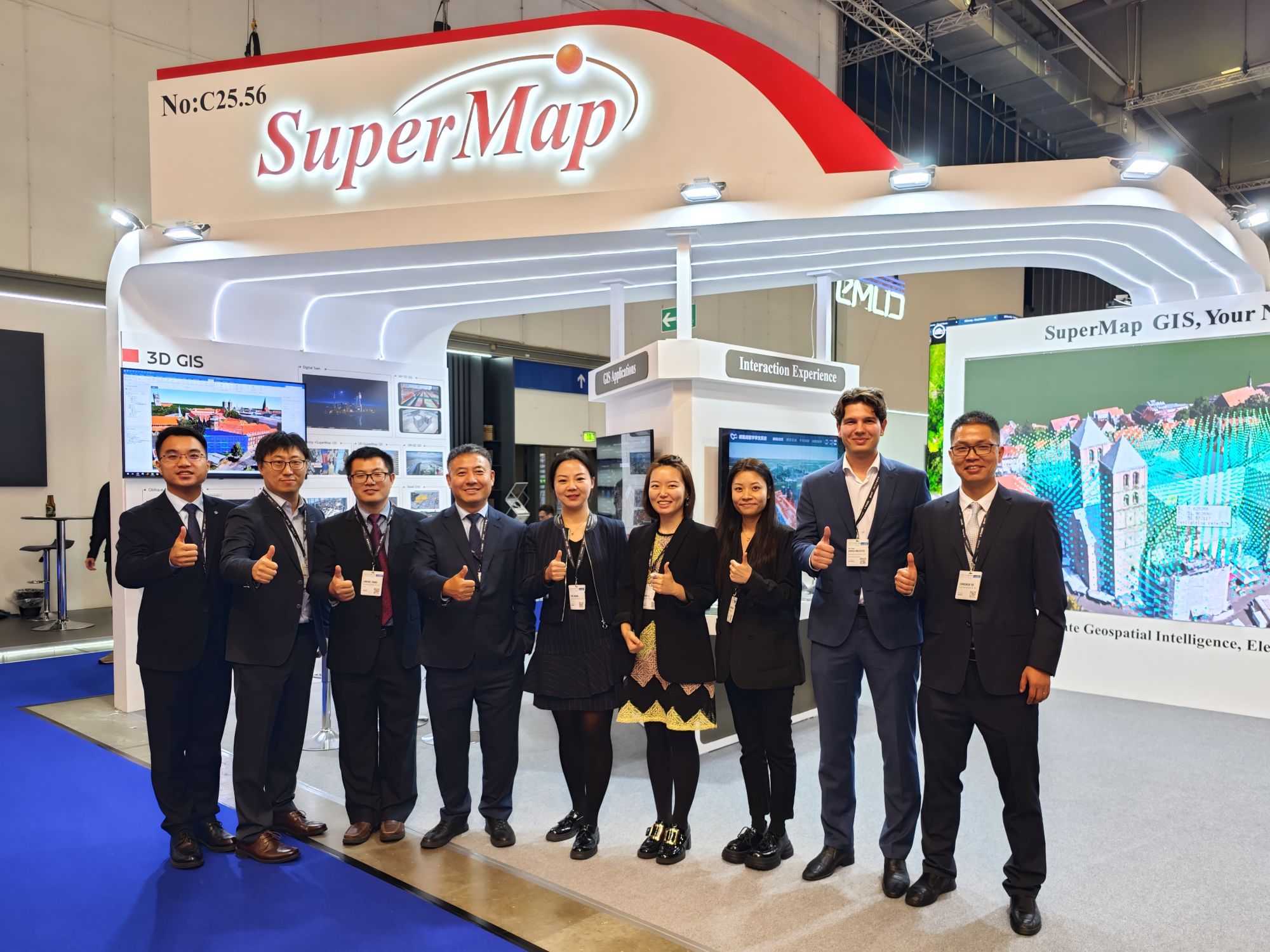 The SuperMap International delegation took a group photo in front of the SuperMap booth
Multiple displays attracted visitors from all over the world
What we focused on for display this year are the latest technological innovation and application results in 3D GIS, cloud-native GIS, and remote sensing and GIS integration, as well as SuperMap GIS 2023, SuperMap's latest product released this year. Through multiple rounds of reports in different languages at the booth, members of the SuperMap delegation introduced to visitors the latest developments in SuperMap 3D GIS, new technologies for remote sensing and GIS integration, and SuperMap's solutions in smart cities, smart mine management, cadastral management, underground pipelines, and other fields. Bunches and bunches of visitors stopped at SuperMap's booth to listen to the reports, where heated discussion arose.
During the exhibition, many overseas industry experts, institutions, and business representatives visited SuperMap's booth and had one-to-one exchanges with the staff on the field. Visitors come from many countries in Europe, Africa, America and Asia, including Turkey, Germany, France, Austria, Spain, Colombia, South Korea, Morocco, Serbia, Croatia, Slovenia, Bosnia and Herzegovina, Mexico, Cote d'Ivoire, Kuwait, Malaysia, Canada, Australia and so on. They learned in detail about SuperMap's technologies in 3D, laser point cloud, oblique photography, data collection, and solutions in digital twins, facility management, etc., and expressed their willingness to cooperate with SuperMap.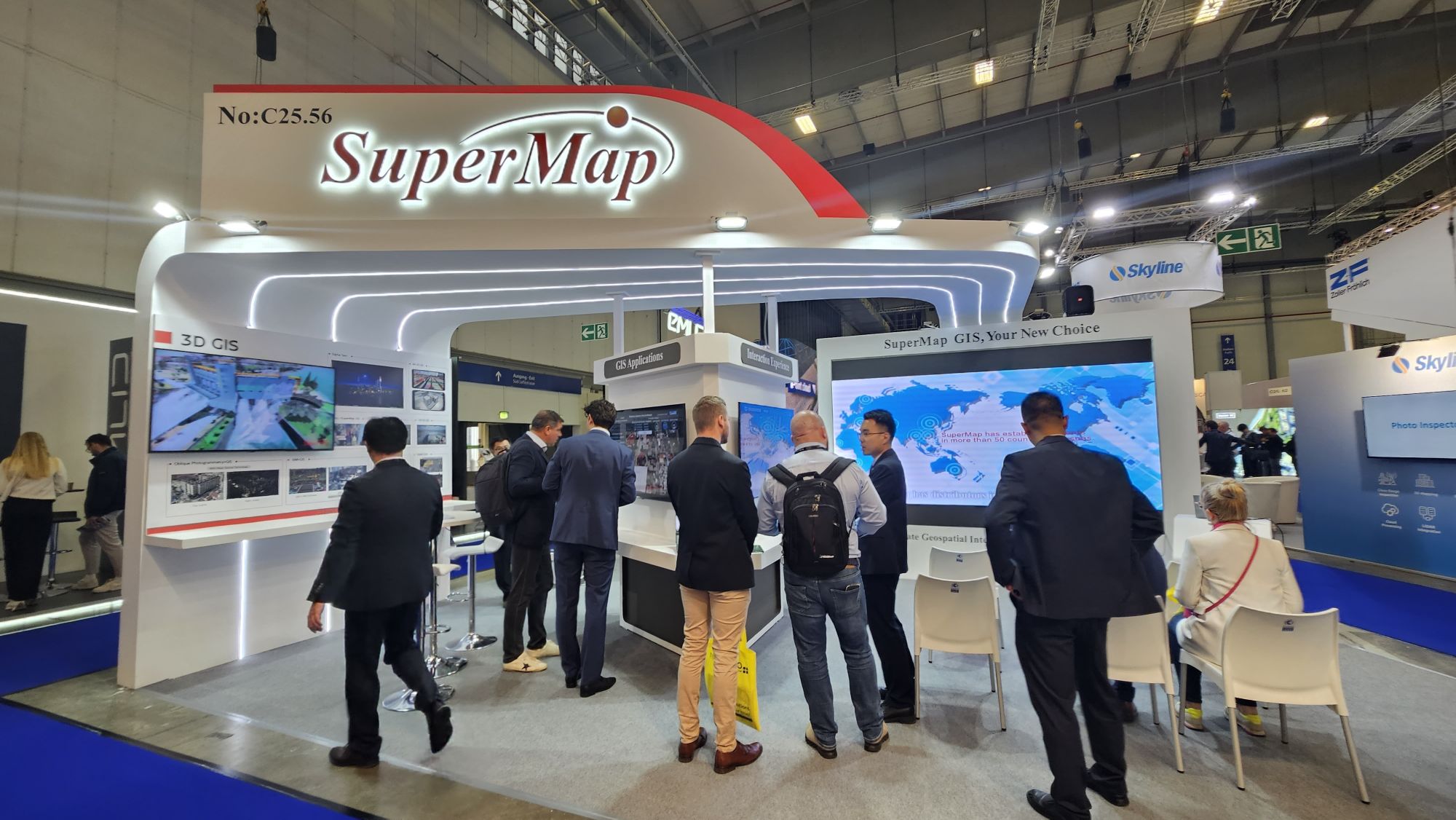 SuperMap International delegation gave reports at the booth and introduced SuperMap and its technologies and products to visitors
Meeting with friends both old and new, SuperMap opens up new prospects for international cooperation
Louise Friis-Hansen, Director of the International Federation of Surveyors (FIG), visited SuperMap's booth, learned about the exhibition, and exchanged views on future cooperation plans with Mr. Wang Haitao, SuperMap Software Group's Vice President and President of SuperMap International. SuperMap and FIG have long maintained a close relationship. At last year's INTERGEO exhibition, the then FIG chairman Mr. Rudolf Staiger, and the new chairman Ms. Diane Dumashie led the FIG group to visit SuperMap's booth, and SuperMap was also invited to present at the FIG handover ceremony that year.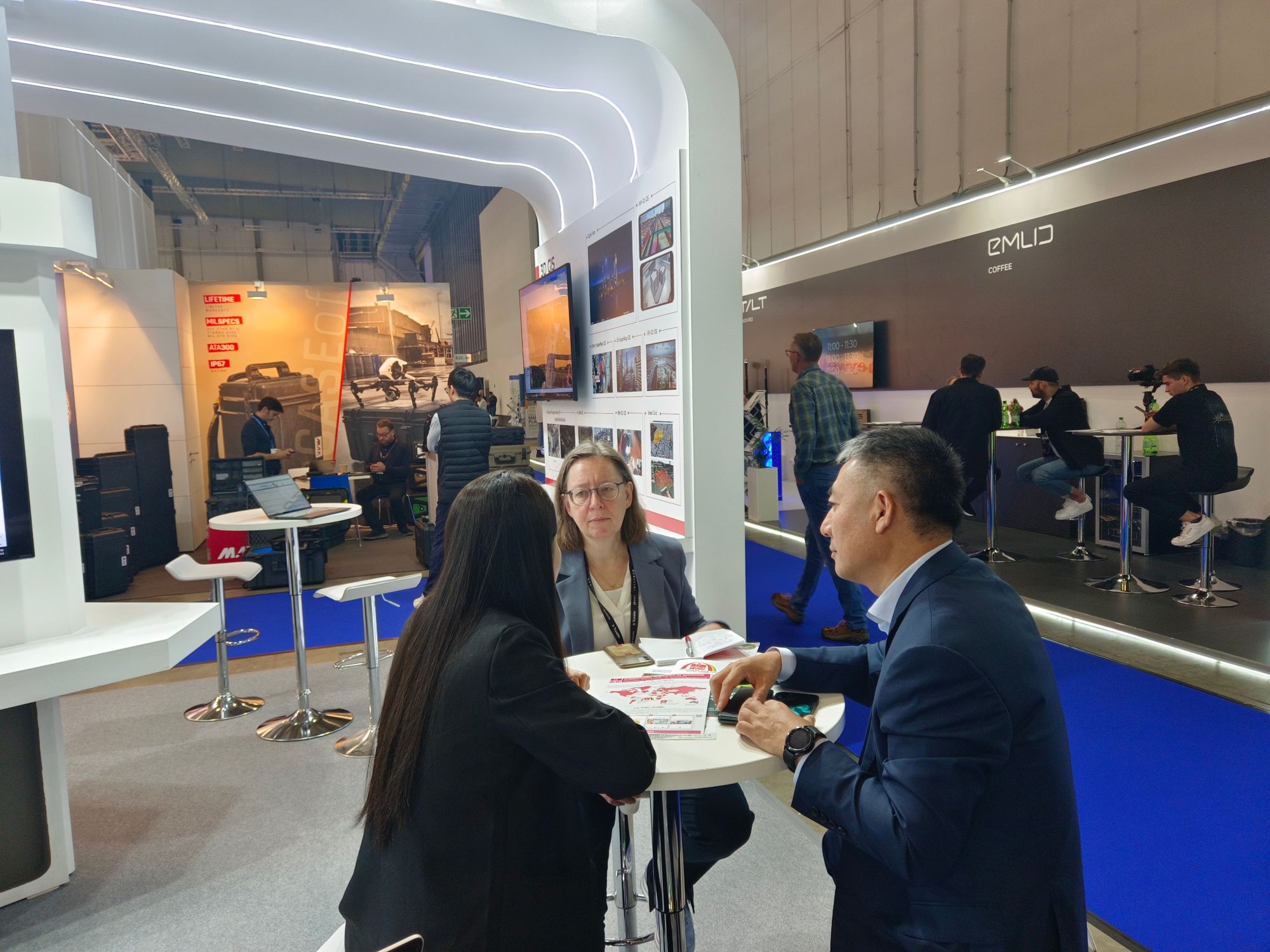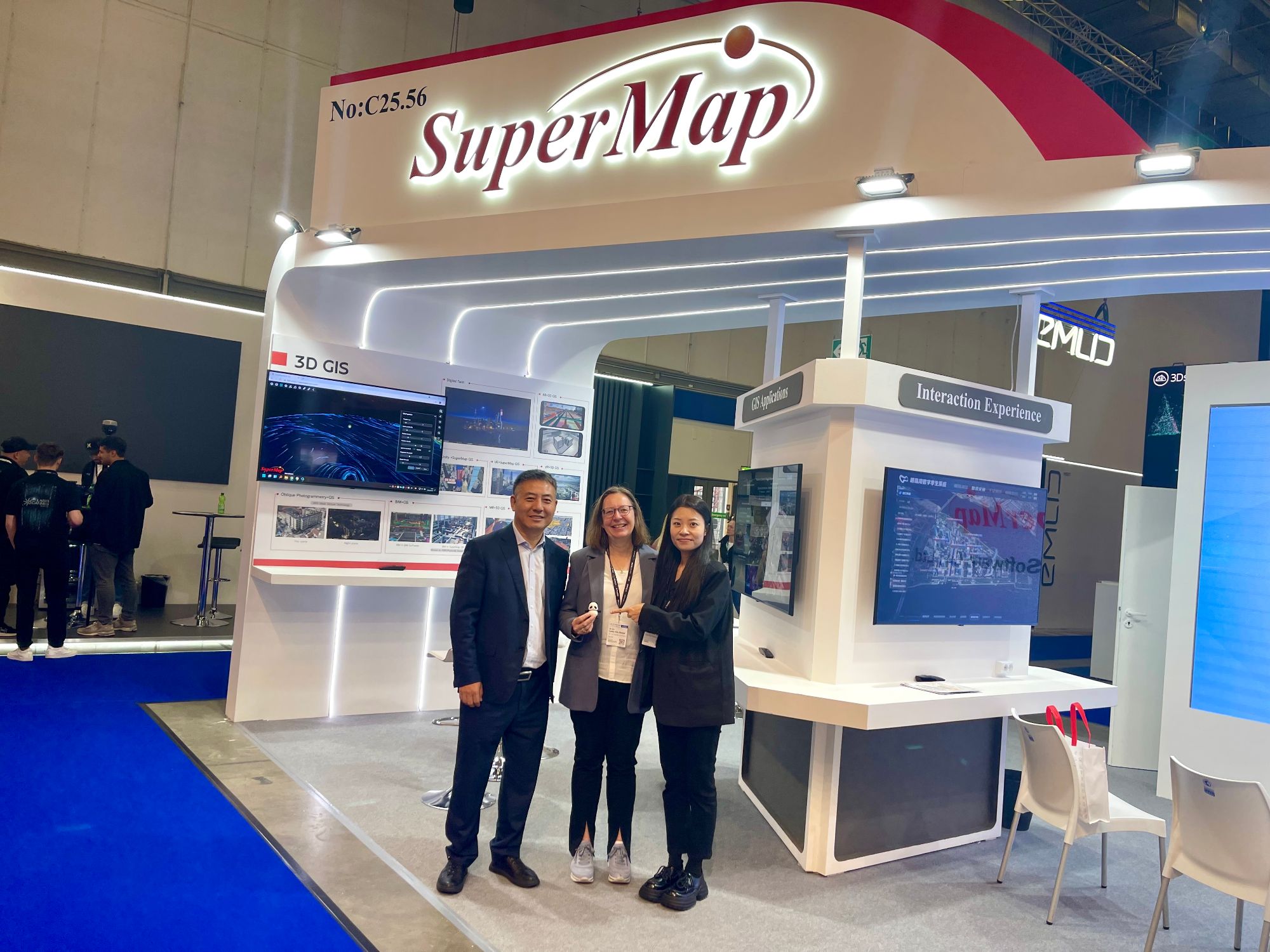 Mr. Wang Haitao communicated with Ms. Louise (middle) and took a photo together
In addition to meeting with old friends, SuperMap has also built a new strategic international partnership. On the second day of INTERGEO, with the support of the Zhejiang Department of Commerce, and under the witness of guests present, SuperMap held a strategic partnership signing ceremony with its German partner IGI System (Integrated Geospatial Innovations) at the Zhejiang Department of Commerce booth. Mr. Wang Haitao and IGI CEO Mr. Philipp Grimm signed the contract on behalf of each party. IGI System is one of the leading companies in the geographic information industry, focusing on positioning sensor systems and aerial survey solutions. SuperMap and IGI's interaction can be traced back to INTERGEO 2022 where the two companies got to know each other. This year, Mr. Philipp Grimm was invited to participate in the GISTC 2023 conference and reported on the international forum, demonstrating how IGI's data could be used in the SuperMap GIS platform for 2D and 3D integrated display and analysis. The building of this partnership is a continuation of the previous interaction between the two parties, further expanding SuperMap's international "friend zone" and laying a good foundation for both parties to combine their respective strength and advantages in the future to create high-quality products and better serve customers jointly.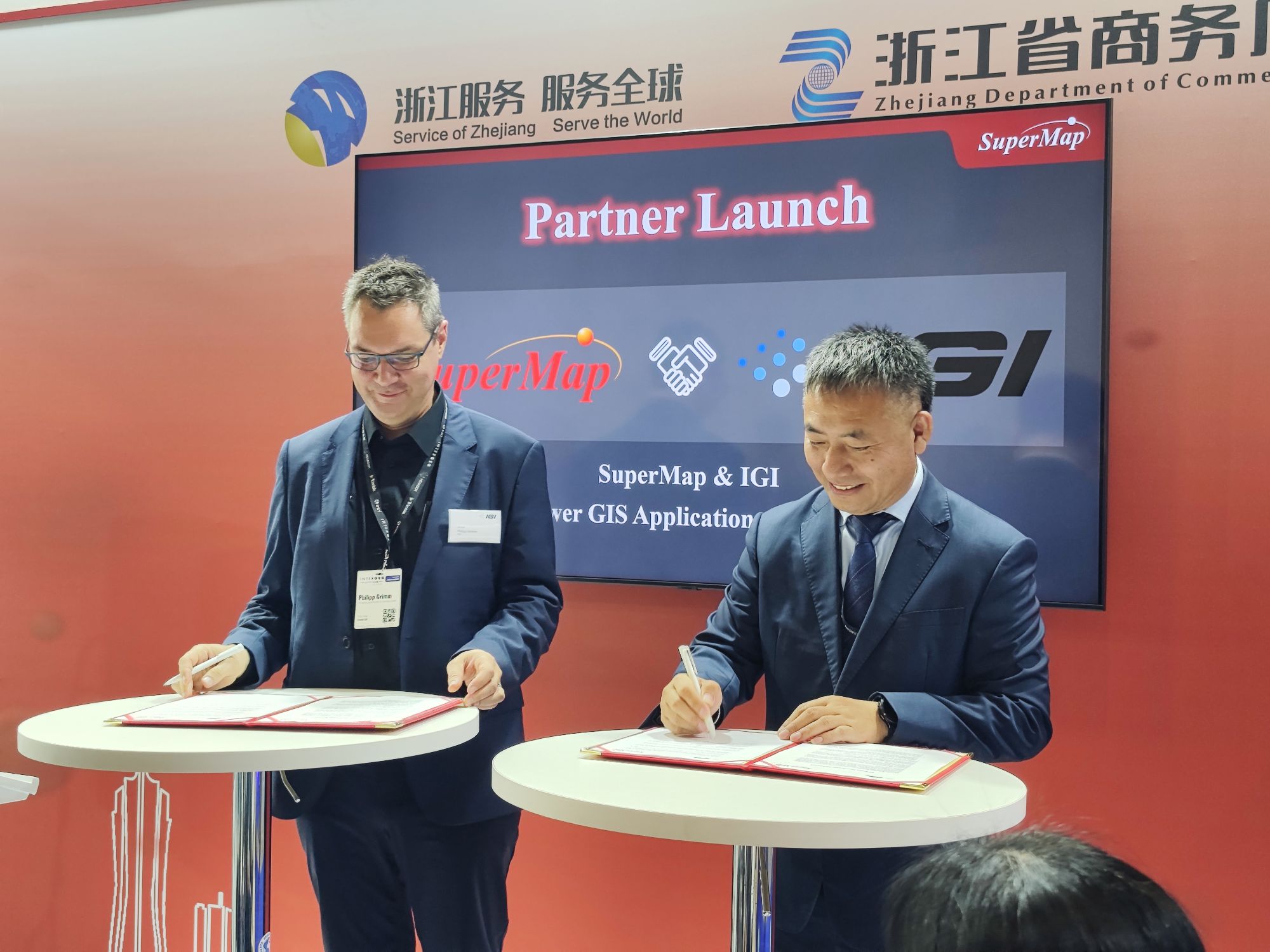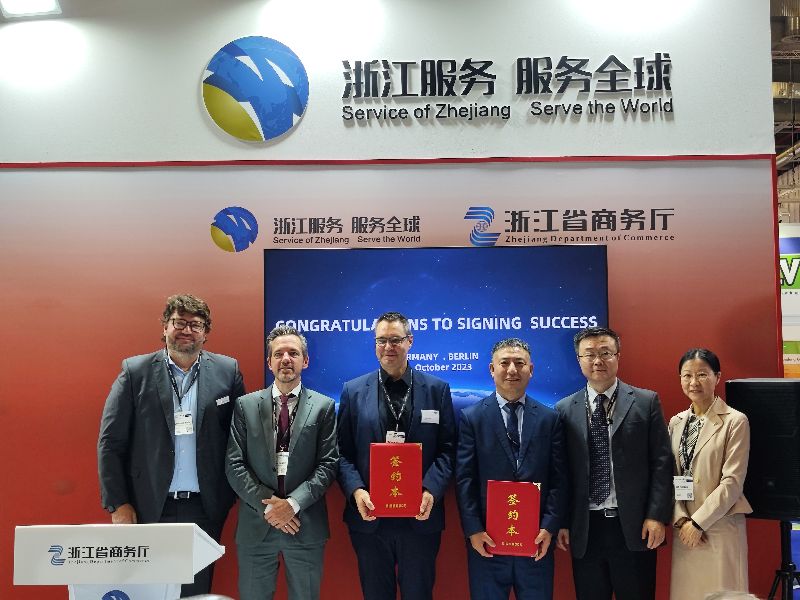 Mr. Phlipp Grimm (left in picture 1) and Mr. Wang Haitao (right in picture 1) signed the contract on behalf of each party and took a group photo with Zhuang Jin, Director of the Service and Trade Division of Zhejiang Department of Commerce (first from right in picture 2), and Wang Tianruo, Economic and Commercial Affairs of the Chinese Embassy in Berlin First Secretary (second from the right in picture 2)
This year's INTERGEO coincides with SuperMap's overseas tour. We demonstrated SuperMap's technological innovation and latest industry applications to global industry counterparts and opened up a new prospect for international cooperation. Powered by technological innovation, SuperMap will continue to explore international markets, bring more professional and high-quality GIS services and technologies to more regions and industries, and work together with global geo-information counterparts to develop the geographic information industry.