September 13-15, 2023 SuperMap Development Conference (SDC 2023) was held online. With the theme of "Developers for Developers", the conference invited GIS experts and senior development engineers to gather online to discuss the cutting-edge GIS technical concepts together with all developers. Through exploring the ways to simplify development procedures using new technologies, speakers discussed how to use integrated solutions to improve development quality and efficiency.
Three major "changes" in SDC 2023
SDC has been held three times so far. In his opening speech, Dr. Song Guanfu, Chairman of the Board of SuperMap Software Group, shared what's changed and what remain unchanged in SDC 2023. The "unchanged" is the original intention of the conference "for developers", while the "changes" are reflected in three aspects:
First, AI has been more deeply involved in our work and life than ever before, and will also bring huge changes to the GIS field. Large models allow us to see greater possibilities from professional AI to general AI, and also allow us to see a broader development space for geospatial intelligence in the future.
Second, data is more important than ever, and so is spatial data. Surveying and mapping geographical information are not only an important strategic data resource, but also a new production factor. Therefore, how to better use geographic information software and geospatial intelligence to more efficiently produce, mine and activate the value of geospatial data elements, is crucial.
Third, 3D GIS technology has become more powerful than ever. It has developed from a visualization technology to a key technology that is not only serves the visualization, but also can support business management. The 2D and 3D integration, BIM+GIS, game engine+GIS, and Web3D have all developed to a more mature stage. How to make good use of powerful 3D GIS technology to empower digital government and the digital transformation of various industries is also a topic that developers need to discuss together.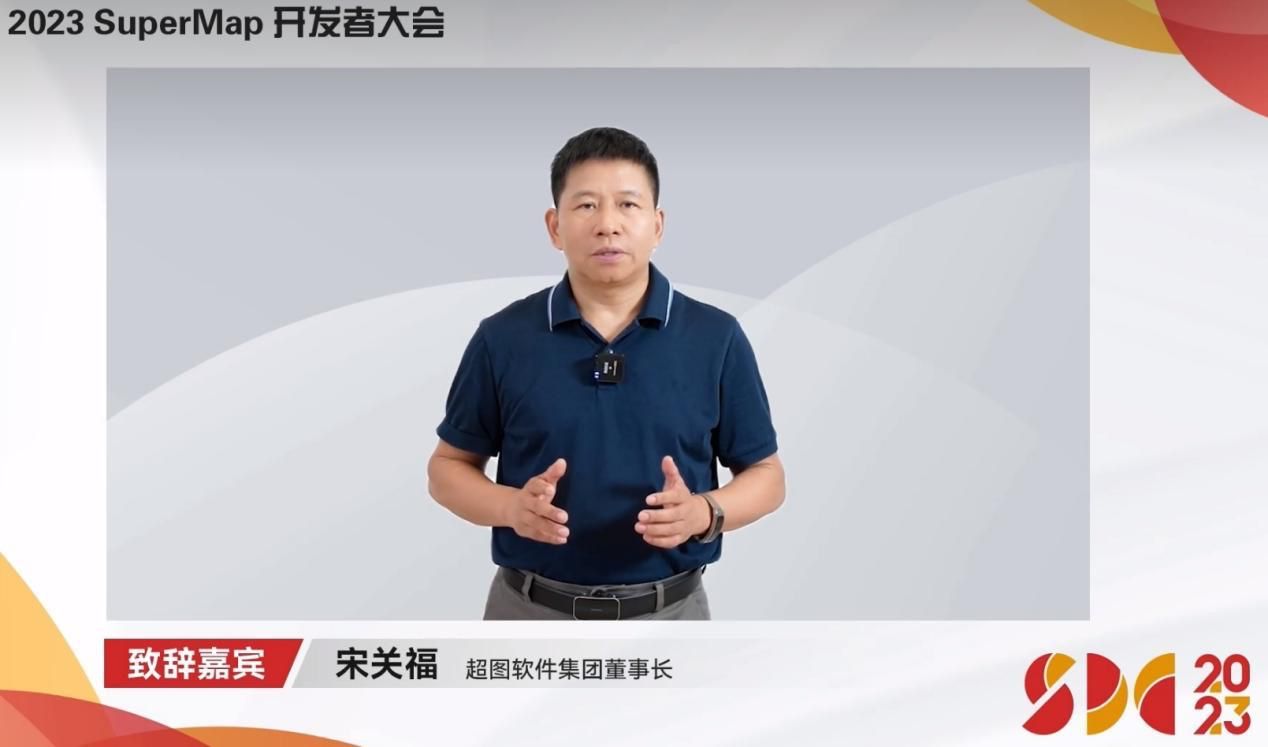 2 clues and 11 sections fully empower developers
SDC 2023 followed the two organizational clues of spatial intelligence and products, and set 11 sections with a total of 35 reports. GIS experts and senior development engineers centered around practical applications and brought a technical feast to developers, which attracted widespread attention. Each section was hosted by professors and experts from Tsinghua University and other universities and government research institutions, as well as experts and leaders from companies such as iFlytek.
Geospatial intelligence is referred to as GI. In 2023, SuperMap updated the "Geospatial Intelligence Pyramid", increasing the number of "intelligences" from the original four to five with geospatial perception intelligence added. The four major sections of SDC 2023, "Geospatial Perception", "Geospatial Visualization", "Geospatial Decision-Making", and "Geospatial Design", have introduced in detail new breakthroughs in geospatial intelligence to help developers improve their development skills.
Integration and innovation are the theme of technological development, and GIS is constantly integrating new technologies to create a new picture of geospatial intelligence applications. In the latest version of SuperMap GIS 2023 series products, SuperMap integrates AI, remote sensing and GIS integration, Web3D, knowledge graph, low-code and other technologies, and enhances cloud GIS server, edge GIS server, end GIS and other products ability. In the 7 major sections of SDC 2023: "Application Platform Software", "Online GIS", "Mobile GIS", "Remote Sensing Software", "Desktop GIS", "Cloud GIS Server", and "Web GIS", the latest SuperMap GIS technology and operating methods has been shared in detail to fully empower developers.
About 2023 SuperMap Developer Conference
The SuperMap Developer Conference is a technology event for geographic information developers and technology enthusiasts. It is hosted by the Geographic Information System Technology Innovation Center of the Ministry of Natural Resources of China and the SuperMap Research Institute. Through technology sharing, product innovation interpretation, development practice exchanges, key technology drills, development resource sharing and technology ecological construction, etc., it is aimed to build a platform for in-depth sharing and interactive communication for geographic information industry experts and technology enthusiasts.