[Manila, September 14] — RASA, the leading surveying and GIS company in the Philippines, and SuperMap, the largest GIS software provider in Asia, spearheaded the historic advancement of GIS for nation-building in the Philippines. On September 14, at the Century Park Hotel Manila, the collaboration of the two esteemed companies was set into stone in front of around 200 local and international attendees hailing from companies in different sectors, as well as industry and government institutions. This historic partnership was also witnessed by some principal guests: Manila Vice-Mayor Yul Servo Nieto, UP Engineering Dean Prof. Maria Antonia Tanchuling, and UP Geodetic Engineering Chair Dr. Jak Sarmiento.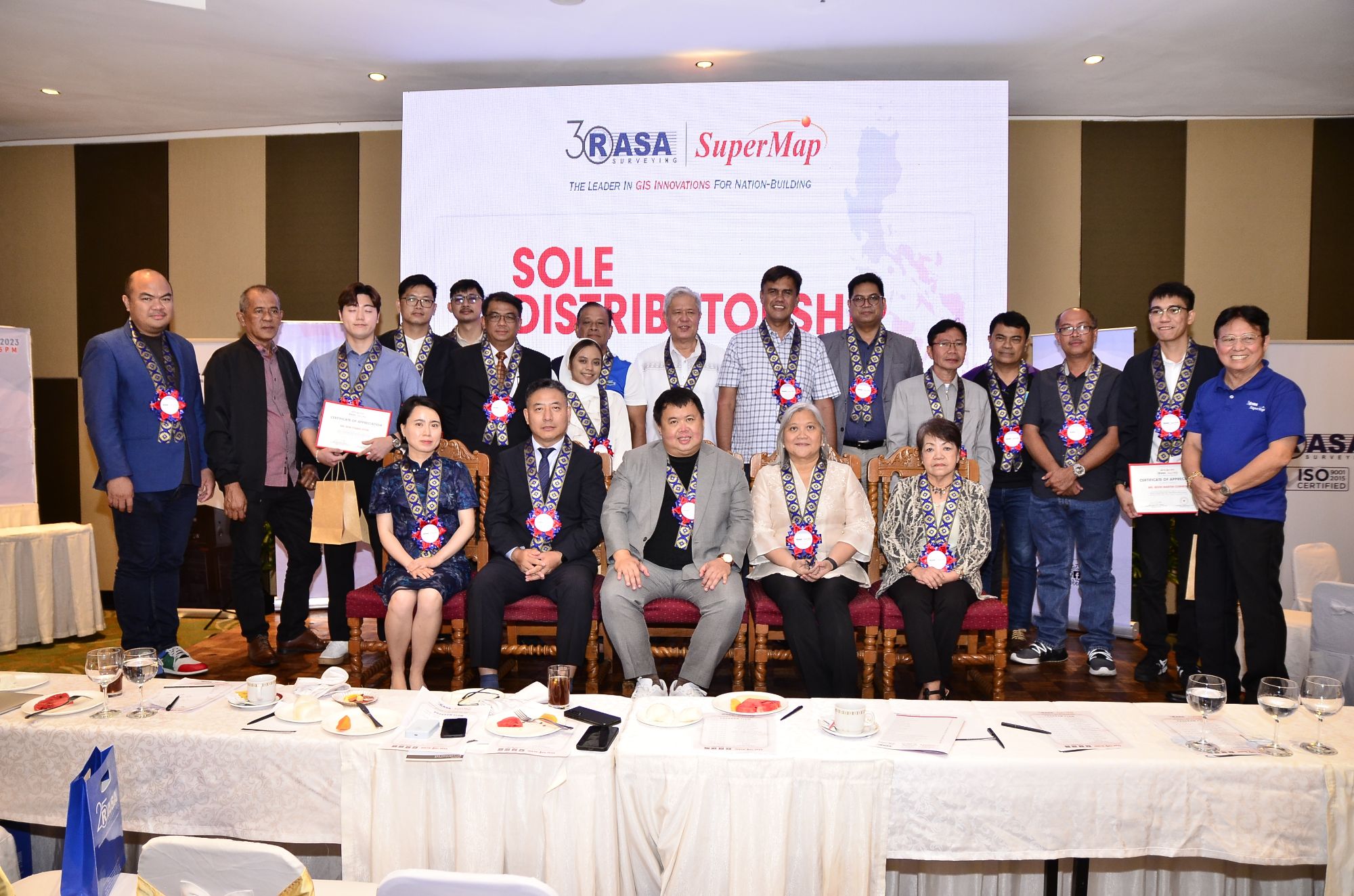 Engr. Raymund Arnold S. Alberto, President of RASA Surveying and Realty, and Mr. Roger Wang, Vice-President of the SuperMap Software Group and President of SuperMap International, graced the event with insightful viewpoints as leaders of their respective companies. Meanwhile, the international speakers, Mr. Ahn ChangHyun from South Korea, Ms. Nikma Fista Safrina from Indonesia, Dr. Kritsanu Palopakorn from Thailand, and Engr. Kevin Martin Cornejo from the Philippines showcased presentations using SuperMap software and technologies to provide real-life GIS solutions.
Mr.Roger Wang(left) and Engr. Raymund Arnold S. Alberto(right)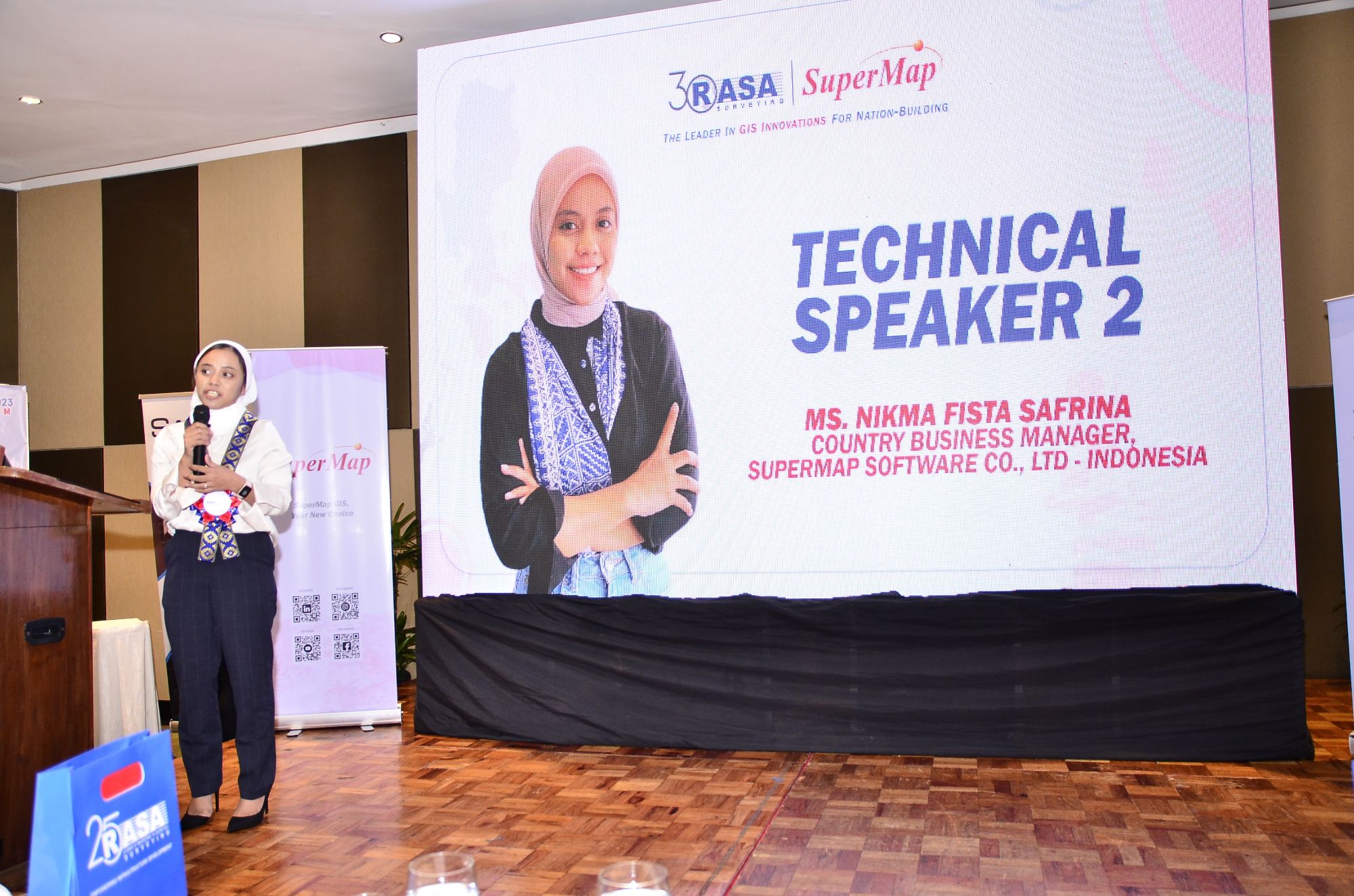 Ms. Nikma Fista Safrina
The event was kickstarted by the UP College of Engineering Dean, Prof. Maria Antonia Tanchuling, with her inspiring words about the importance of partnerships between institutions in academia. In her speech, Prof. Tanchuling said she "ensure[s] that our graduates are not only competent but more importantly are responsible with a strong ethical foundation."
"Through this partnership of 2 companies – RASA Surveying and SuperMap will bring the innovations needed for the limitless possibilities of geospatial technology." Mr. Wang said in his message. "As we embark on this exciting journey together, let us remember that our partnership is a reflection of our shared vision and belief that we can achieve something greater than we could ever imagine." He added.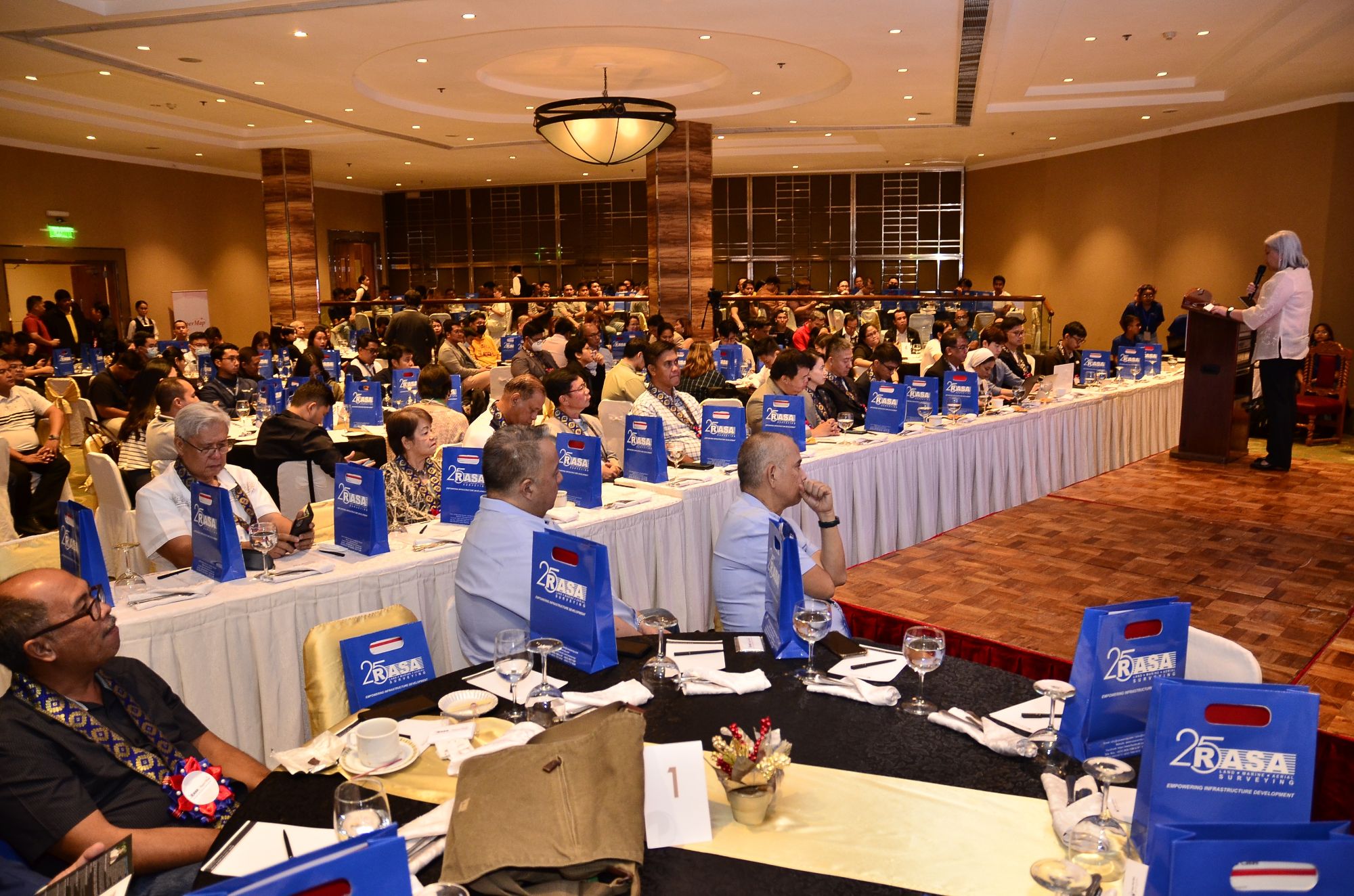 "GIS is playing a vital role in implementing and tracking progress on the UN's Seventeen Sustainable Development Goals or SDGs." Engr. Alberto imparted in his message. Meanwhile, the Guest-of-Honor Manila Vice-Mayor Yul Servo Nieto promised in his speech that his city would soon be utilizing GIS technologies, saying that it would be "[I]n the next months or years."
The participants learned a lot from the technical speakers who have contributed their knowledge to the event. Mr. Ahn shared his expertise in observing different natural disasters using satellite images and portraying the results using SuperMap. Ms. Safrina of Indonesia stressed the importance of GIS in resolving issues on congested traffic. While Dr. Palopakorn discussed the advantages of converting a city into a smart one. Finally, Engr. Cornejo introduced to the attendees the various projects from all over the world that adopt SuperMap GIS technology. They have demonstrated how essential GIS is for nation-building and, how SuperMap paves the way for innovative GIS solutions addressing real-life problems surrounding the country.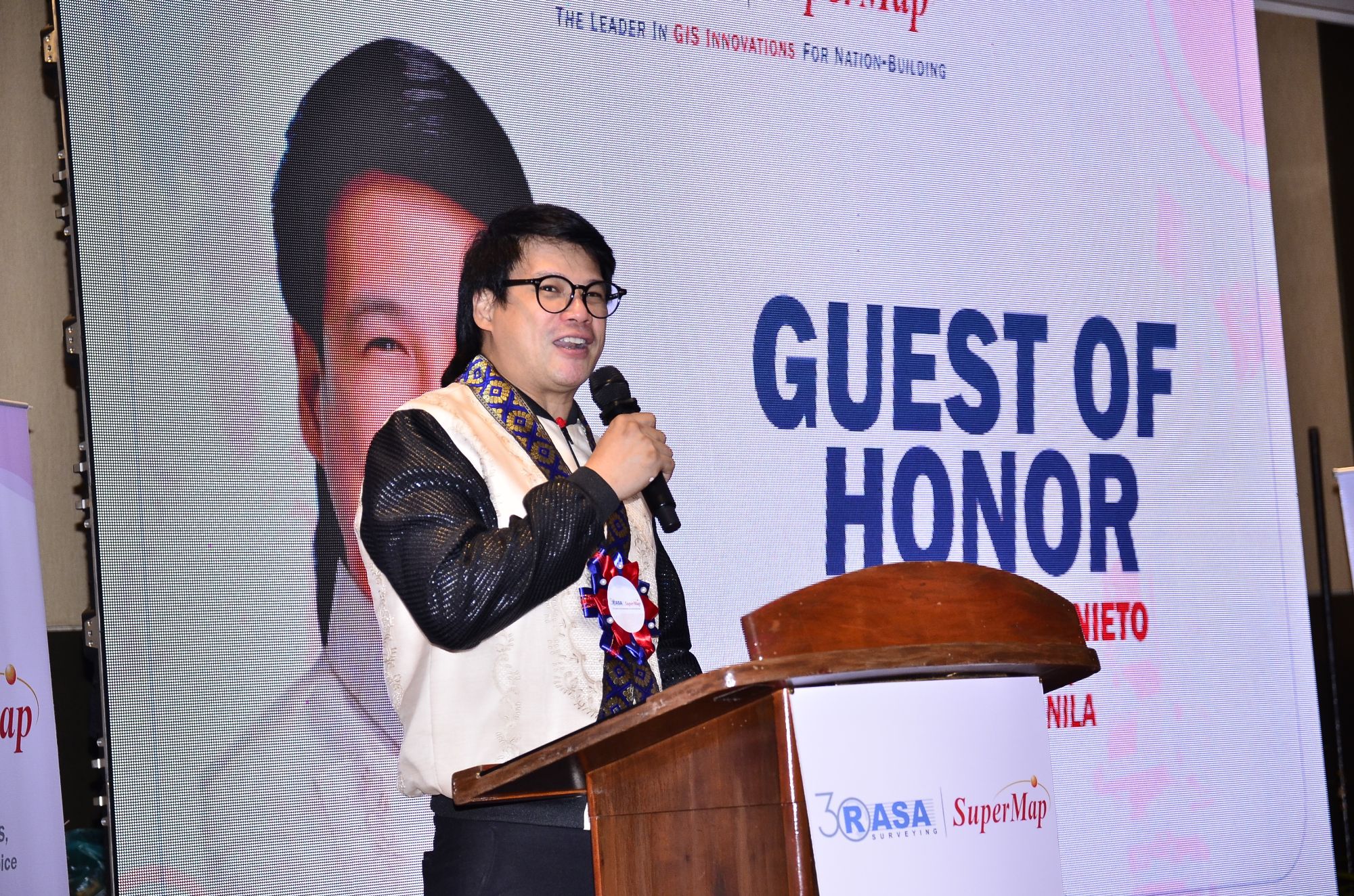 Manila Vice-Mayor Yul Servo Nieto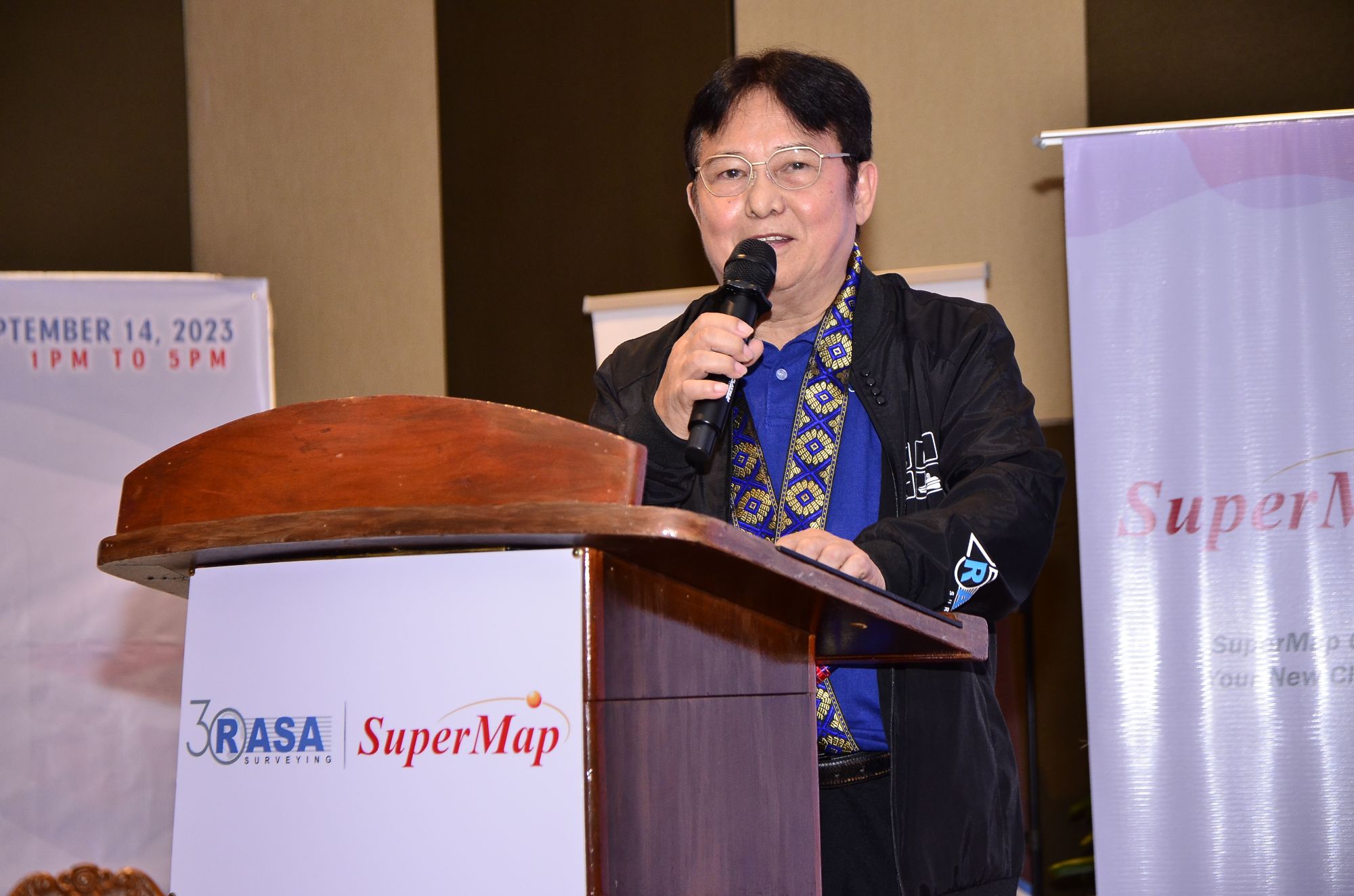 Efren Ricalde, RASA-SuperMap Cooperation Manager in RASA
As part of the launch activity, a GIS Forum titled "Paradigm Shift in GIS" was conducted the next day, September 15, co-organized by the UP Department of Geodetic Engineering (UP DGE), UP Geomatics Alumni Association, Inc. (UP GAA), and the Geodetic Engineers of the Philippines - National Capital Region (GEP-NCR), held at the David M. Consunji Theater, Institute of Civil Engineering, UP Diliman. This event was attended by students and professionals, where technical talks were also conducted led by the same set of speakers, except Mr. Sontaya Ratanatip in place of Dr. Kritsanu. At the latter part of this forum, there was also a brief ceremonial awarding of sponsorship to the Philippine Geomatics Symposium (PhilGEOS) 2023, organized by the UP DGE under the leadership of Dr. Jak Sarmiento. The PhilGEOS 2023 will be held on December 6-7, 2023. Both SuperMap and UP GAA pledged Diamond Sponsorship Package for the event.