On October 7th, Beijing time, the project entitled "Yan-jiang Expressway G4216: openBIM Flagship Megaproject in Southwest China" led by Sichuan Highway Planning, Survey, Design and Research Institute Ltd. (hereinafter referred to as "Sichuan Highway Institute") won the buildingSMART International Award. It marks the first global top BIM award achieved by China's expressway project based on BIM. SuperMap provides basic GIS support for this project.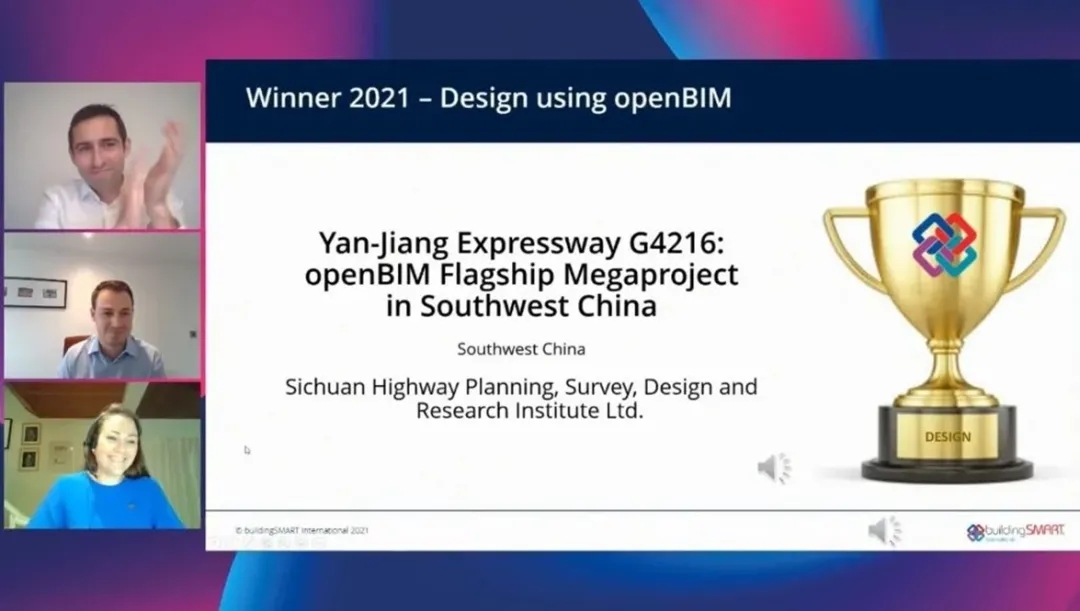 Online final defense and award presentation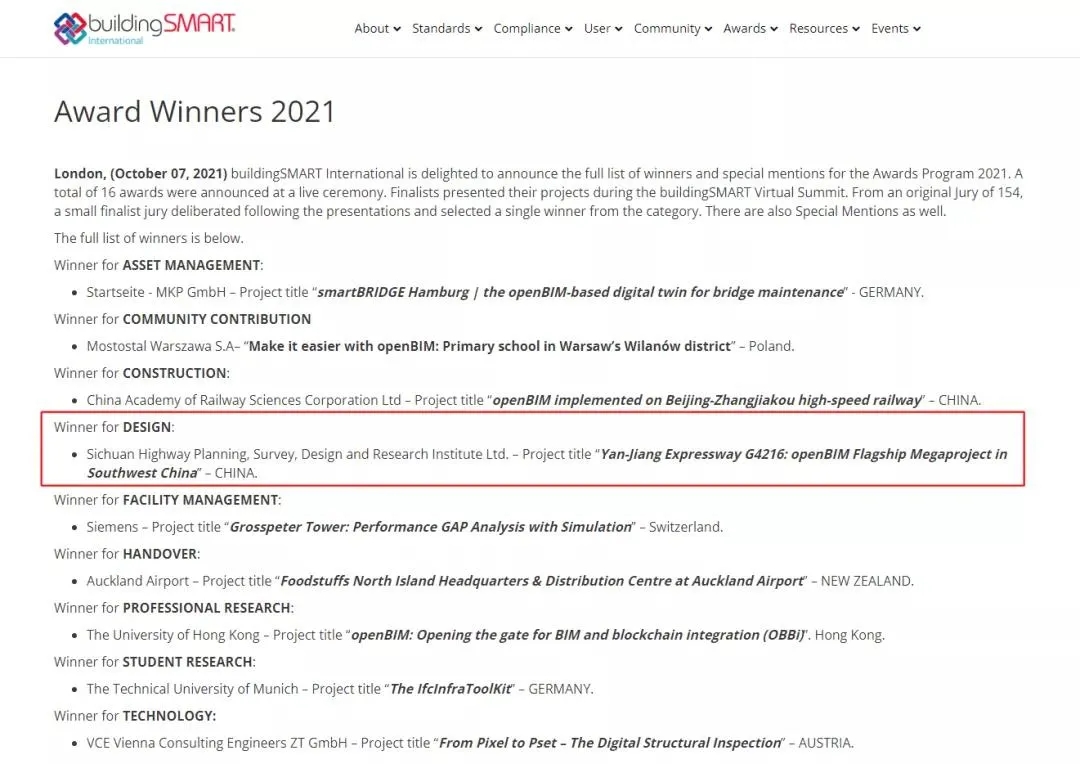 Winner list
This award is initiated by buildingSMART (bSI), the most authoritative BIM industry association in the global BIM field and the IFC international standard preparation and maintenance organization. This event is held once a year with the aim of commending the excellent cases of openBIM international standard application and technology innovation and excellent practice. This year, there are 9 categories of awards for design, construction, etc., and there is only one winner for each.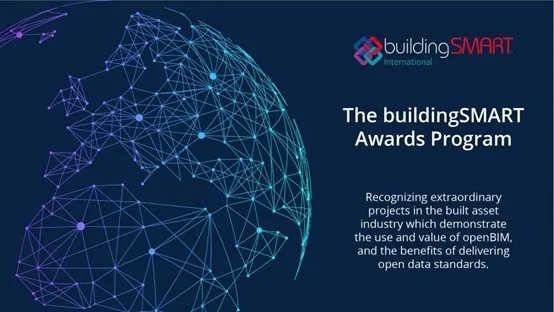 Award introduction
Introduction to the winning project
All the time Sichuan Highway Institute has been dedicated to BIM research and application. With data at the core, it has innovatively constructed the standard system, production system, delivery system and application system. Its self-developed cloud-based CCDS data collaboration system, production assistance system, delivery system, construction and maintenance integrated BIM platform and other key technologies have been deeply applied in the construction of projects such as Yan-jiang Expressway, forming full-cycle digital production, delivery and application capabilities. They have been proved effective in resolving difficulties facing the industry such as the application of BIM standards, multi-person and multi-disciplinary collaborative work, cross-BIM platform result delivery, full-cycle cross-phase data delivery, full-cycle BIM application and business system integration.
The characteristics of the long-span, wide-area, complex and diverse construction sites of the Yan-jiang Expressway project have resulted in restrictions on the application of BIM or GIS technology individually to driving the transportation information management. Sichuan Highway Institute bridged the technological gap between BIM and GIS, and integrated the cloud-based CCDS data collaboration system with the SuperMap GIS basic platform. The CCDS data collaboration system directly outputs the planned and designed BIM data as SuperMap UDB data source, which provides an efficient data flow channel for the subsequent construction and display of applications.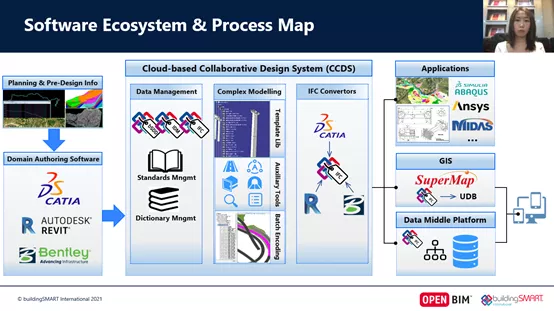 BIM data flow channel
On this basis, Sichuan Highway Institute combined BIM+GIS technology with the actual business needs of expressway engineering, developed an integrated BIM platform for expressway construction and maintenance, and applied it in the G4216 Yan-jiang Expressway project.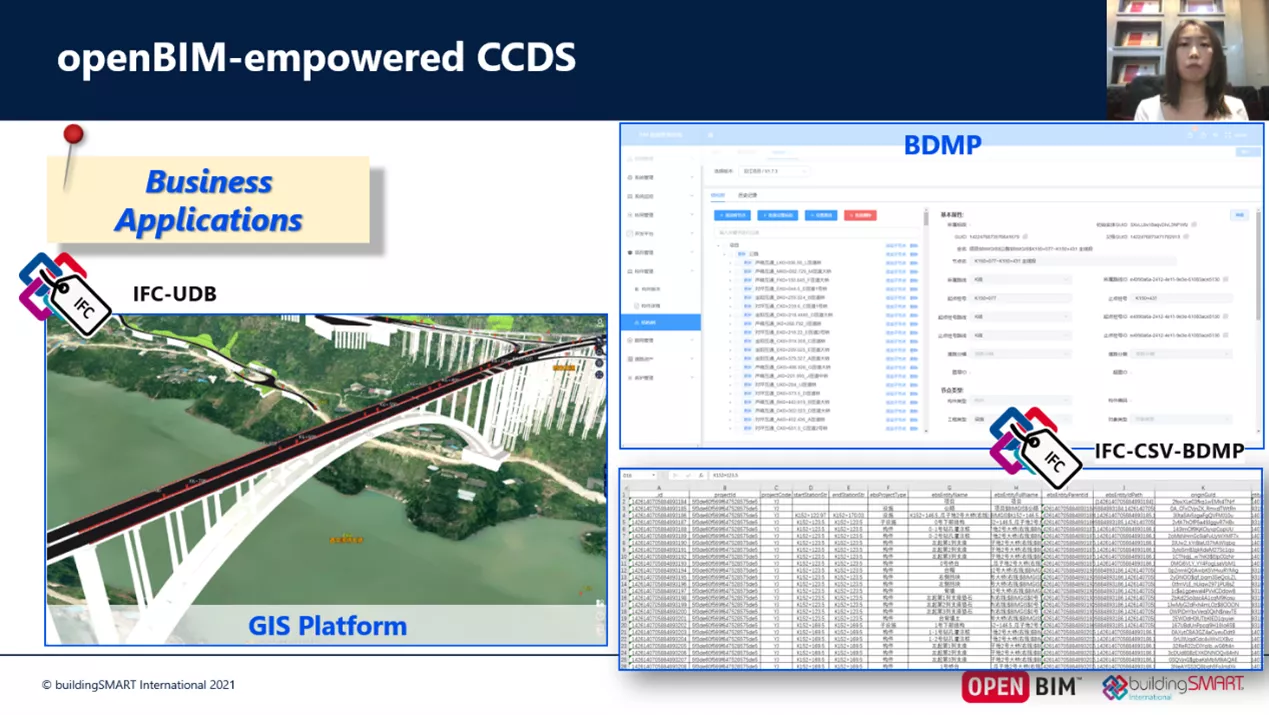 IFC output as the UDB data source