On March 20th, 2020, Beijing time, SuperMap joined hands with Peru GIS software education company Geo Edex to participate in the webinar on "Evento por el Día Mundia del Agua 2021" co-sponsored by the Argentine Electric Power Association, the University of San Carlos Guatemala, and the University of Science and Arts of Chiapas, Mexico. It mainly discussed topics such as water resource utilization, hydrological analysis, water quality analysis and other topics with the participants.

In the webinar, Geo Edex made an online forum report: El Uso del Agua en el Desarrollo de Yacimientos No Convencionales: Caso de Vaca Muerta; Neuquén, Argentina, which sharing how to use SuperMap GIS technology to make 3D analysis on hydropower resources, distribution of underground minerals, mineral classification, and analyze the buffer zone of polluted areas. It introduces the outstanding application advantages of SuperMap GIS technology in water resources utilization, mineral analysis and other fields.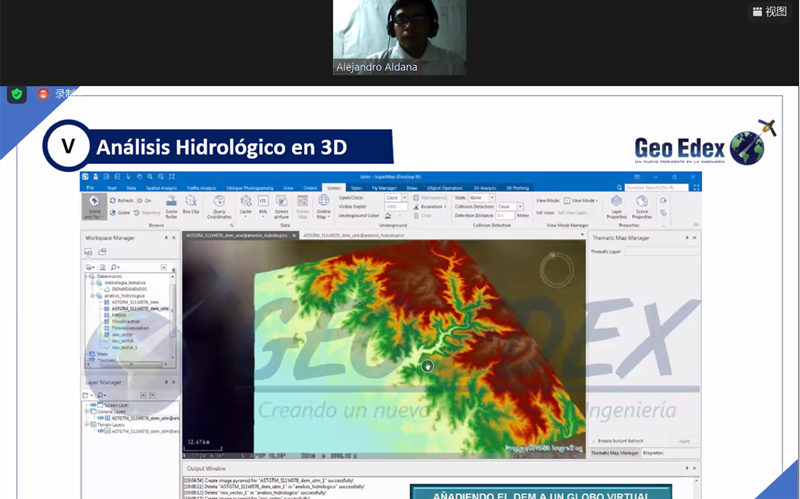 At the opening ceremony, Wang Haitao, Vice President of SuperMap and President of SuperMap International, delivered an opening speech. He said that water is the source of all things and the most precious wealth of mankind. SuperMap is honored to show the advantages and application possibilities of SuperMap GIS 3D technology in hydrological analysis and water resources utilization through this webinar. SuperMap hopes to strengthen cooperation in this field with universities, engineering institutions and law enforcement agencies in South America to better solve related problems.