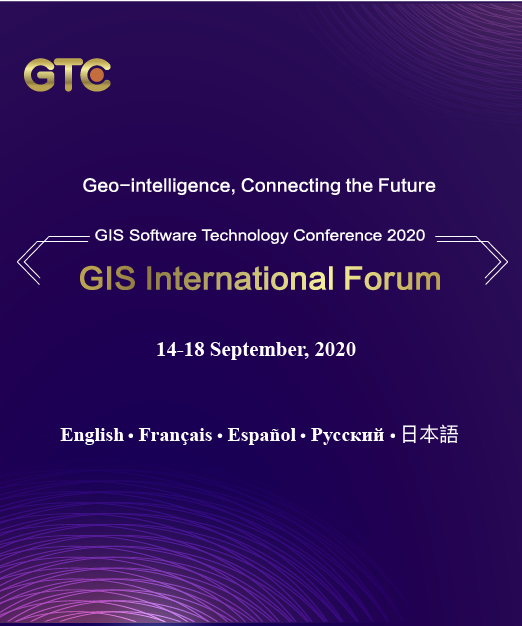 From 7 to 18 September, 2020, the 2020 GIS Software Technology Conference (hereinafter referred to as "GTC 2020") will hold plenary conference at the Beijing International Convention Center, 5 themed forum in 5 China core cities, and 5 GIS International Forums for different regions (in English, Spanish, French, Russian, Janpanese). With the theme of "Geo-intelligence Connecting the Future", the conference focuses on the integration and innovation of geographic information technology and Blockchain, Big Data, Artificial Intelligence and other technologies, shares the latest developments in GIS software, and exchanges best practices in GIS applications.

The past several months have brought serious changes and severe restrictions for all of us. As COVID-19 continues to spread, lots of trade fairs have been canceled or postponed worldwide. In order to meet the needs of epidemic prevention and control, the conference will both hold online and offline. The 5 GIS International Forums for different regions and countries will be held from 14 to 18 September online, and share the latest developments and achievements of GIS technologies and innovations of GIS applications. The forums will be given by over 20 experts from governments, research institutes, universities, and leading companies worldwide in English, French, Spanish, and Russian. Sincerely invite you to participate in the conference!
2020 GIS Technology Conference Committee
August, 2020
Organizers
China Association for Geographic Information Society
Chinese Society for Geodesy Photogrammetry and Cartography
China Software Industry Association
The Geographical Society of China
International Federation of Surveyors (FIG)
Institute of Geographic Sciences and Natural Resources Research, CAS
SuperMap Software Co., Ltd.
Agenda
English Forum: 14 September, 8:00-11:00 (UTC+0), 15:00-18:00 (UTC+8)
French Forum: 14 September, 13:00-16:00 (UTC+0)
Spanish Forum: 14 September, 18:00-21:00 (UTC-5)
Russian Forum: 15 September, 11:00-14:00 (UTC+3), 14:00-17:00 (UTC+6)
Japanses Forum: 16 to 18 September
(There will be follow-up update for detailed agenda, please continue to follow SuperMap to get more)
Contact
Conference Hotline: 86 10 59896996
Conference Email: zhangyuanyuan@supermap.com / fuweiwei@supermap.com
GTC 2020 Website: http://www.gistc.com/en