Dear Teachers/Students,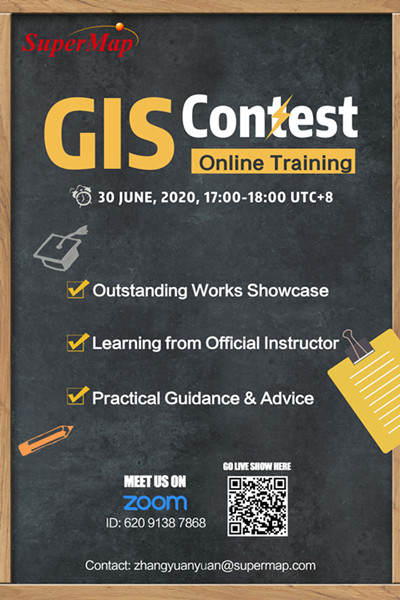 Thanks for your interests in SuperMap GIS Contest, how's your work going for now? To offer you new ideas and official advice from one of the contest judges, we would like to invite you to attend the GIS Contest Online Training (Outstanding works showcase) on 30 June, 2020 from
9:00 to 10:00 AM (UTC+0),
10:00 to 11:00 AM (UTC+1),
11:00 to 12:00 AM (UTC+2)
......
17:00 to 18:00 PM (UTC+8).
To join Training Webinar:
https://zoom.com.cn/webinar/register/WN_MtDDzHtiSGeeQbateqhtmA
Or join with Meeting ID: 620 9138 7868
The webinar will share with you the excellent works of the previous " SuperMap GIS Contest, "including interesting and creative works from Mapping group; the works from application analysis group that can solve the actual demand of industry applications and life; and the works from development group that reflects the application value of GIS in various fields. Through the analysis of these excellent works, it will help you to further widen your thinking, have more creative ideas, and make/develop works that satisfied both you and judges.
To fully join the zoom webinar, please follow the instructions:
1) Install Zoom: https://zoom.com.cn/download
2) Create Zoom Account: With your email address
3) Register Webinar from the link:
https://zoom.com.cn/webinar/register/WN_MtDDzHtiSGeeQbateqhtmA
Or with Meeting ID: 620 9138 7868
4) After the registration of webinar with link and Meeting ID mentioned above, participants will get an email confirmation, PLEASE DO CLICK THE LINK IN EMAIL to join webinar when event begins.
For any questions, please feel free to contact us via: zhangyuanyuan@supermap.com
Visit SuperMap GIS Contest Website for more information: http://www.giscontest.com/en/
Looking forward to seeing your fantastic works!