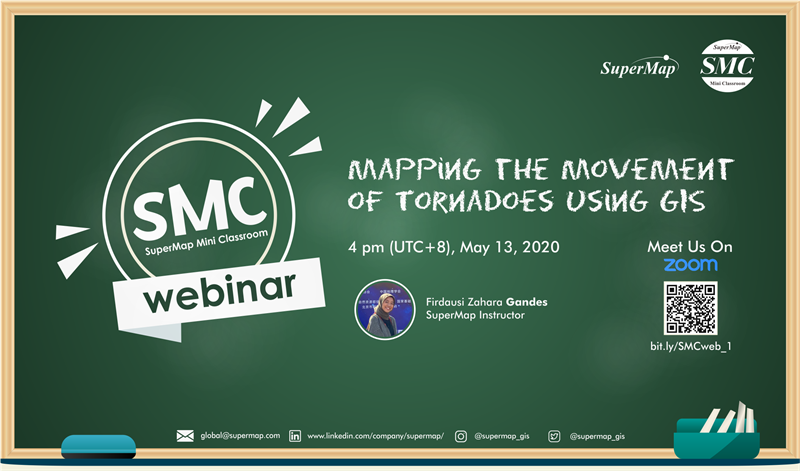 Title: Mapping the Movement of Tornadoes using GIS
Presenter: Firdausi Zahara Gandes (SuperMap)
Time/Date: 16 pm GMT+8, 13th of May
Duration: 45 min
Description: Tornado is a kind of violent cyclone in a small area and a short period of time. It rolls dust soil and houses away, which is very destructive. The United States is the country that suffered the most tornadoes in the world, known as "the land of tornadoes". Due to the flat terrain and vast area in the Midwest and south, the famous "tornado corridor" has been formed. Here, on average, 1000 tornadoes will be formed every year. The climate conditions needed for tornado formation are complex, so it is difficult to make timely warning, but its occurrence is not completely irregular. On this webinar, based on the tornado data from 2009 to 2018 of the U.S. Storm Prediction Center, we use the spatial statistical analysis function in the SuperMap iDesktop to map the movement of tornadoes with monthly changes.
Register for the lecture: https://zoom.com.cn/webinar/register/WN_6ZoOjy4URnqDwMVQ3fgYcg
How to get the certificate of participation: After the webinar, please send an email to zhangqin@supermap.com with the information of your registration, including your full name and country. We will send you the certificate by email after verification.