Spanish:
De 7 a 9 a.m. del 17 de abril, se celebró con éxito el foro de transmisión en vivo de la plataforma, productos y aplicaciones de SuperMap GIS.
El seminario web fue puesto en marcha en español por empleados del America Center of SuperMap International frente a América Latina. Cubre principalmente a los países de México, Chile, Perú, Colombia, España, Francia y otros países. Y el número total de participantes fué de unos 300.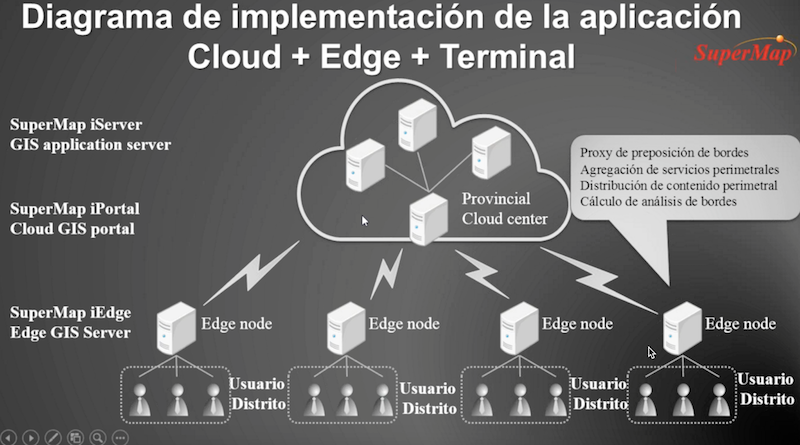 Durante el Seminario Web, Claudio Ramírez, empleado chileno del America Center de SuperMap International, presentó en primer lugar la historia del desarrollo, la influencia internacional y las actividades internacionales relacionadas de SuperMap. En segundo lugar, los empleados de Beijing del America Center of SuperMap International compartieron proyectos típicos de SuperMap en transporte, gestión catastral, ciudad inteligente, infraestructura, planificación urbana y otros, y también mostraron los productos de big data y 3D de SuperMap y SDK de teléfono móvil- iMobile, así como el efecto de aplicación de La IA y AR. Por fin, se llevó a cabo una sesión de respuesta a preguntas en vivo. La UNIGIS seleccionó las preguntas de la audiencia y preguntó a los ingenieros de soporte técnico del Centro América.
El organizador es UNIGIS Latin America (GIS Distance Education), una rama de UNIGIS International Distance Education en América Latina, con sede en Salzburgo, Austria. UNIGIS Latinoamérica está dirigida principalmente a toda la industria SIG latinoamericana. Los cursos en línea proporcionados por la plataforma cuentan con certificaciones de licenciatura y maestría de muchas escuelas europeas famosas.
Este seminario web fue un seminario temático de SuperMap organizado por UNIGIS, que indica la voluntad de UNIGIS de cooperar con SuperMap. Se cree que, a través de esta agradable cooperación, SuperMap International y UNIGIS continuarán ampliando la cooperación en el mercado de la industria, los medios de comunicación y otros aspectos para lograr una situación en la que todos ganen.
Además, este seminario web es una promoción adicional de SuperMap International en América Latina para universidades y socios comerciales. Su objetivo es fortalecer su comprensión de la tecnología, los productos y las aplicaciones de SuperMap.
Con la propagación de la epidemia COVID-19 en todo el mundo, muchos países han tomado las medidas necesarias para controlar la epidemia y han puesto en marcha el modo de oficina de cuarentena para las personas en el hogar. El intercambio de seminarios web se ha convertido en una de las mejores opciones de comunicación durante la epidemia. SuperMap International continuará lanzando reuniones en línea en varios idiomas sobre diferentes temas para diferentes regiones y países, por favor síganos para saber más.
English:
From 7 to 9 a.m. on April 17th, the Webinar of SuperMap GIS Platform, Products and Applications live broadcast forum was successfully held.

The webinar was gone live in Spanish by employees of America Center of SuperMap International facing Latin America. It mainly covers countries of Mexico, Chile, Peru, Colombia, Spain, France and other countries. And the total number of participants was about 300.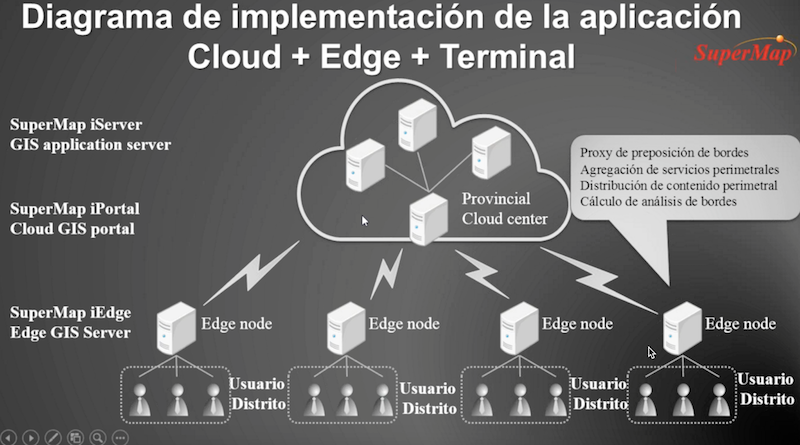 During the Webinar, Claudio Ramirez, a Chilean employee of America Center of SuperMap International, firstly introduced the development history, international influence and related international activities of SuperMap. Secondly, Beijing employees of America Center of SuperMap International shared SuperMap typical projects in transportation, cadastral management, smart city, infrastructure, urban planning and others, and also showed SuperMap's big data and 3D technology and mobile phone SDK products- iMobile, as well as the application effect of AI and AR. At last, a live question answering session was conducted. The UNIGIS selected the questions of the audience and asked the technical support engineers of the America Center.
The organizer is UNIGIS Latin America (GIS Distance Education), a branch of UNIGIS International Distance Education in Latin America, headquartered in Salzburg, Austria. UNIGIS Latin America is mainly aimed at the entire Latin American GIS industry. The online courses provided by the platform have bachelor and master certifications from many famous European schools.
This Webinar was a thematic seminar of SuperMap organized by UNIGIS, which indicates the willingness of UNIGIS to cooperate with SuperMap. It is believed that through this pleasant cooperation, SuperMap International and UNIGIS will continue to expand cooperation in the industry market, media and other aspects to achieve a win-win situation.
In addition, this webinar is a further promotion of SuperMap International in Latin America for colleges and business partners. It aims to strengthen their understandings of SuperMap technology, products, and applications.
With the spread of COVID-19 epidemic around the world, many countries have taken necessary measures to control the epidemic and launched the quarantine office mode for people at home. Webinar sharing has become one of the best communication options during the epidemic. SuperMap International will continue to launch multi-language online meetings on different topics for different regions and countries, please follow us to know more.
To review the reports in Video, please find below:
https://attendee.gotowebinar.com/recording/7869591054866289931
To download the reports in PDF, please find below:
Presentation for SuperMap _En Español Webinar