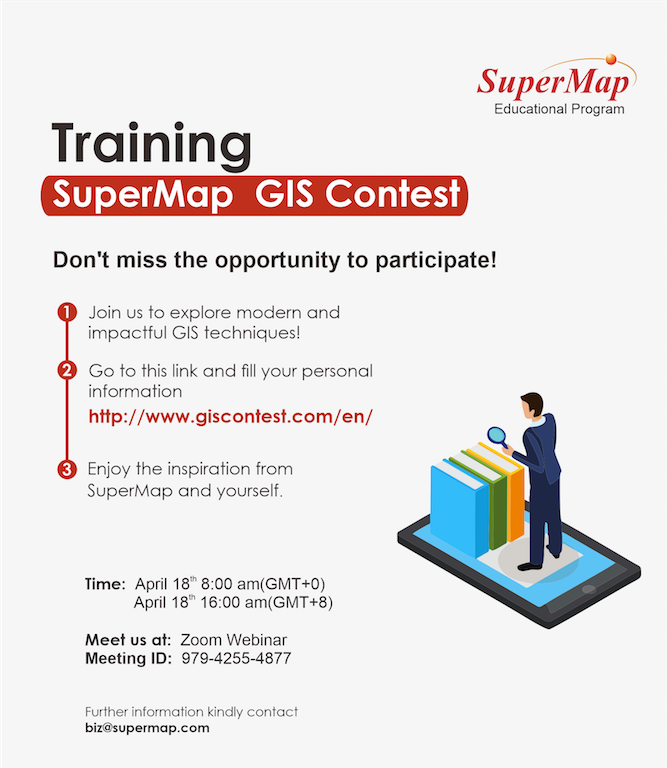 In order to better introduce the SuperMap GIS Contest and increase users' knowledge of it, as well as to help the better understandings of SuperMap technologies and products for different developments in programming. The first SuperMap GIS Contest Training Webinar will be held online at 16:00 PM (GMT+8) 8:00 AM (GMT+0) on 18 April.
The main contents about the seminar will be about GIS contest introduction for 5 categories, requirements, and how to join the contest. More, SuperMap technology and product systems will also be introduced and how they can be used in the contest as tools.
The training will go live on Zoom Cloud Meetings. Please install the client in advance and join us by the link below when the live time comes.
Download Zoom (for all terminals): https://zoom.com.cn/download
Join the Webinar:
https://zoom.com.cn/webinar/register/WN_DNZW775MQUKzjn_YPWPGXw
Meeting ID: 979-4255-4877
For any questions, please feel free to contact us via: biz@supermap.com