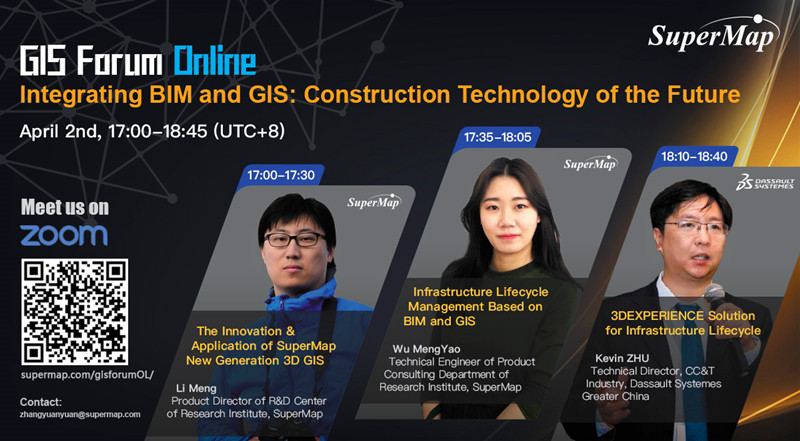 We would like to invite you to SuperMap GIS Forum Online to be held on 2nd , April 2020 from 17:00 to 18:45 (UTC+8). By focusing on the theme of "Integrating BIM and GIS: Construction Technology of the Future", the forum will provide you an excellent platform to understand the key technologies of GIS.
SuperMap GIS Forum Online is organized by SuperMap, which has the 3rd largest share in global GIS market, and the 1st largest share in Asia GIS market (by ARC Advisory Report). During the forum, experienced experts from Research and Development Institute of SuperMap and SuperMap strategic partner Dassault Systems will share reports of 3D GIS and its integration with BIM. Also, reporters will talk about their insights and predictions about the industry.
Schedule:
The Innovation & Application of SuperMap New Generation 3D GIS 17:00-17:30
Li Meng, Product Director of R&D Center of Research Institute, SuperMap
The report will share the latest developments of SuperMap New Generation 3D GIS technology system, including: the deep evolution of new 3D GIS in terms of technology, standards, cross-border cooperation, and ecosystem construction; the efficient full-process management of large-scale real-scene 3D data based on distributed technology; the significance of the openness and sharing of 3D data and the spatial 3D model data format (S3M) standard for further application of 3D GIS; and the new 3D interactive experience brought by IT technologies such as WebGL / VR / AR.
Infrastructure Lifecycle Management Based on BIM and GIS 17:35-18:05
Wu Mengyao, Technical Engineer of Product Consulting Department of Research Institute, SuperMap
The report will share SuperMap BIM + GIS technology, including the entire process from BIM data accessing, BIM data processing, spatial calculation, spatial analysis to visualization, as well as the application points of BIM + GIS in the whole lifecycle of the project for three stages of application: planning and design, construction and maintenance.
3DEXPERIENCE Solution for Infrastructure Lifecycle 18:10-18:40
Kevin ZHU, Technical Director, CC&T Industry, Dassault Systemes Greater China
The report will share the 3DEXPERIENCE Solution for Infrastructure, covering civil engineering design, virtual construction, simulation and asset management, as well as a lot of customer references in China.
Notes
The forum will go live on Zoom Cloud Meetings. Please install the client in advance and join us by the link below when the live time comes.
Download Zoom (for all terminals): https://zoom.com.cn/download
Join the Webinar (Please change your browser language into "English"):
https://www.supermap.com/gisforumOL/
We hope you can have your calendar marked, and we are delighted to meet you.
For any questions, please feel free to contact Ms. Emma via
Tel: 86 10 59896996
Email: zhangyuanyuan@supermap.com
SuperMap Software Co., Ltd
www.supermap.com