"Tiandi Map" is the professional and unique provincial geographic information public service platform in Hunan Province. It is also an important display platform and application platform for basic geographic information in Hunan Province. Since its launch, it has supported dozens of application systems in the province and has provided online geographic information services for governments and the public.
The "Tiandi Map" project adopts cloud technology to build a one-stop geographic information public service cloud platform, integrates provincial, city and county data, and provides GIS cloud host application and service for more than 120 cities, which realizes the integrated management of the departments in Hunan province.
1.The cloud Architecture of "Tiandi Map
The platform is a cloud information-based geographic information cloud platform. By transforming a physical machine into multiple virtual machines through virtualization technology, it can maximize the utilization of hardware and software infrastructure and build a flexible and scalable geographic information service cloud through distributed cluster technology. In the case of excessive visits, it can adjust the number of cloud service nodes, and dynamically adjust the size of the cloud platform.
2. The cloud service of "Tiandi Map"
The "Tiandi Map" Cloud Server mode virtualizes a data+software+development resource packaged cloud server for customers. Based on the technical achievements of "Tiandi Map", it can not only provide the provincial map website, the map mobile application and the industry geographic information service, but also quickly provide the 120 municipal and county-level administrative units with the cloud host that runs the corresponding map template.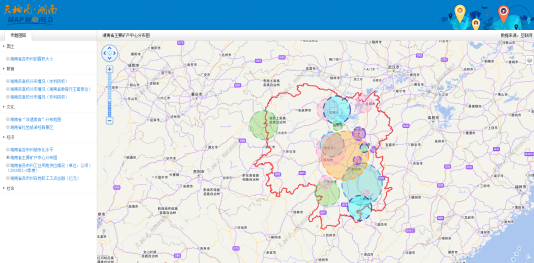 3. The new version of the portal system
The main functions of new "Tiandi Map" and Hunan Web Portal include online maps, comprehensive services, application superstore, easily drawing, typical applications, news announcements, mobile maps, and map APIs.
Easily drawing: It provides the new DIY mapping interactive function to massive users, which is suitable for personal mapping needs. Users do not need to have any programming, drawing experience and install GIS software, but can use the data to easily draw the various thematic maps.
Comprehensive service: You can view the various thematic service layers classified by topic that have been uploaded and published. The classification includes land, education, environment, economy, culture and tourism.
Application superstore: There are a large number of application system templates the application superstore. Based on the application template, the industry department can quickly build an industry geographic information application system with a single line of code.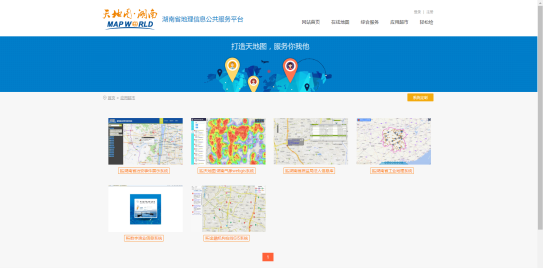 4. The full-featured mobile terminal
The "Tiandi Map" cloud platform mobile app provides many distinctive features, such as point of interest search, thematic map display, etc., especially the navigation function and 3D data display function, they can bring users more convenient and vivid experience.
More Big Data GIS Related
Satellite Tracking + Big Data GIS Application in Real-time Ship-controlling>
Big Data - Signaling Data Makes Cities Smarter>