The sewage treatment station cloud platform was designed and developed by SuperMap and partner company to monitor the data and maintain the equipment of sewage treatment station based on SuperMap products. The platform mainly has the following functions:
(1) The control room
The control room can call various types of operational data stored in the system to analyze and monitor the production process, equipment, energy consumption, etc. By comparing the curve and the histogram, the data item of a single water station can be analyzed, and the comparative analysis of multiple data items between multiple sites can also be realized.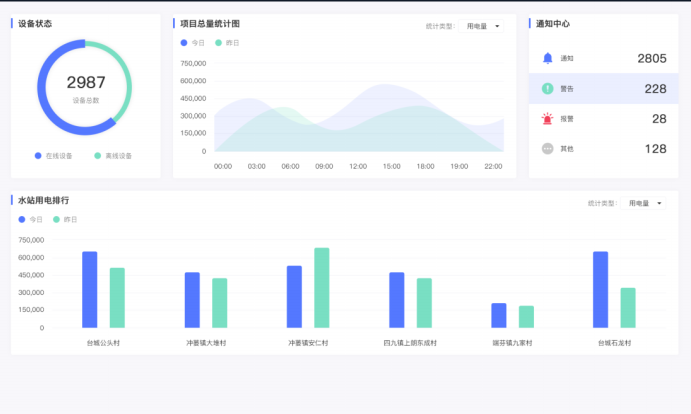 (2) The GIS map displaying
The platform displays the location of all sewage treatment stations on the map and the status of the equipment. The pointer on the map is marked as the corresponding device, and the device can be opened by moving the mouse to the pointer to view the data of the device.
(3) The device list displaying
After logging into the platform, users will enter the device list page, which can display all site list status information, site location and name, and site alarm information.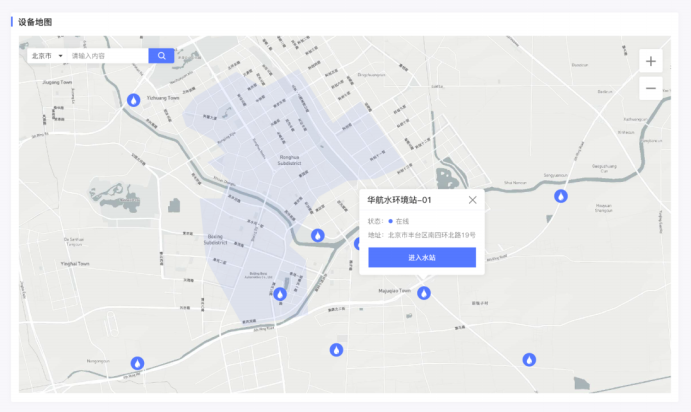 (4) The real-time process displaying
The real-time process of each sewage treatment station can be displayed, including equipment operating status and main regulatory parameters.
(5) The historical curve
The operator can select the required process parameters to view the historical curve. The historical curve can display the continuous changes of various parameters in a certain period of time and the historical curve parameters and time can be selected by the user.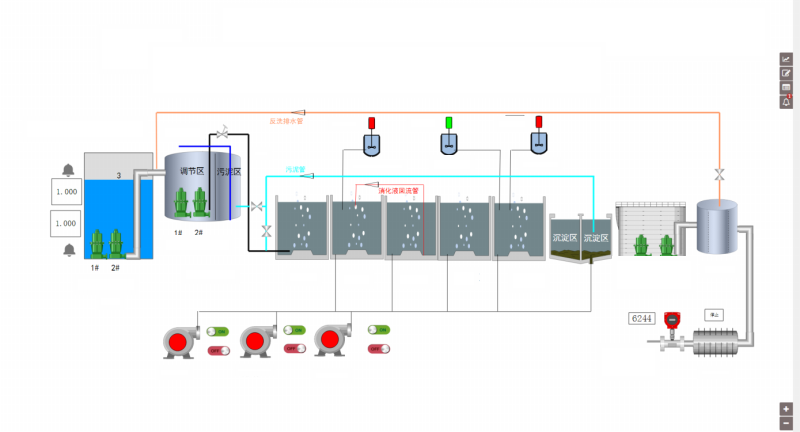 (6) The equipment monitoring and controlling
The platform can communicate with the site at a certain time and display the acquired data in an animated and tabular form on the monitoring interface for remote monitoring by the operator.
(7) The historical data
The platform can store and manage the data of each sewage treatment station together. The management personnel can query the historical data of the corresponding parameters of each sewage treatment station through the platform, and export the historical data onto the local computer.
(8) The real-time and historical alarm
When an abnormal situation such as equipment failure or communication interruption occurs in the sewage pumping station, the platform can pop up a real-time alarm prompt, which can display information such as alarm time, alarm device name, alarm status, etc., to remind the operator.
(9) The equipment management
The platform can manage the station equipment, including equipment procurement, equipment maintenance, equipment components, chemical inventory, equipment library information, information management for all networked treatment equipment, and complete equipment maintenance records.
More Big Data GIS Related
Satellite Tracking + Big Data GIS Application in Real-time Ship-controlling>
Big Data - Signaling Data Makes Cities Smarter>