The Xiaoshan District geographic information service platform collects various spatiotemporal information about the region in real time, integrates the operation spatial data of various local departments, mines the spatial application data, and provides cross-regional, cross-departmental, and cross-level sharing services of thematic spatial data. It is jointly developed by Xiaoshan Big Data Management Center based on SuperMap GIS technology.
By creating a Xiaoshan digital twin with one library, one platform and one toolbox, it can meet the needs of local management departments' operation systems and digital cockpits for space-time support, and allow city managers to understand real-time data in various economic and social fields in the region anytime, anywhere, to achieve " One-screen display of data, one-screen analysis of indicators, one-screen linkage of command, one-screen closed-loop governance, and one-screen perspective of scenes."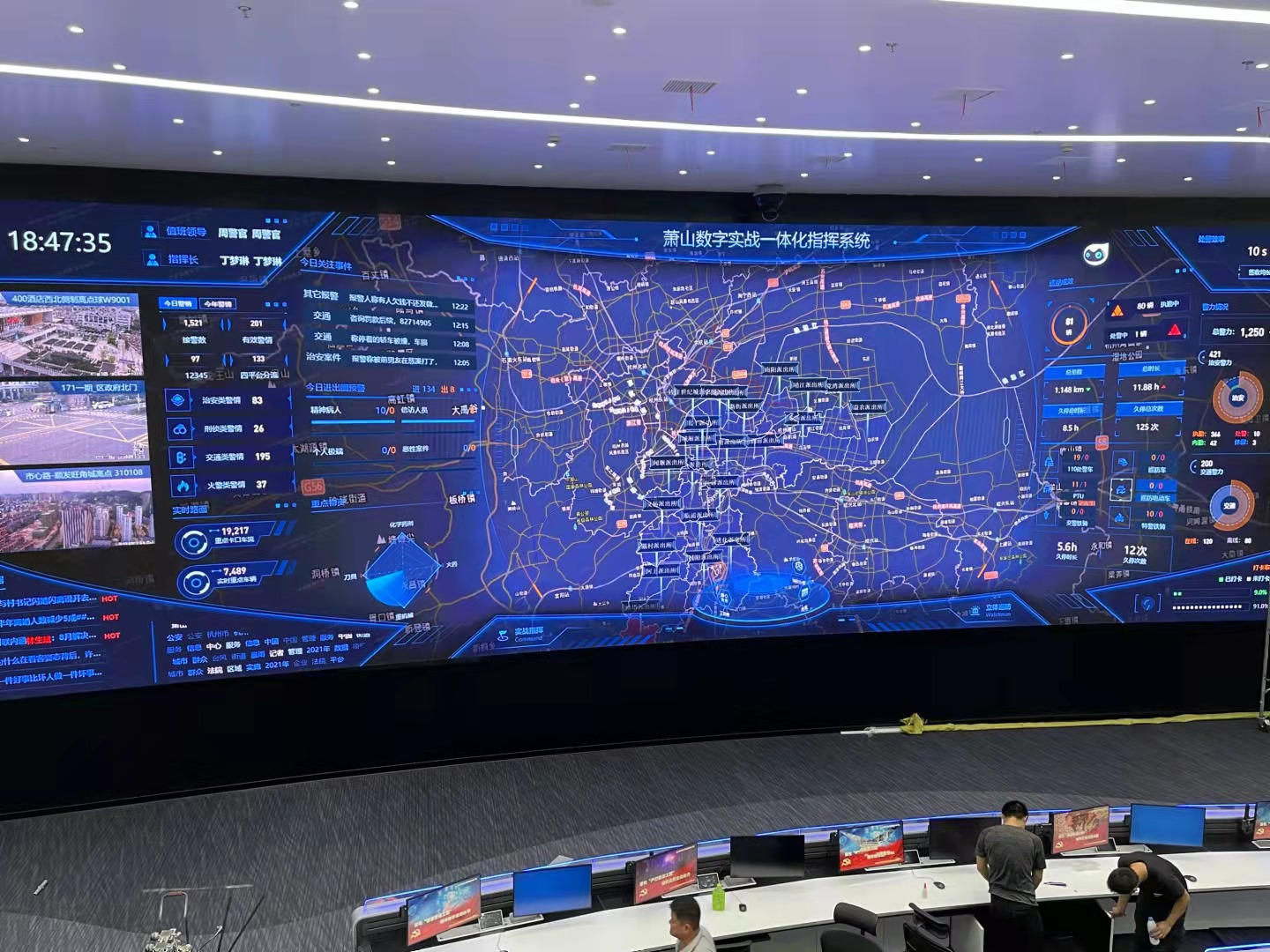 Xiaoshan Digital Integrated Command System
The project carries out the upgrading of 2D and 3D integrated space display capabilities, relying on online 3D basic services and 2D online basic services to achieve 2D-3D integrated space display, comprehensively and concretely display the results of 3D data in the whole area of Xiaoshan, continuously displaying the above-ground, underground, land and ocean; supports seamless integrated management and service application of 2D and 3D spatial information, integrates multi-source spatial data such as vector, remote sensing image, DEM, 3D entity, BIM and other multi-source spatial data based on Beidou grid to form a 3D urban grid data model, realizes 2D-3D integrated data management, scene construction and spatial analysis.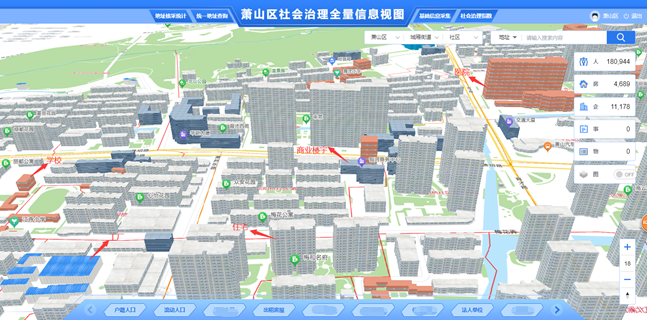 Xiaoshan District Social Governance Full Information View
The construction of the project forms a three-dimensional spatial database in Xiaoshan, and promotes the simultaneous planning and construction of the digital city and the physical city. It gathers all kinds of spatiotemporal basic data, resource survey data, planning and control data, engineering construction project data, public thematic data, IoT perception data and other above-ground, indoor and outdoor, historical status, future multi-dimensional and multi-scale information model data and urban perception data to build a unified, standardized and dynamic GIS data resource system, forming a city 3D database.
This project supports the efficient online management of GIS data resources, implements the organic integration of business information, 2D spatial information, and 3D spatial information, meeting the needs of operation collaboration and information linkage, and dynamically aggregating and updating multi-source and massive data, thereby supporting all levels of departmental information sharing.