On May 20th, Beijing time, SuperMap Arabic GIS Online Forum was successfully held. This forum went live with Arabic, and it is the first webinar which face to the geo-industry colleagues in Africa and Middle East countries, such as Egypt, Sudan, Jordan, Morocco, Tunisia, Syria, UAE, Saudi Arabia, and others.
First, Jeffery Zhang, technical Support engineer of SuperMap International, introduced the SuperMap company profile, including the company history, international influence, and related international events. Secondly, the general manager and technical manager of SuperMap International's Egyptian partner Datum company made a SuperMap GIS technical explanation report and a SuperMap GIS product operation demonstration to show the technical characteristics and product functions of SuperMap GIS. Finally, SuperMap International specially invited the senior software engineer of the Sudan Surveying Authority to do a report on "GIS Leads the New Generation of Survey", which analyzes the important role of GIS in surveying and mapping and discusses what SuperMap GIS technology and products can bring to the local surveying and mapping industry positive impacts.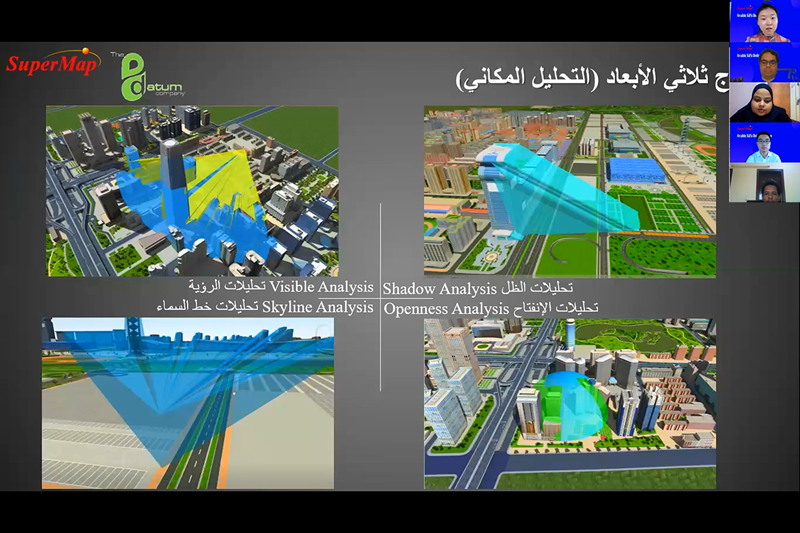 This webinar links SuperMap China's Beijing headquarters, Egyptian partners, Sudanese government authority experts and local GIS industry practitioners in Africa and Middle East countries, it strengthens communication and exchanges between countries and industries, and further connecting SuperMap products, technologies, African regions and Middle East countries.
For your further questions about reports and SuperMap, please feel free to contact us via email: biz@supermap.com
Reports in Videos, please find below:
Report One: SuperMap Introduction
Report Two: SuperMap Technology Introduction and Demonstration
Report Three: GIS Leads the New Generation of Survey
Reports in PDF, please find below:
Report One: SuperMap Introduction
Report Two: SuperMap Technology Introduction and Demonstration
Report Three: GIS Leads the New Generation of Survey