SuperMap iPortal is a cloud GIS portal platform for integrating, searching, sharing and managing GIS resources. SuperMap iPortal has advanced technology and capabilities, such as quick website building without code, multi-source heterogeneous services registration, and multi-source service authority control, etc.
SuperMap iPortal provides plentiful Web applications, including thematic mapping, space elements editing, distributed geospatial analysis, 3D visualization, industrial dashboard creation and display.
As the user center, resource center and application center of cloud & terminal integration GIS platform, the cloud portal site of GIS can be quickly built.
Product features of SuperMap iPortal 11i(2022)
Provides zero code customization, and visual operation can easily switch portal style.
Provides full code customization to deeply build a dedicated GIS portal.
Multiple built-in GIS function modules can be flexibly configured, and can also be deeply customized and developed to quickly respond to business needs.
Portal Building with SuperMap iPortal
Supports the registration and access of various OGC services, internet maps and REST services of mainstream heterogeneous GIS platforms.
Supports Excel, CSV, UDB, SuperMap workspace, Shapefile, SMTiles, TPK, GeoJSON data uploading and displaying.
Supports multiple ways to retrieve GIS resources, such as fuzzy search, classification filtering, geospatial range filtering.
Supports unified control of multi-source GIS Service permissions.
Supports GIS resource quota and GIS resource sharing and collaboration with multiple users and terminals.
GIS applications running on the Web can provide GIS portal users with convenient and efficient GIS capabilities. It is used for rapid mapping, spatial analysis, and spatial data editing on the Web. At the same time, based on vector tile rendering technology, it provides a smooth map browsing experience.
Supports basic mapping and thematic mapping through data-driven.
Provides national administrative division map and template, and supports division drilling.
Supports overlay analysis, grid summary and area summary analysis.
Supports the creation and editing of spatial data.
Supports rich and flexible vector mapping.
Supports 3D map making without uploading models.
MapStudio (beta) WebApp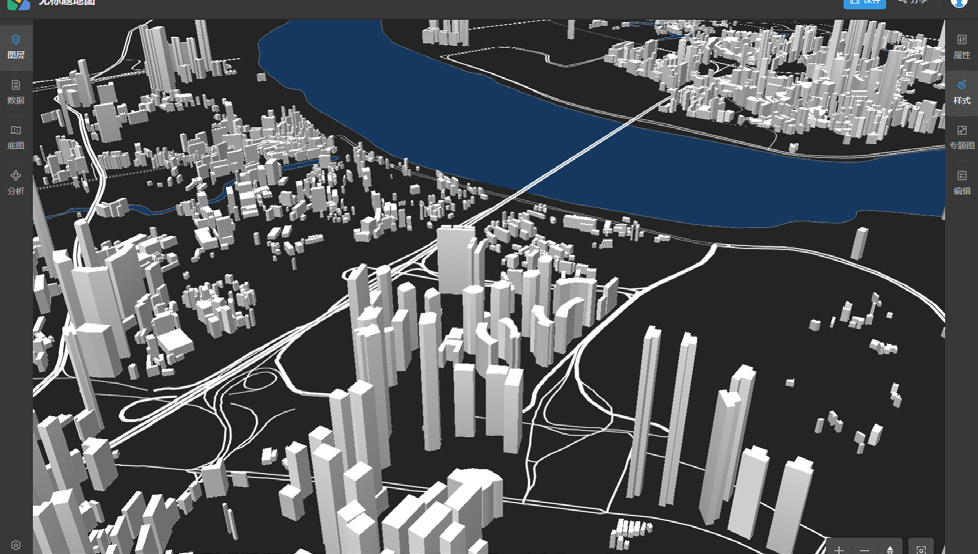 MapStudio(beta) WebApp 3D Map
Geological data visualization dashboard application can display the analysis based on location in the way of intuitive and interactive visualization, which can help decision making, visualization trend analysis, real-time monitoring and spatio-temporal playback analysis.
Supports a variety of industry templates and creative templates such as comprehensive water detection and prediction, urban flood control early warning and detection.
Supports low code editor and online expansion development of large screen applications.
Rich material library, including background material, gif material, etc.
It is a lightweight and high-efficient data visualization application, providing thematic map making, streaming data visualization and map printing, which can realize Web map making and sharing.
Through interactive operation, geospatial data analysis Web application can realize online visualization and analysis of geospatial data, integrate SuperMap iServer distributed analysis and data science service, and support extension to help users dig the value of geospatial data.