SuperMap GIS 10i(2021), launched at the 2021 SuperMap Developer Conference in September, finally met us with some innovative characters.

This article will give an insight into the six new features of SuperMap GIS 10i(2021).
01
Geographic Entity—"Foundation" for New Surveying and Mapping
The core concept of new surveying and mapping is geographic entity, which is a natural feature or cultural facility that occupies a certain spatial position in the real world and has the same independent semantic attributes or functions, and is the "abstraction" of the physical world in the computer environment. It is significant to recognize the geographic entity which possesses the characteristic of geographic space.
SuperMap has assisted in defining and implementing the standards of geographic entities, and encapsulated entity data sets according to standards. On the basis of the entity data set, we can manage the association between entities and primitives, attributes or sub-entities. According to the semantic definition, we can manage the data of sectors such as natural resources, environmental protection, water conservancy, housing and construction, agriculture, etc., and form the basic spatial-temporal database of the geographic entity. By means of entity data set, we can release data services and 3D map services, which is conducive to data production, management and release.
02
3D GIS—"Game" Digital Twin
As the fundamental technology supporting applications of 3D spatial-temporal digital base, CIM, etc., 3D GIS technology demonstrates diversified new features in SuperMap GIS 10i(2021) series, especially in 3D visualization and 3D interactive experience, which can provide richer and more realistic visual sense and experience for applications such as metaverse, digital twin, smart city, etc.
In the SuperMap 3D GIS game engine development platform, the loading of 3D GIS data such as terrain/image, oblique photography 3D model, BIM model and fine model in the game engine accompanied by the superimposed game effects will enable this platform to truly and vividly represent various realistic scenes.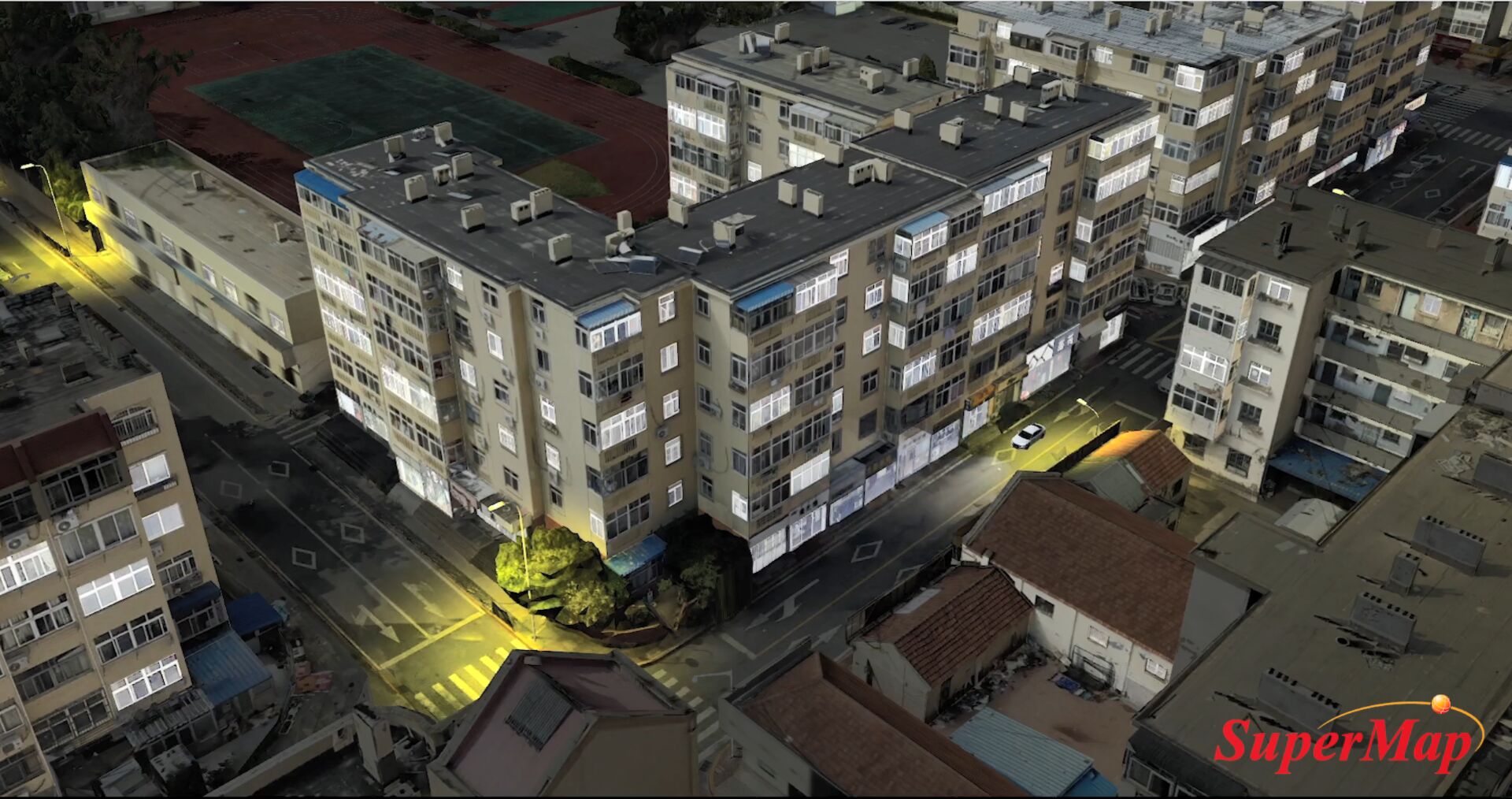 Simulate lighting effects with 3D GIS
The 3D "zero client" product supports simulating the construction of BIM model with animation effects, which can intuitively and dynamically display the whole process of building the model.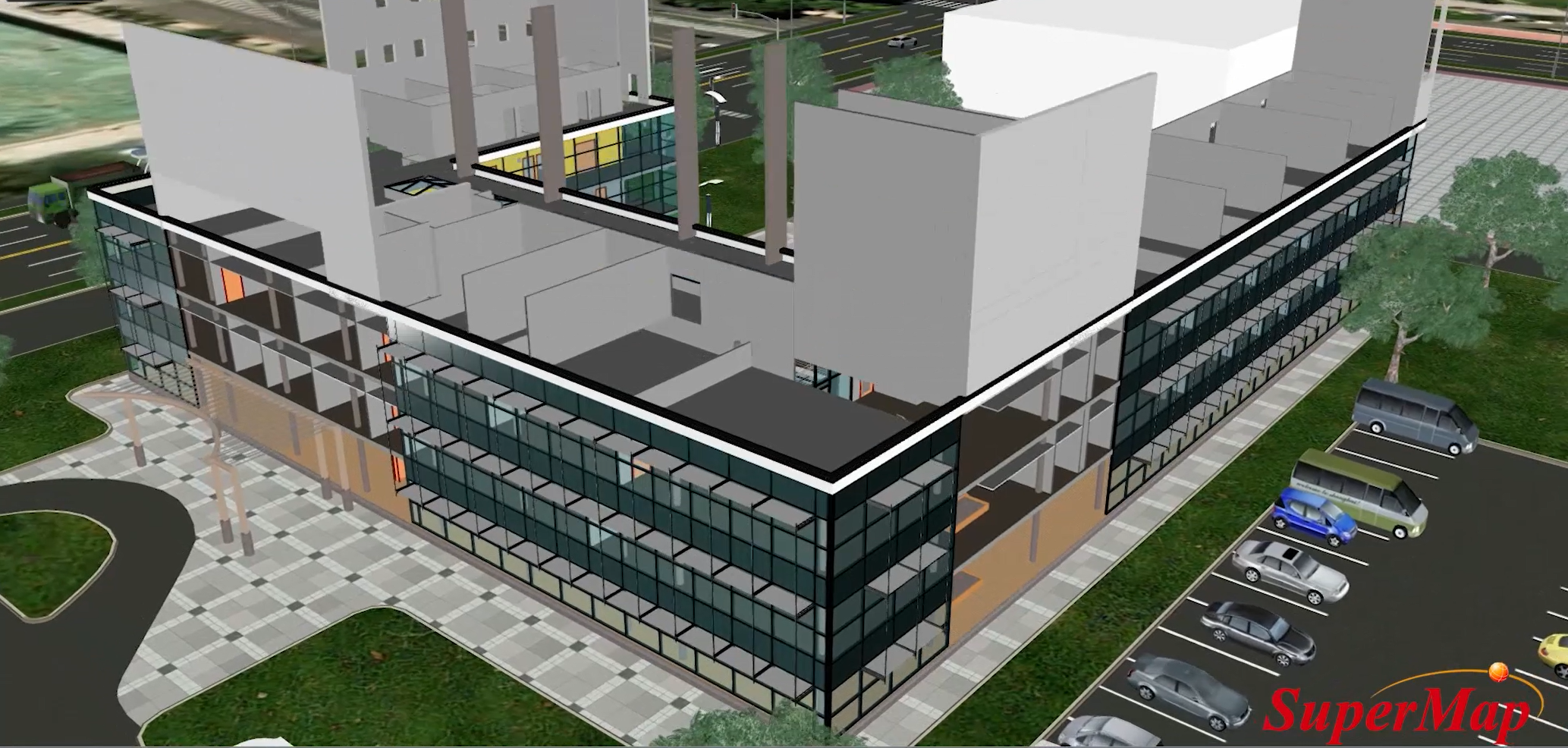 Simulate BIM model construction with 3D GIS
SuperMap GIS+AR technology supports the intelligent inspections on underground pipelines, which not only gives a general view of the on-site inspection situation, but also supports attribute query and analysis. In addition to VR and AR, SuperMap GIS also support MR, integrating the physical world and digital world and implementing real-time interactions.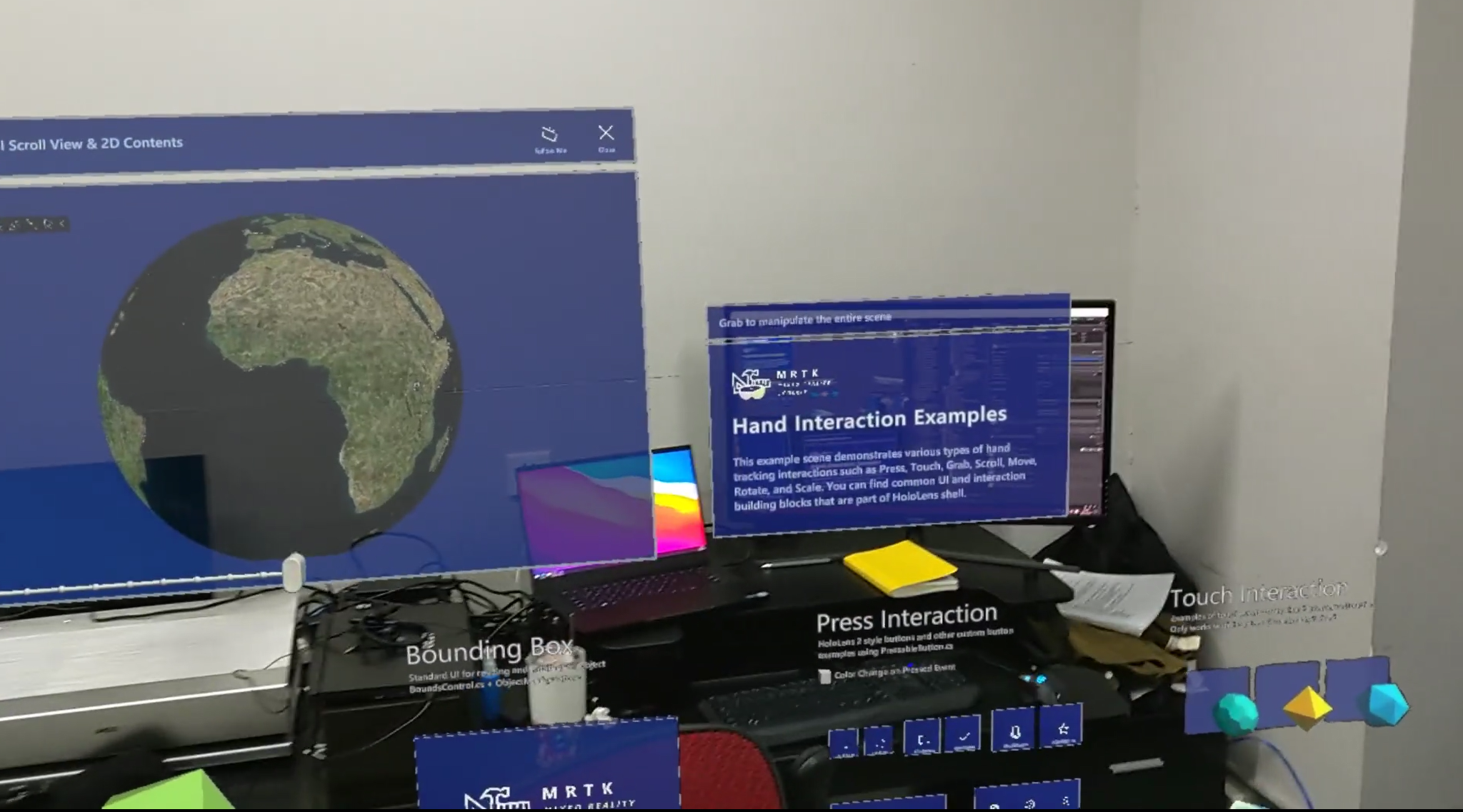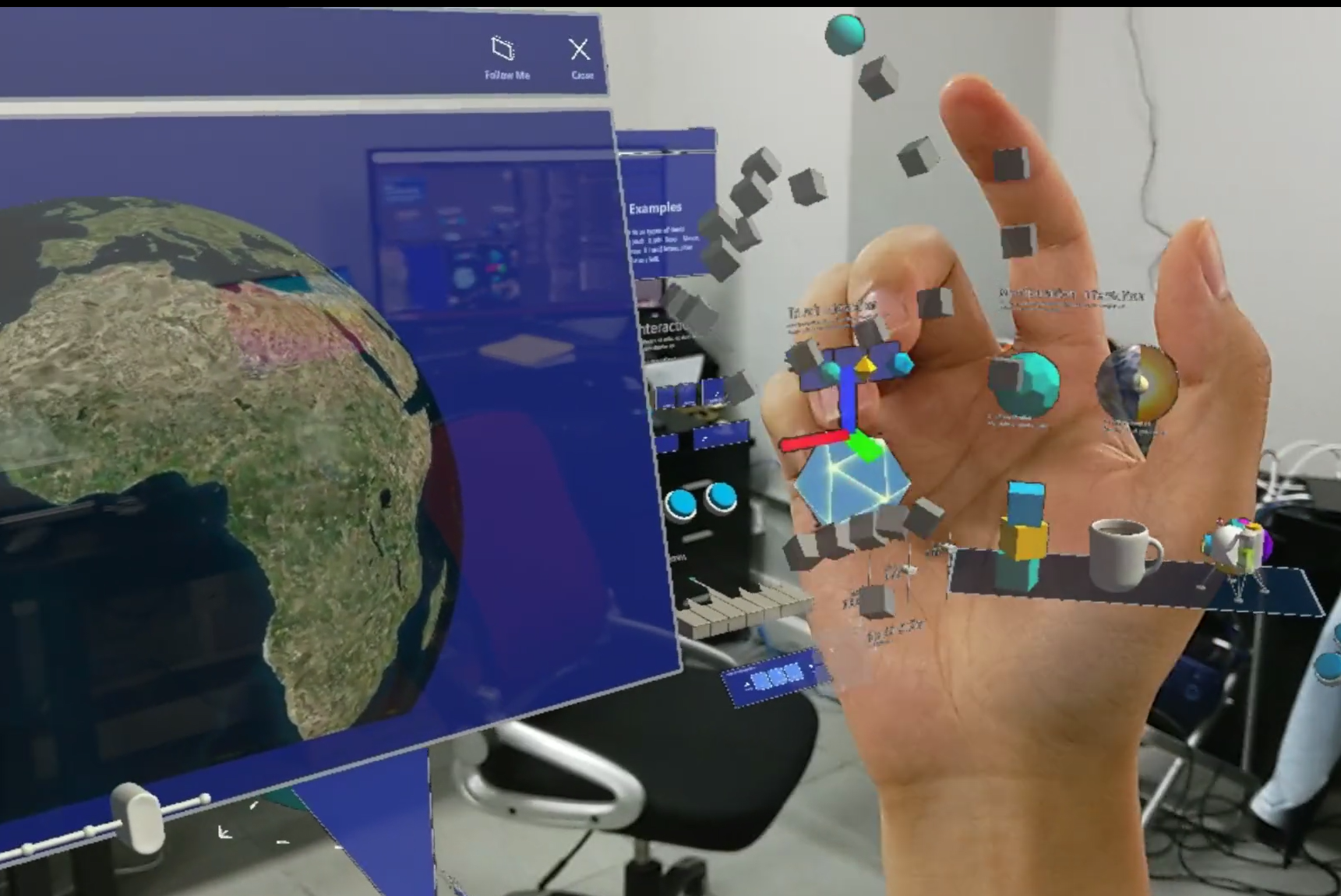 SuperMap GIS+MR
Multi-source 3D data fusion technology enables the video to combine with oblique photography 3D model to vitalize 3D scenes and render it easy to examine the current state in real time.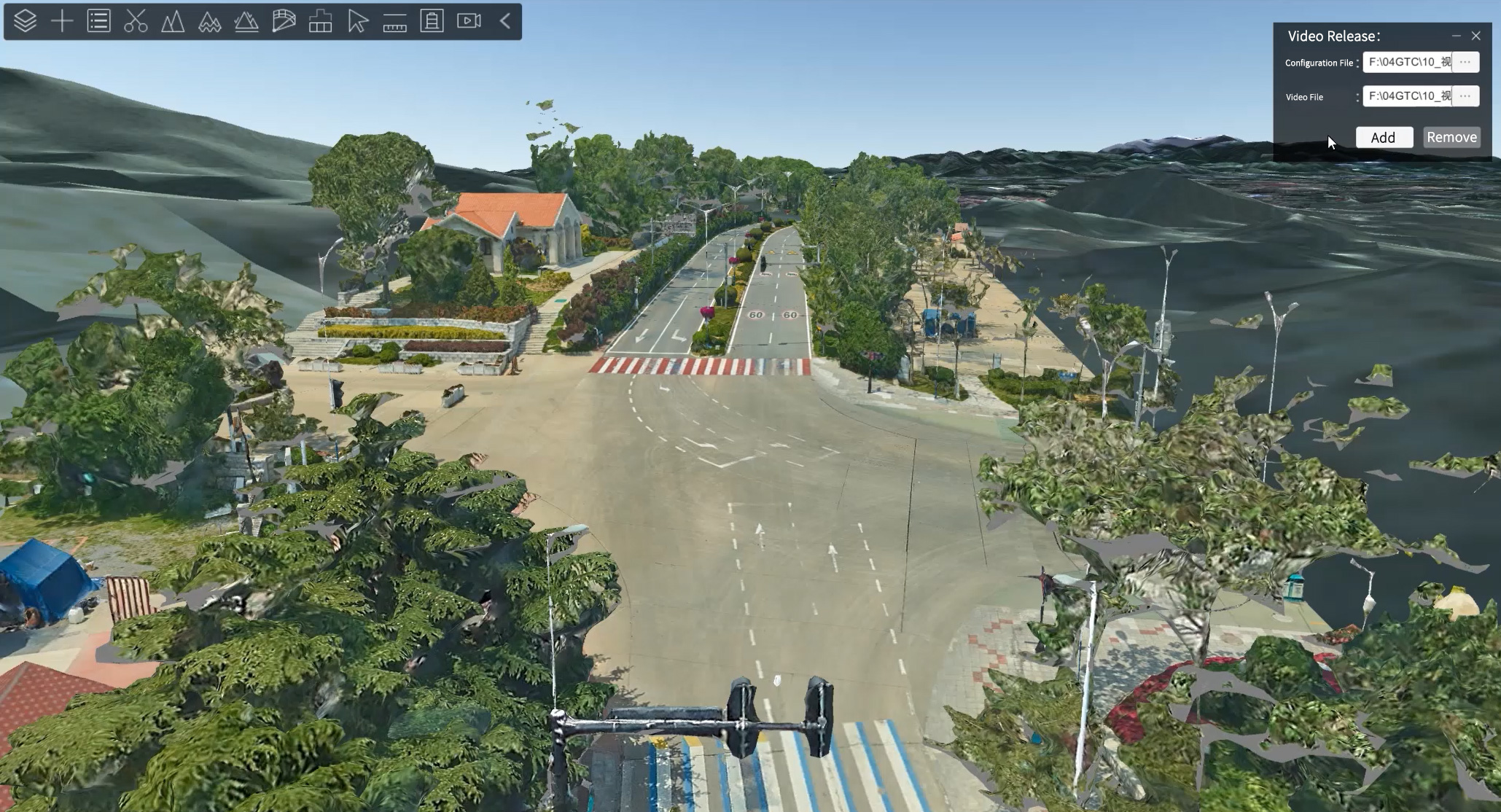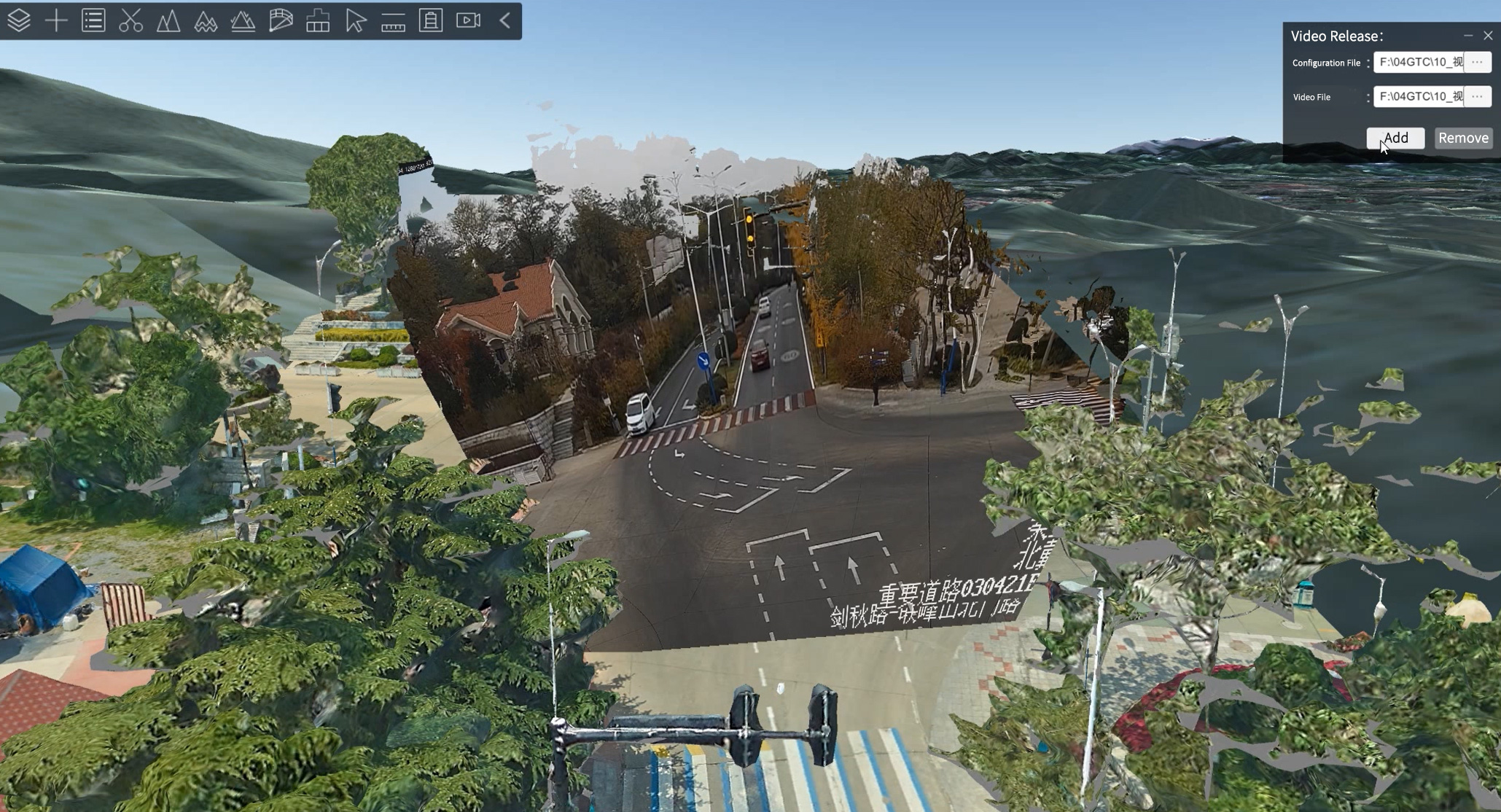 Oblique photography 3D model superimposed on the video for the real-time check of current state
Additionally, SuperMap GIS 10i(2021) optimizes 3D data governance tools such as 3D geographic design and 3D geographic processing.
03
Video GIS—To "vitalize" your map
Cameras are ubiquitous in our daily life, and video data are increasing. Massive video data have become an important GIS data source. How to combine video with GIS to bring more value into play?
In SuperMap GIS 10i(2021) product series, SuperMap iDesktopX 10i(2021) forms the video GIS technology based on video spatial technology. This technology enables us to find the "key code" for communication between video pixels and geographic coordinates. By taking advantage of the technology of GIS enhancing video and video enhancing GIS, the problem of insufficient integration of traditional video and GIS can be solved. The further combination with AI technology is able to generate greater value of video application.
In the field of transportation, video GIS can obtain the real-time position of each target by means of the video stream at each traffic intersection and accurately count the traffic flow, and conduct vehicle target tracing and cross-border tracking throughout the city, as well as remote law enforcement.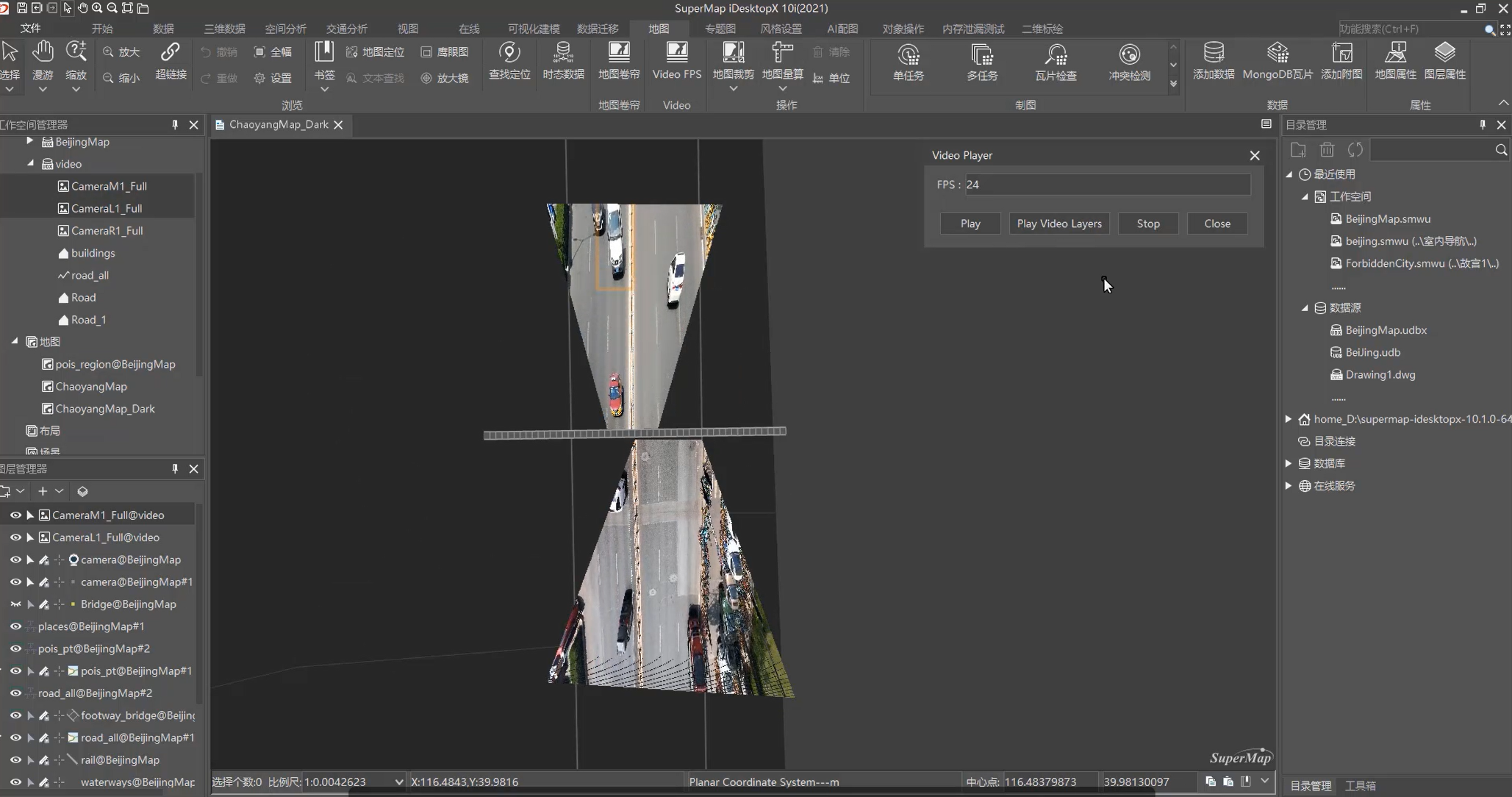 Video play in the map for target tracing and cross-border tracking
In the field of surveying and mapping, video GIS can make use of aerial images taken by UAV to carry out field mapping in time, making up for the problems of overdue updating of remote sensing images and low ratio of image resolution.
Video GIS integrates the surveillance images in traditional videos with GIS, and utilizes massive video data to exploit more values, and thus "vitalizes" the map.
04
Low-code—"Focus" on Business Needs
It is universally believed that software defines the world, yet code stumbles everyone. Could it be that only when we write code as much as possible can we make beautiful maps? We don't agree.
In SuperMap GIS 10i(2021) product series, SuperMap Web GIS technology strengthens the comprehensively componential WebGIS development system. It newly adds diverse practical components and supports the on-demand introduction of components, and greatly reduces the size of application creating package.
Also, SuperMap iClient Design System is open to the public so as to make it more convenient for developers and designers in quick building of the application which has the consistent product style and usage experience.
As regards low-code development, we consolidate SuperMap iClient Templates. We newly add multiple industry application template such as smart city and smart park. It can enable them to quickly develop applications by directly selecting templates, binding data and adjusting the layout without complicated DOM operations.
Besides, we have enhanced several zero-code development WebAPPs in SuperMap iPortal, integrating abundant components, templates, materials, etc., which can quickly map 2D and 3D spatial-temporal data, and then efficiently build board-type WebGIS applications by dragging components for layout.
05
MapStudio—Build Tomorrow's Workshop on the Cloud
WebGIS has reduced the cost of learning and deploying GIS software to a certain extent. However, users are often faced with a variety of problems such as the workflow interruption caused by incomplete GIS function in a single application, and the lack of interoperability of achievements among applications, which hinder the geospatial information system from being Web oriented.
The SuperMap iPortal product team launched the Beta version of MapStudio on December 31, 2020, a new mapping WebAPP designed to provide users with Web mapping with richer functions and more user-friendly experience. In the SuperMap GIS 10I (2021) product series, MapStudio migrates the editing, mapping, analysis and other common capabilities of the traditional desktop GIS software platform to the Web side which are presented in the way of integrated Web applications.
As for technologies, MapStudio adapts the latest rendering mechanism, which can carry more data and present richer rendering effects. It can be used to visualize file data, SuperMap iServer map service, data service and image service as map layers, and make the basic configurations of color, width, size, opacity, etc. MapStudio also supports the configuration of diversified default styles and details. Built-in tools can also be used to create thematic maps and 3D maps.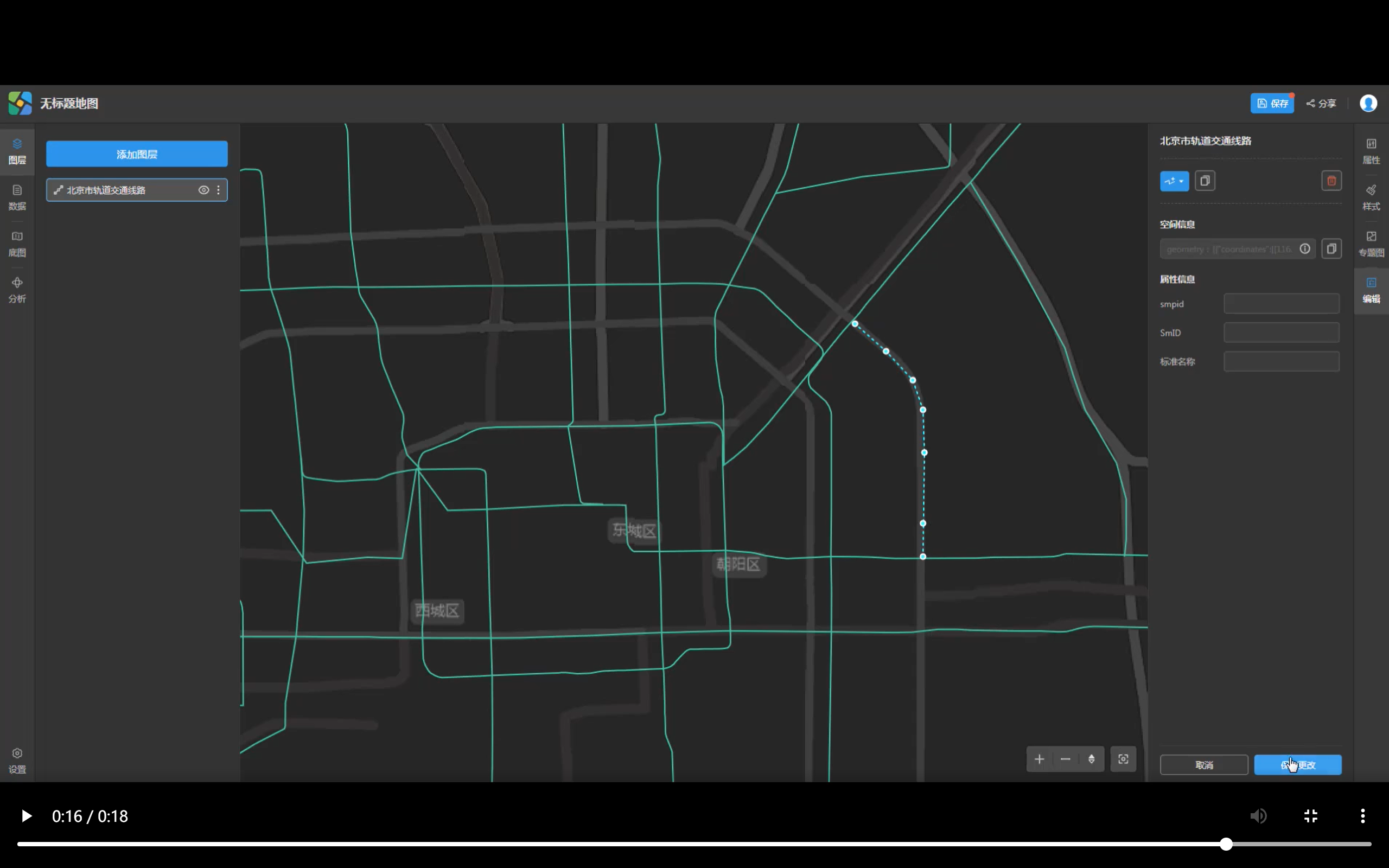 Edit vector data by Mapstudio
MapStudio supports data editing which allows users to edit the spatial and attribute information of vector elements through a browser. Besides, MapStudio also provides a series of spatial analysis tools, including overlay analysis, area summary, grid summary, etc. A few steps of setting parameters allow the quick running and visualization of analysis results.
06
ARSurvey—Exploring the Future Between the Virtual and the Real
In SuperMap GIS 10i(2021) product series, SuperMap AR GIS technology strengthens many practical components such as AR map, AR mapping, AR positioning, AR analysis. A new mapping tool, SuperMap ARSurvey, has been built to support the rapid acquisition of geographic entities of indoor and underground sites, significantly reducing the cost of indoor 3D data collection and 3D modeling.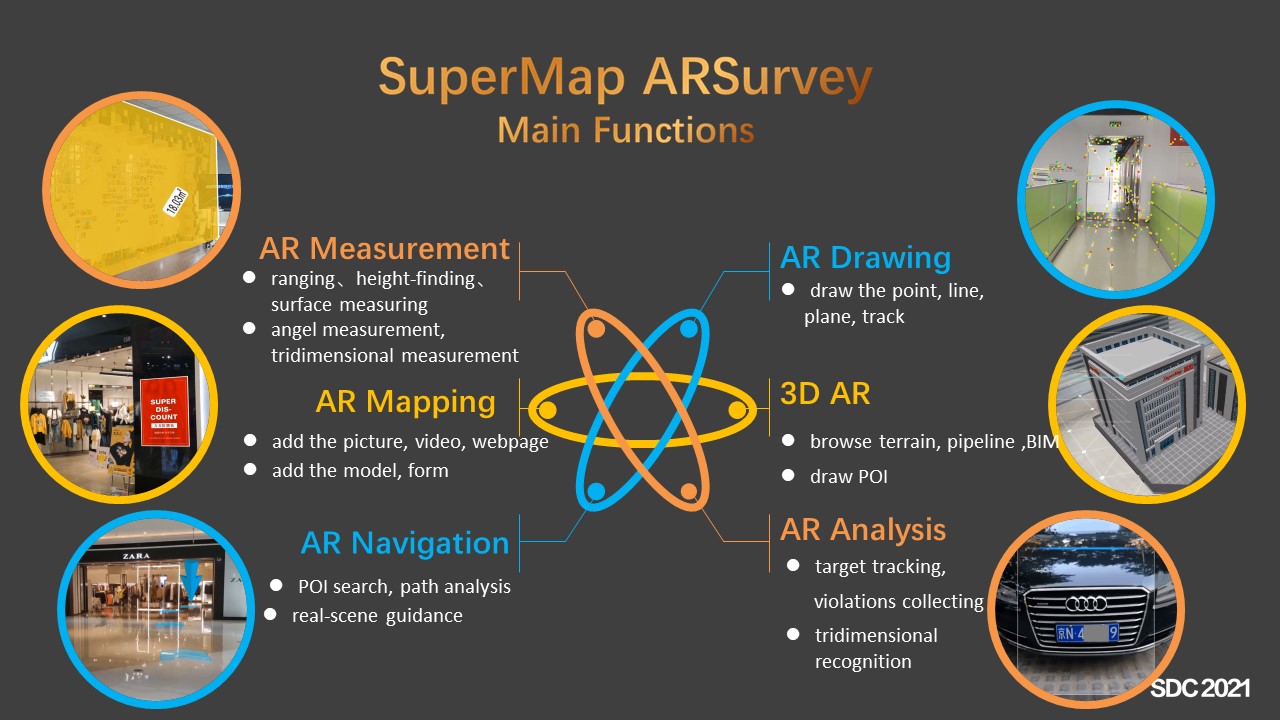 SuperMap ARSurvey
At the same time, SuperMap iMobile supports the exhibition of underground pipelines, cables and other complicated spatial entities in real scenes, accurately displaying and analyzing the spatial relations among elements, greatly improving the understanding and expression ability of GIS for complex space, and bringing infinite possibilities for more industrial applications of GIS+.
Apart from that, in order to facilitate the efficient development of AR GIS applications, we have added AR underground pipeline, AR smart park, AR 3D sand table, AR panoramic map and many other industry development templates, which will avert amounts of secondary development. By customizing templates, binding data, adjusting layout, it allows developers to quickly develop industrial applications based on AR GIS.
AR technology enables GIS to walk into reality and speak with "facts". It also allows people engaged in GIS technologies to explore the future between the virtual and the real.