SuperMap has built an integrated meteorological platform based on the SuperMap GIS technology system, and built a "meteorology+" industry application service model for transportation, electric power, agriculture, ecology, emergency and other fields, providing meteorological support for disaster prevention and reduction for all walks of life.
Meteorological conditions are important factors that affect economic and social production and people's life. With the development of modern agriculture, transportation, energy, marine economy and other industries, the effectiveness of meteorological information services has become increasingly prominent. With the application of new generation information technologies such as big data, artificial intelligence, and the Internet of Things in the meteorological field, meteorological services can provide the public and industries with more refined, more professional, and more diversified services, playing a greater role in rural revitalization and production development, and facilitating high-quality economic and social development.
Based on the SuperMap GIS technology system, SuperMap has built an integrated meteorological platform, and a "meteorology+" industry application service model for transportation, electric power, agriculture, ecology, emergency and other fields. By establishing meteorological disasters monitoring, forecasting and early warning system according to disaster types and key industries, SuperMap has built a new meteorological service format that deeply integrates meteorological services and related industries, improving the infrastructure defense capability and disaster-bearing capacity of key areas. This will help to realize the real-time interaction of the whole industry and online services of the whole industry chain, and provide all walks of life with meteorological support for disaster prevention and reduction.
"Meteorology + Agriculture": Serving the modernization of agriculture and rural areas
The agricultural meteorology system is based on actual weather conditions, forecasts and historical climate data. It consists of forecasting, process monitoring and post-event evaluation according to different meteorological conditions on which different crop growth processes depend in specific areas and time periods. It also provides targeted agricultural meteorological services facing different service demands.
The smart agricultural meteorological service platform mainly consists of four parts: the agricultural meteorological spatio-temporal big data center, the agricultural meteorological "one picture" platform, the agricultural meteorological comprehensive business platform, and the agricultural meteorological "Internet + service" platform. The platform has realized the automation of the data collection process with intelligent business support, and society-oriented service. The platform is based on the visual modeling tools and models and to continuously integrate framework system, achieving fast and efficient access to new data, new models, and new algorithms, and provides business operation guarantee for model-supported functions such as disaster warning, monitoring, evaluation, and production; based on the resource management and services of the one picture model, the platform has formed an "air-sky-ground" 3D monitoring system for agricultural meteorological disasters, enabling refined comprehensive research and judgment supported by big data to assist leaders in decision-making; based on the concept of "Internet + Service" concept, it provides meteorological information and agricultural information such as agricultural climate, weather conditions, disaster forecasts and early warnings, giving full play to the role of meteorological services in the development of modern agricultural construction, and improving the application efficiency of meteorological services for agriculture.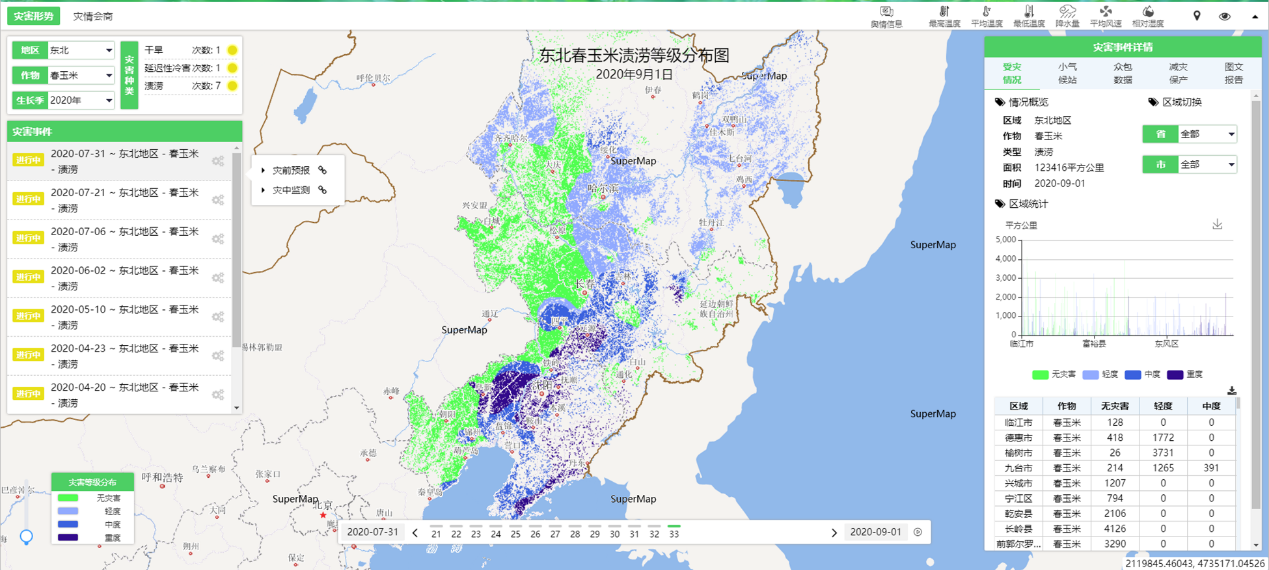 Meteorology + Agriculture
"Meteorology + Ecology": Empowering ecological prediction and ecological climate impact assessment
The platform establishes an eco-meteorological spatio-temporal big data center, which can seamlessly connect to the meteorological big data cloud platform, and gather data on meteorological observation and prediction, eco-meteorological disaster forecast and warning, eco-meteorological disaster risk, ecological resource assessment and other data to provide unified support for all business links of ecological meteorological services such as ecological and meteorological disaster forecast and warning, eco-meteorological disaster risk forecast and ecological resource assessment.
The platform integrates the ecosystem productivity model and ecosystem service value model. Based on the comprehensive research and analysis on climate change, ecological disaster risks, ecological resources and other businesses through the ecological meteorological comprehensive analysis and product making platform, the platform can provide ecological factors and ecosystem service value assessment products. This will further help realize the analysis and evaluation of forest service value, grassland service value, grassland livestock carrying capacity, forest carbon fixation and oxygen release, water source conservation, and biodiversity.
It provides an interactive production platform for eco-meteorological service business products for business personnel to meet the production needs in various business scenarios. Through one eco-meteorological map, the integrated display and shared services of eco-meteorological service products are realized, which will provide authoritative eco-meteorological information and scientific decision-making basis for carrying out eco-meteorological service and ensuring the sustainable development of social economy.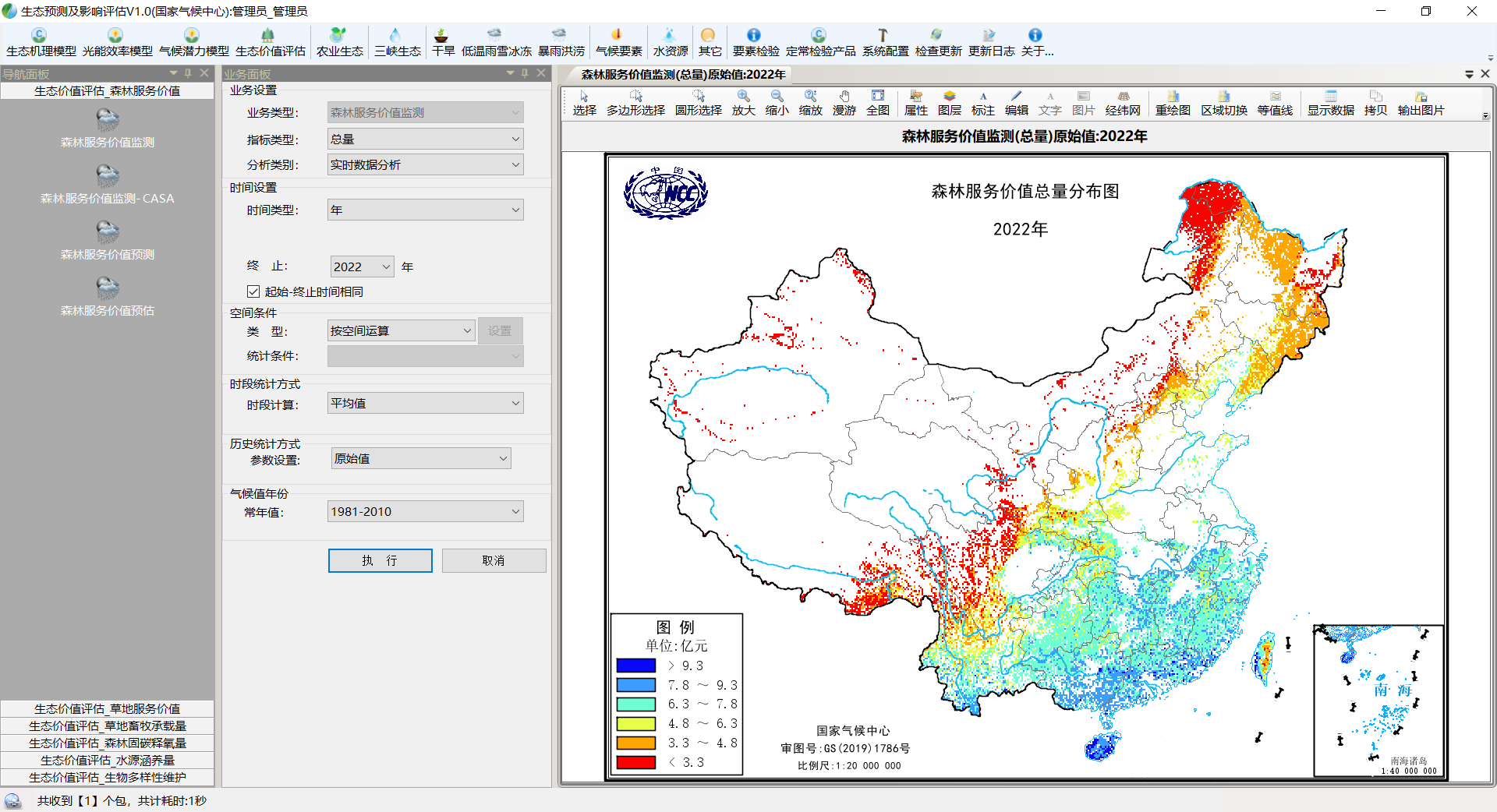 Meteorology + Ecology
"Meteorology + Transportation": Monitoring and early warning of disastrous weather along the traffic routes
The "weather + traffic" service is based on the sharing of real-time weather monitoring information along the traffic routes. It automatically collects relevant traffic weather information from observation stations along the traffic line, background visibility observation stations, radar, satellite cloud images, typhoon observation data, etc., and realizes the interconnection and resource sharing of traffic weather data.
Through the traffic meteorological service system, we can efficiently and accurately monitor and analyze the weather conditions and road conditions along the traffic routes in real time, and analyze disaster-causing conditions and disaster-causing processes of high-impact weather including dense fog (fog), road icing, heavy precipitation, snowfall, strong winds, thunder and lightning, etc. We can also carry out highway traffic meteorological risk early warning services based on the traffic meteorological impact model. Through the integrated analysis of meteorological and railway data, the platform can provide meteorological support services for railway construction and operation covering the entire chain of railway engineering construction, operation dispatching, and driving safety, and develop accurate and sophisticated meteorological warning products for route sections to realize highway, railway, and waterway transportation real-time monitoring, forecasting and early warning. Service information can also be released to relevant departments and service users through a variety of methods to ensure meteorological service for highway and railway transportation.
"Meteorology + Electricity": Ensuring the safe production and stable operation of the energy system
The electric and meteorological monitoring, early warning and risk assessment system integrates functions such as power grid spatial information, multi-source meteorological data display, meteorological disaster monitoring and early warning, power grid load forecasting, disaster risk assessment, service product production and release, etc. It can meet the common needs of meteorological departments and electric power departments for services in the electric power meteorological industry. It provides professional power grid spatial information services, conducts scientific meteorological disaster impact assessments, and can quickly initiate power grid meteorological disaster emergency response. Through power grid meteorological forecast and warning services and disastrous weather impact assessments, it gives play to the role of meteorological information in the power grid's response to extreme weather, improving the power grid's meteorological emergency warning capabilities, promoting "meteorology +" to empower the new energy power industry, and assisting the meteorological services for safe operation of the power grid and refined power dispatching.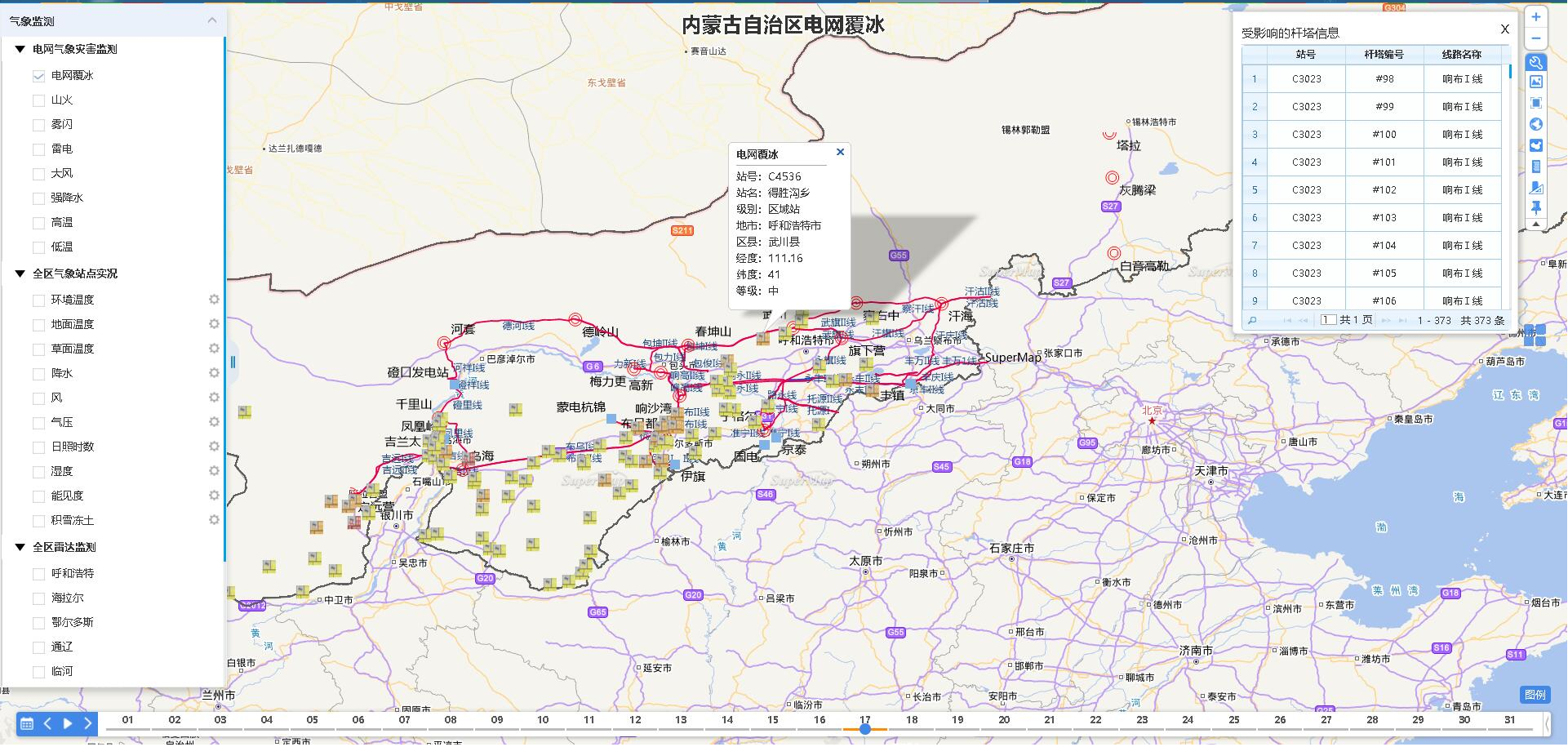 Meteorology+Electricity
"Meteorology + Tourism": Empowering meteorological disaster risk early warning in tourist attractions
Relying on the meteorological monitoring network of key tourist attractions, we build a comprehensive meteorological service platform for tourist attractions that integrates data collection, monitoring, early warning, forecasting, production, distribution and sharing. We develop tourism meteorological service products, and assist in carrying out meteorological disaster risk investigation and meteorological risk early warning in tourist attractions, which enables the production of tourism meteorological service products that provide professional, refined and quantitative services.
Through the tourism meteorological service information sharing platform, we provide convenient, accurate, timely, and rich scenic spot meteorological disaster forecast and warning information, tourism information, and professional tourism meteorological service products to meteorological departments, tourism departments, scenic area management departments, and the public, which help to ensure tourism safety, reduce disaster losses, improve tourism management and emergency response levels, and comprehensively improve tourism meteorological service capabilities and levels. Through "Weather+", ice and snow tourism, eco-tourism, and rural tourism meteorological services are empowered to facilitate the development of the tourism industry.
"Meteorology + Emergency": Natural disaster forecasting, early warning and emergency support services
The meteorological ensurance sevice system for emergency sources information such as socio-economic data, emergency supplies, rescue forces, refuge sites, land, water conservancy, transportation, meteorology, etc., and integrates the comprehensive risk census results of natural disasters to provide one map of emergency support through meteorological early warning to realize emergency management data query and display.
To meet the service needs of emergency support for natural disasters, we provide medium and long-term early warnings for major meteorological disasters and short-term early warnings for sudden extreme weather, and develop emergency-oriented meteorological disaster early warning service products. Based on professional and objective model forecasts, combined with emergency auxiliary support of the plan, a unified view of emergency auxiliary support has been constructed to analyze the impact scope of disaster events, obtain early warning auxiliary emergency response commands through collaborative deduction and command, comprehensive research and judgment, achieving auxiliary decision support and accurate directional early warning issuance.
The system provides special meteorological monitoring, forecasting and early warning services for different business needs such as production safety, forest fire prevention, flood control and drought relief, improves the ability to respond to emergencies and the ability to accurately and timely release public information, and improves the timeliness of early warning information for personnel in charge of emergency, the coverage rate of public information reception, and ultimately achieve the purpose of reducing casualties and property losses in emergency response.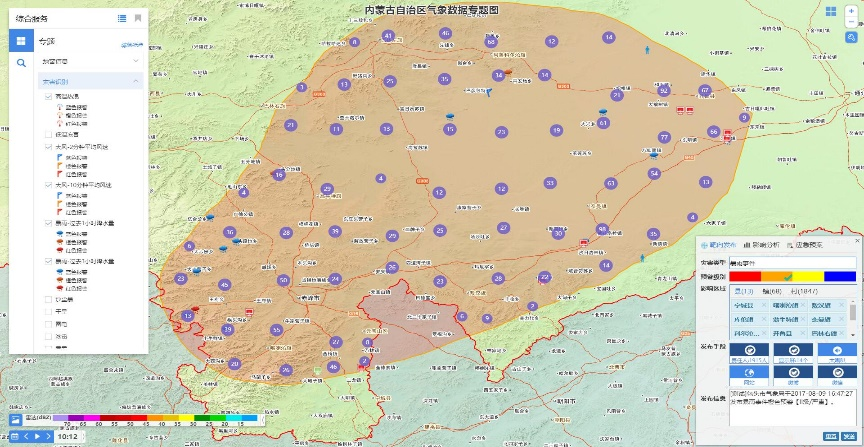 Meteorology + Emergency
Conclusion
Based on the meteorological disaster integrated platform, SuperMap provides "meteorological+" service application models in agriculture, ecology, transportation, electric power, tourism, emergency and other industries, provides meteorological support services for all walks of life, serving the high-quality development of the meteorological industry.