In the era of big data, many enterprises are constantly exploring new management models. Tabular data management is increasingly unable to keep up with the needs of enterprise development. It is even more difficult to combine big data to assist enterprise management and decision-making. To improve management efficiency and save costs, companies will need visual means to display, count, and manage business data.
Dituhui (also referred to as Map Intelligence, a subsidiary of SuperMap) is committed to providing geographic information services for enterprises and individuals in the form of SaaS products. Users can quickly and easily access and use professional geographic information services with no need for programming experience, installation, and deployment, and tabular data can be quickly converted into maps. It can visually display and manage corporate business data, and provide big data business analysis and location intelligence platforms to help companies gain insight and analysis of business data, assist corporate business decision-making, improve corporate operating efficiency, and reduce labor costs.
This article will introduce one of its functions: Data visualization of points (outlets) on "One map" with a customer case.
It is vital for a company on how to distribute its marketing network, where are chain stores and franchise stores, and how to quickly check the distribution of competitors when formulating and implementing business plans. The "outlets management" provided by Dituhui supports visualizing point data on "one map".
This function supports users in quickly marking the locations of stores, competitors, orders, or customers on the map. Each business data represents a data outlet on the map, and the user can also assign corresponding user-defined attribute information to each outlet, such as the photo of the store, the person in charge of the store, contact information, business hours, sales of goods, etc., and can also mark the customer's name, phone number, preferences, age, and other information to truly realize the visualized management of the location of the outlet and business inquiries.
Features:
One map displays multiple outlet information and supports superimposed display of multiple data.

It supports batch import of outlet addresses or latitude and longitude, one-click address matching, precise positioning.

It supports user-defined attributes and uploading pictures, videos and files.

It supports the classified display of outlets and user-defined outlet icons.

It supports multiple display methods such as thermal map, grid map, honeycomb map, and aggregation map.

It supports mobile terminal data collection anytime and anywhere to improve and enrich network information.

It provides competitor and related POI data to help companies analyze the market environment, etc.

It can be connected to the ERP system to realize real-time synchronization of network data.
Application scenarios:
chain store distribution, terminal store distribution, sales network distribution, retail store network, ATM distribution, customer/VIP member distribution, order distribution, competitor distribution, service hall network distribution, etc.
Customer case: analysis of national project distribution of a real estate developer
A real estate developer has multiple development projects across the country, and each project is surrounded by schools, parks, hospitals, and other information. These data are usually managed in tables, and a large amount of data looks very messy and unintuitive. At the same time, in addition to its own company's projects, this customer also wants to know the distribution of competitors' projects to deploy the next market layout.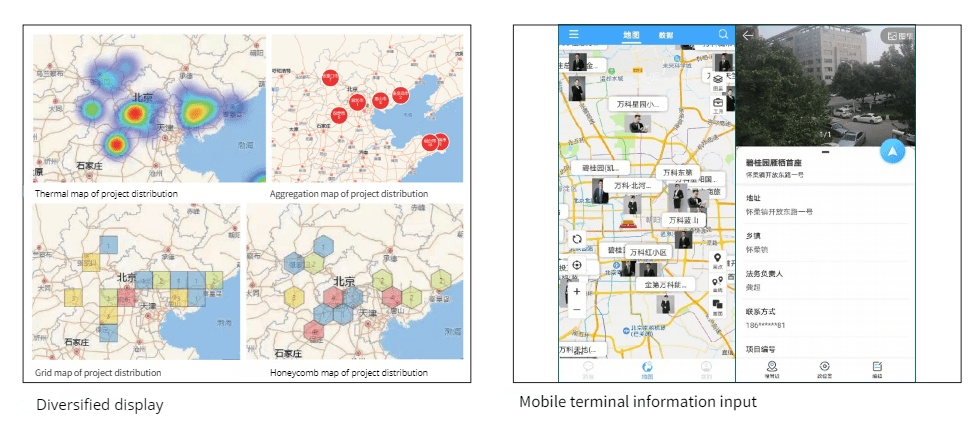 1. Project labeling, market competitiveness analysis
The real estate developer uses the Dituhui network management function for visual display, uploads its table data with one click, and marks the project status of competitors on the map. Different color icons show the location of different developer projects and add relevant information for each project, such as the year of project development, whether it is on sale, area, the person in charge, contact information, etc. It is very clear and intuitive, convenient for real-time viewing.
Based on this function, project outlets can also be displayed in the heat map, aggregate map, grid map, honeycomb map, and other patterns, which is convenient for business analysis and the next step of work.
2. Mobile data collection
Dituhui-point management function supports web and mobile terminals to update content synchronously. When marking a new project, the field staff can directly input project information and take photos on the mobile phone to avoid missing information, and the system will synchronize to the PC in real time.
3. Analysis of supporting resources around the project
Dituhui-point management function supports the management of supporting facilities for developers, marking the projects for sale and surrounding supporting resources, such as transportation, shopping, parks, hospitals, schools, etc. The marquee tool can be used to search around the project site, evaluate the value of the project according to the surrounding resource situation, and predict the market potential of the project in each district at the same time to make an auxiliary decision for the precise marketing of the enterprise.