From 15:00-16:00 on 29 May, 2020 (Georgia Time), SuperMap successfully held The SuperMap Webinar in Georgia with the theme of "Innovations and Solutions with GIS". About 100 participants, varies from universities student, lecturer, GIS practitioners, and government departments from Georgia participated into this event.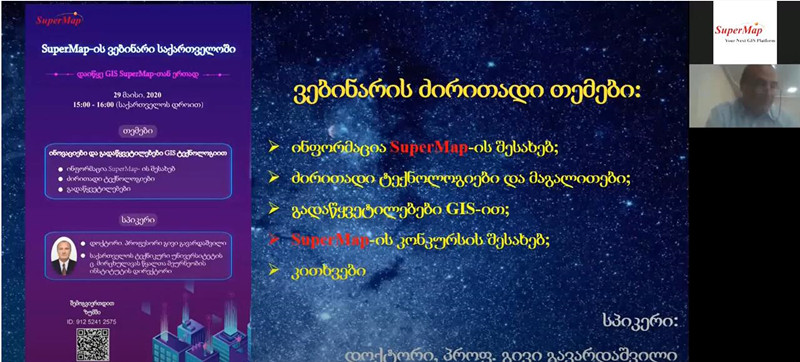 The webinar specially invited Dr. Professor Givi Gavardashvili, Director of Ts. Mirtskhulava Water Management Institute of Georgian Technical University to deliver the report on topics of information, key technologies, solutions about SuperMap, which mainly introduced SuperMap GIS technologies, products and typical solutions in details and features.
The webinar received positive feedback from the participants. As some participants raise some questions and shows the interest on the topic. SuperMap hopes there will be another webinar in Georgia very soon. We are looking forward to seeing you in the next one.
For your further questions about the reports and SuperMap, please feel free to contact us via email: biz@supermap.com
To review the reports in Video, please find below:
Innovations and Solutions with GIS
To download the reports in PDF, please find below:
Innovations and Solutions with GIS