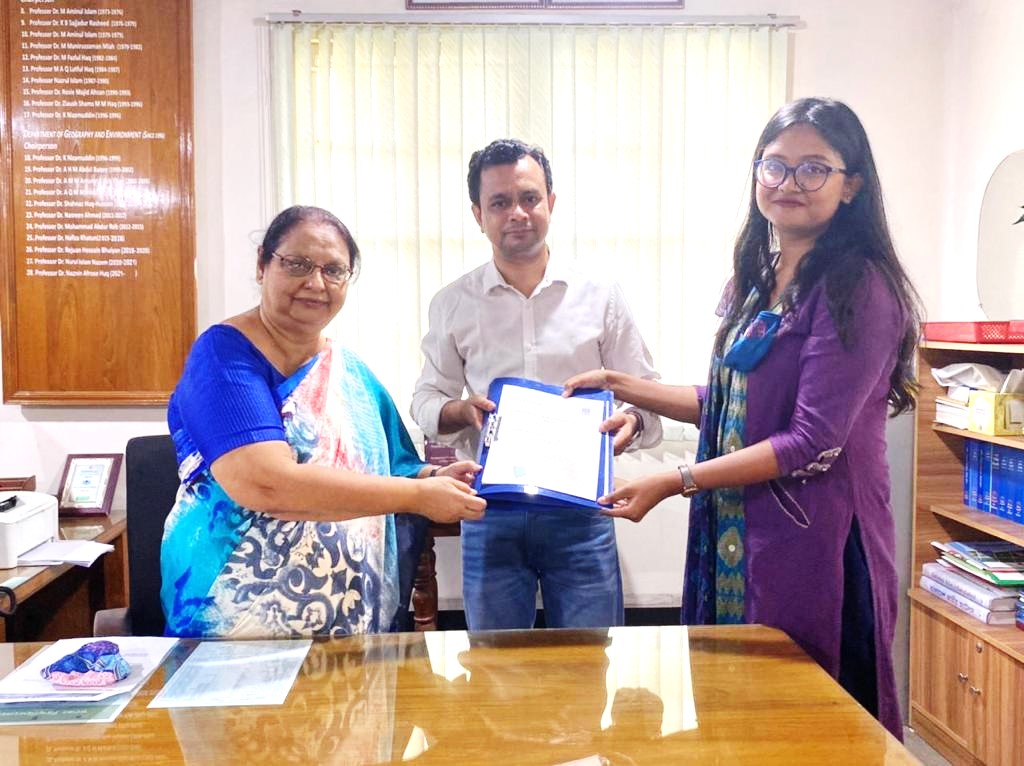 University of Dhaka, the topmost public research university of Bangladesh has recently joined in collaboration with SuperMap GIS by signing the Memorandum of Understanding (MoU) as the first Public University Partner. The Remote Sensing Lab of Department of Geography and Environment has become the Educational Partner of SuperMap by signing the collaboration agreement for a joint venture. The signing ceremony was held on Sunday, April 25th in the Department of Geography and Environment, University of Dhaka. The collaboration was signed by the Departmental Head of Geography and Environment Professor Dr. Naznin Afrose Huq, Assistant Professor Dr. Asib Ahmed, and the Business Development Officer of SuperMap Bangladesh Nusrat Zahan; and witnessed by Obaidur Rahman, the Technical Support Engineer of SuperMap.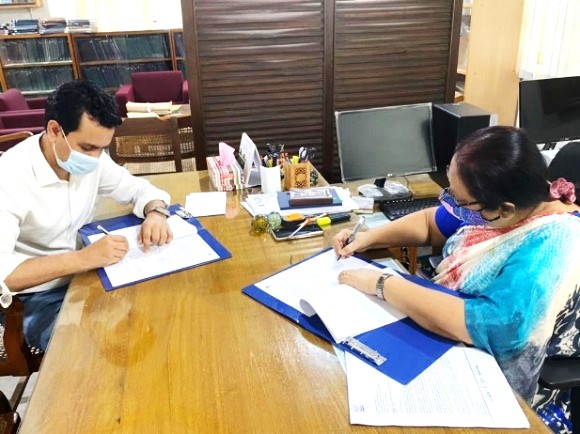 The MoU has been signed for 3 years that aims to establish and build a relationship between SuperMap and the University of Dhaka to support licensed software, conferences, workshops, internships, possible job placements, and enhance research activities in GIS. This cooperation also aims to resolve societal problems through emerging technologies and solutions.
The Department of Geography and Environment is the only department in the University of Dhaka where 3 years of GIS courses are included in the curriculum, from basic to advanced level. The application of GIS in different fields of geography and environmental concerns is aptly taught and blended in the courses, and the SuperMap Education and Research Package along with the student-friendly interface of SuperMap GIS are expected to enhance the students' ability and proficiency in learning GIS by analyzing data through critical thinking.
GIS is a growing industry in Bangladesh, more so in the educational sector. It is designed to store and manipulate data relating to different fields of the physical earth. The key technologies of SuperMap software will enable the students and teachers to use real data to visualize spatial patterns and support informed decision-making. This cooperation would be the first to introduce the 3D GIS and AI GIS technology of SuperMap in the university level of Bangladesh for enhanced research and GIS skill-building along with providing other necessary educational services to the RS Lab of University of Dhaka. We hope for a successful collaboration with both teams for many years to come!