On June 24th, 2020, Beijing time, 7-9 am, SuperMap International America Center and Colombian partner Nadir Company customized the third Latin American online forum, which mainly shares and discusses GIS applications in the field of infrastructure construction such as architecture, roads, and bridges.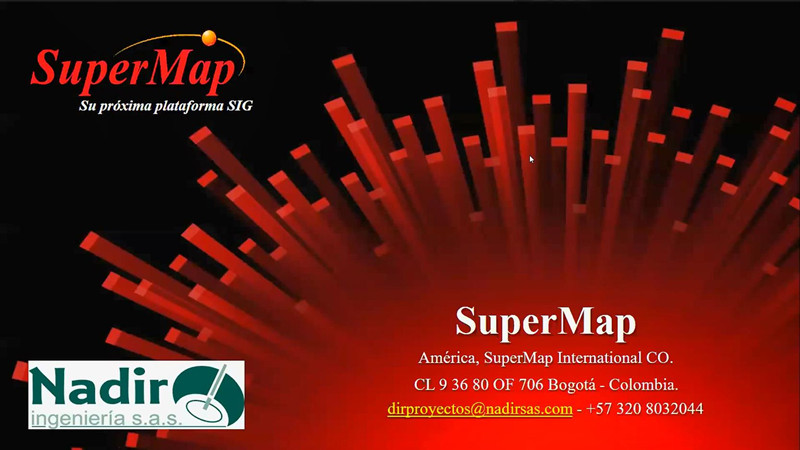 SuperMap International America Center first introduced the company. The CEO and technicians of Colombian partner Nadir jointly made reports on BIM, CIM, IoT and other related application cases based on SuperMap GIS technology and products. In response to the above special case sharing, the representatives of various institutions and the audience in the webinar actively asked questions and exchanges ideas to explore their relevance and possibilities with SuperMap GIS technology and products.
Among them, Mr. Germán Pardo Albarracín, President of the Colombian Institute of Engineers, discussed and communicated with SuperMap technical engineers on GIS technology in infrastructure, architecture, mapping, etc., and expressed willingness to see SuperMap share about GIS technology and products in statistical analysis, data compatibility applications.
During the forum, Miyamoto Colombia Construction Company watched webinar together. Mr. Juan Manuel Sandoval Leal, the manager of Miyamoto International in Colombia, sent feedback on the webinar, expressing his appreciations and looking forward to seeing more SuperMap local sharing.
This forum attracted a large number of Colombian surveying and construction engineers to participate, and SuperMap GIS technology and application received their positive evaluation and professional recognition. At the same time, SuperMap would like to thank the partners of Peru, Chile and Mexico for their great supports. SuperMap will continue to bring more practical, functional and characteristic webinar in Latin America.
Also, for your further ideas and suggestions on forum topics, reports and other information, please feel free to contact us via email:
zhangyuanyuan@supermap.com
To review the Webinar in Videos, please find below:
Lanzamiento de SuperMap en Colombia (Activación de Marca)
To download the reports in PDFs, please find below:
Lanzamiento de SuperMap en Colombia (Activación de Marca)