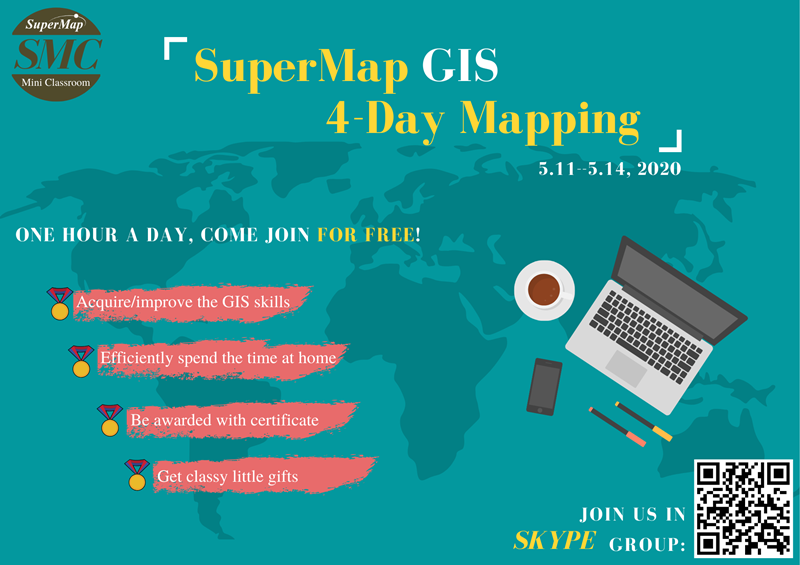 This program is held by SuperMap Software Co., Ltd with the purpose to guide participants to handle different category of GIS skills from GIS software operating and data analyzing to GIS system developing. The program is grouped into Mapping, Application Analysis and System Developing. Each activity of SMC takes 4 to 7 days. In each morning, a small task as well as its tutorial will be assigned in SMC Skype group. In each afternoon, SuperMap will spend 20-30 min in answering questions from the participants to help solve problems. In the late afternoon, participants are supposed to hand in the task result in the SMC Skype group.
Introduction to SMC-Mapping: This is the entry level courses with which participants from any background will be able to get down to make maps. SMC-Mapping takes 4 days and during it, participants can learn mapping skills including data processing, symbolizing, making thematic maps, setting layout, etc. After SMC, participants will be able to finish one standard digital map and learn the basic operation of SuperMap iDesktop Software.
Benefits: All participants can get SuperMap SMC accomplishment certificate. Outstanding works will be recommended to compete in SuperMap GIS Contest directly.
Schedule of SMC Challenge: The first round of SMC-Mapping will be held during 11th-14th May. The arrangement of subsequent rounds will be announced in SMC Skype group and social media platforms. You may still join the group even when having missed the past rounds.
Preparation: SuperMap Software Download Page: https://www.supermap.com/en-us/html/down.html
SuperMap online tutorial videos: https://www.youtube.com/user/SuperMapGIS/videos
Please join this Skype group for further notifications: https://join.skype.com/VwD6qkSD8hHy