The Airport Transportation Operation Management System is a unified operation and management platform for ground transportation of Qingdao New Airport. It realizes the organization and coordination of various transportation modes including subway, high-speed rail, long-distance bus, tourist bus, bus, private car, taxi, and airport shuttle bus, as well as monitoring the passenger traffic flow and other contents to provide supports for daily operation and emergency coordination command and to ensure the quality of passenger service.

The system is developed based on SuperMap9D technology. It combines the information of the facility equipment, passenger flow and traffic flow based on the spatial location to load and monitor the data of the equipment operating status, passenger flow, passenger flow density, traffic flow, and parking lot utilization. Thus, the visual management of the airport transportation can be realized, the management efficiency can be improved and the operating costs can be reduced.
(1) The visual monitoring and warning of passenger flow, traffic flow and equipment based on indoor GIS map
The system supports online warning and video verification of abnormal events such as large passenger flow, excessive passenger flow density, and equipment failures, which can quickly locate the event and timely handle it.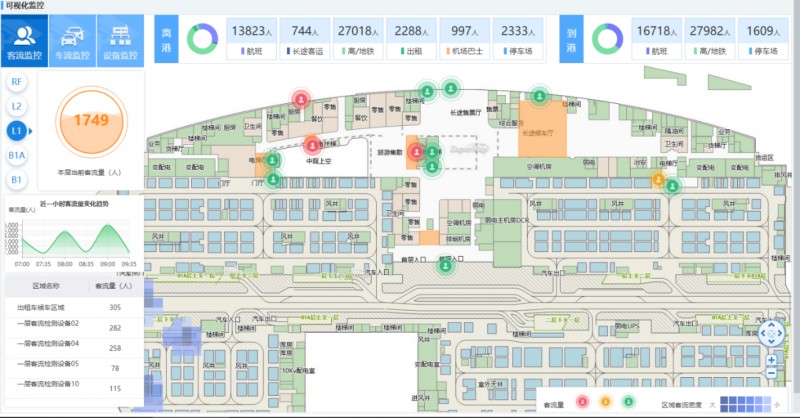 (2) Real-time monitoring of the road network and the parking lot around the airport based on GIS map
The system combines dynamic traffic data to visually monitor road congestion through different colors. It also can load real-time utilization of the parking lot to manage vehicles in time.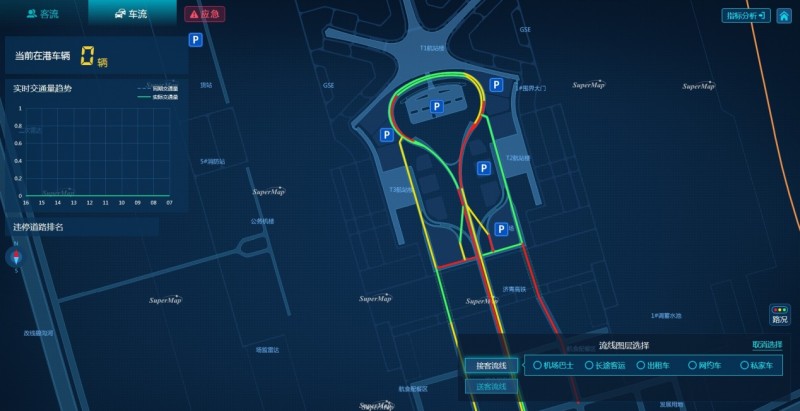 (3) Implementation of monitoring equipment and area based on GIS map
Based on the operations of GIS map, such as drawing, vector drawing, control dragging, etc., the deployment of monitoring equipment and area can be realized, which avoids the direct modification of the database by the project implementer, and enables the intuitive and convenient operation.
More Big Data GIS Related
Satellite Tracking + Big Data GIS Application in Real-time Ship-controlling>
Big Data - Signaling Data Makes Cities Smarter>